FoodShare Toronto believes everyone deserves access to fresh, affordable, high-quality food. They do their best to realize this vision by implementing hundreds of programs, from community gardens to food education in schools.
On February 23rd, FoodShare will host their 8th annual Recipe For Change fundraising event at St. Lawrence Market, bringing together thirty of the city's top chefs for a beautiful evening of food + drink, as well as sponsors like Beau's Brewery, Southbrook Wine, and Philips, who will be doling out fresh-cut fries from their new low-fat air-fryer. Mmmmmm, check out all that awaits your discerning palette here.
In anticipation of this delicious foodie extravaganza, we're profiling chefs who will be participating in Recipe For Change and asking them to share their mealtime rituals as well as their overall philosophies and values when it comes to food. For this installment, meet Evis Chirowamhangu of Mnandi Pies, one of the first Toronto eateries to focus on traditional meat pies of Zimbabwe. With savoury fillings like steak and onion or carrot and kale, it's no wonder Mnandi means "tasty."
When did you first become interested in food? How was your passion born?
Growing up, I was always particular about what I ate and always wanted food that tasted amazing.
When I told my mom that I was starting a pie-making business, she told me she wasn't surprised because the image she remembers of me growing up was of me hunched over an open fire grilling a chicken head. What she remembered most was the care I took to do this. I would be so focused, with my mouth salivating, of course, while making sure that it was seasoned well and grilled to perfection.
Fast-forward a number of years. As an immigrant living in Toronto, I have always been searching for that taste of home, "the taste of my mother's dishes." My food journey has been more of a quest to find and combine those ingredients that get me to that taste while discovering new flavours that showcase the influence Toronto has had on me as a cook.
What's your favourite winter comfort food?
I love Sadza neNyama, which is a staple in the Zimbabwean cuisine. Sadza is a traditional African dish that is very popular in Africa, albeit with different names. It's called Pap in South Africa, Nsima in Zambia, Ugali in East Africa and Fufu in West Africa. It's a thick porridge made of any grain, flour and water. In Zimbabwe, the grain is mainly corn; however, it can also be Sorghum or Millet flour. Nyama means any stewed meat in a rich, thick, delicious gravy.
Toronto opened up different foods from all over the world to me. For example, I fell in love with Tibetan Dumplings. They are a hearty meal that will warm me up in winter. I usually have a bag of them in the freezer for when I don't have time to cook.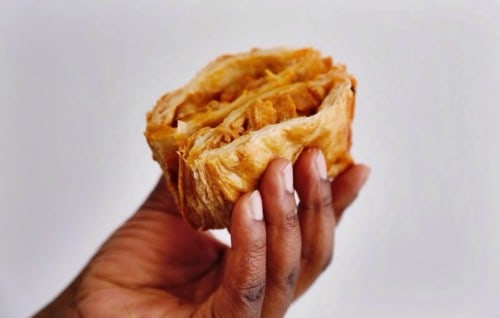 How does cooking make you feel?
There is something about getting a recipe right – the right amount of salt and spices to bring out the best flavour in whatever you're cooking. It's like a process of discovery, transforming these ingredients into an identity that is so different, yet more fulfilling and more delicious. Cooking is a process of discovery to me, a treasure hunt for that desired dish. Many a time, I have had a recipe in my head and tried to replicate it to no avail. But what's more exciting is when I nail that taste that I am going for. And it's perfect. I love that about cooking.
When it comes to appreciating food and eating healthy, what are the biggest things that need to change in our society? 
We need to go back to the basics of what food really is. Food is the language of humanity and the essence of what makes us who we are. It is a culture that defines our identity. It is about planting and harvesting and cooking and eating together. By understanding these basics, we can understand that food is truly communal.
Our current food system has led us to believe otherwise, hence a breakdown of our relationship with food. With our busy lives, it is very difficult the see the community in food. Therefore it is easier to grab the convenient, less healthy foods that are readily available.
In order to go back to the basics, we have to fight, be it by deliberately scheduling a time to make a meal from scratch, or operating a community garden in the summer. It's also about putting our dollars where our passion and mouths really are. The mere act of buying at a Farmer's Market is endorsing and ensuring that the farmers continue to do what they do best, providing us with quality food.
Why is supporting FoodShare important to you?
FoodShare programs build a sense of community around food. What is most important to me is that they are teaching the next generation about our connection to food. FoodShare is showing these kids how the food is grown, harvested and cooked. To me, it's pretty much fighting the system that has driven a wedge between society and food.
Dinnertime at your home is most often?
Sadza. Sometimes we have it with a stew of beef and kale, or just plain kale cooked in a tomato sauce. Sometimes we have it with grilled, medium-rare steak. I also try to use up whatever ingredients are in my fridge.
Mnandi Pies recently participated in Friday Night Live at the ROM and we had leftover kale, shredded carrots, cabbage and pomegranate seeds. I was looking at this mixture, trying to figure out what to do with it and ended up sautéing some white onion and garlic and I put the mixture in there and added some cloves. That was dinner for yesterday. It was very delicious.
When shopping at a market, what food section really turns you on?
The meat section. I love everything meat.
Toronto is a beautiful city, and Recipe For Change is an event that demonstrates just how rich and flavourful we are. Don't miss out! Tickets are $135 and include an evening of sumptuous food + drink with 100% of proceeds going to FoodShare's school programs. Get your tickets before they sell out!