FoodShare's 8th annual Recipe For Change is mere days away, and we're incredibly excited to spend an evening at St. Lawrence Market to savour SO MUCH GOODNESS from a diverse group of Toronto's beloved food and drink community.
We've been profiling some of the chefs who are participating, as a tasty little appetizer for what is yet to come. First we spoke with Kristin Donovan of Hooked, then Evis Chirowamhangu of Mnandi Pies, and for this installment, we caught up with sister-in-law cuisine team Seema Omar and Amreen Omar, co-owners of Bombay Street Food.
When or why did you first become interested in food? How was your passion born?
In India, Seema grew up surrounded by local and seasonal produce, whether it was local vegetable vendors (the bhajiwala) coming to her doorstep or numerous local markets with an amazing variety of meats, grains, fruits and vegetables. This perspective has cultivated our love and appreciation of fresh, local ingredients.
Fast forward to 2014 when Seema and Amreen made their foray into the food industry by way of starting a small stall at the East York Farmer's Market in Toronto. This quaint market filled with local produce from Ontario farms reflected the same honoured tradition of home-grown ingredients that Seema had experienced in Bombay.
Before we had a restaurant, we sold our dishes at the market where every day was filled with bright sunshine, clean air, green grass, and local farmers greeting each other and setting up tents. We received fresh vegetables in exchange for our freshly made bhurji pav, chai, kheema pav and daal. We would then take whatever vegetables we'd received straight from the farm and whip up fresh pakoras, served with our homemade tamarind and coriander mint chutneys. This beautiful experience at the market illuminated the fact that the love of food has no boundaries. We are not chefs: we are simple home cooks who have learned from the seasoned perspectives of our mothers and practiced our dishes on our families and friends.
What is your favourite comfort food?
Our moms' cooking: home-style Indian food like beef curry and rice or fresh vegetable curries and rotis. We're also big fans of South Indian meals like Idil, dosa, vadas, and thalis.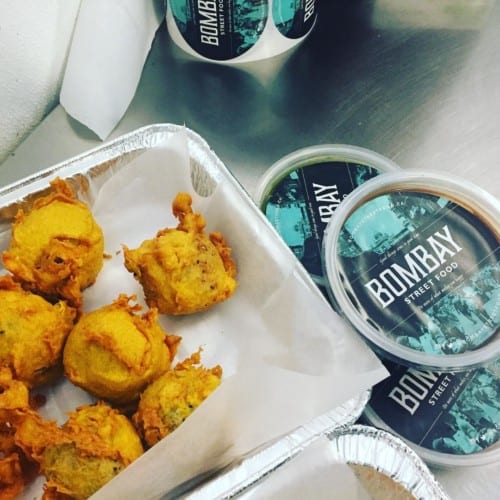 How does cooking make you feel?

We love the feeling of nurturing people and making them happy. Food is comfort and nostalgia.
When it comes to appreciating food and eating healthy, what are the biggest things that need to change in our society? 
We really love the movement toward eating locally grown food. Also, the emergence of vegetables and plant-based cuisine is amazing – vegetables are still underutilized in North American food.
Why is supporting FoodShare important to you?
FoodShare is an important part of our city's food culture. For us, FoodShare was one of the first places to give us a home: we cooked there when we were in the farmer's markets and Alvin Rebick was and continues to be a mentor.
That it is, and there is no better way to celebrate and support the important work FoodShare does than by attending Recipe For Change this Thursday, February 23rd! Awaiting your discerning palette will be thirty of the city's top chefs, as well as sponsors like Philips, who will be doling out fresh-cut fries from their new low-fat air-fryer. Wine and beer will be supplied by local vineyards and craft breweries including Southbrook Wines, Beau's: All Natural Brewing and more!

Don't miss out! Tickets are $135 and include an evening of sumptuous food + drink with 100% of proceeds going to FoodShare's school programs. Get your tickets before they sell out!