If you haven't visited Front Street Foods yet, you need to get on that! Not familiar with Front Street Foods? Here's the low-down: 28 local vendors, 8 weeks of deliciousness: #FrontStreetFoods is open all summer long at Union Station. Go there for breakfast, lunch or dinner because the market is open Monday to Friday from 7am-9pm, Saturday 11am-9pm and Sunday 11am – 6:30pm.
Shedoesthecity is happy to present the #FrontStreetFoods Meet The Makers series. In our third installment, we caught up with Chef Nigel Finley of Little Fin:
Where did your company idea originate?
The philosophy behind Little Fin: At our flag ship restaurants The Chase and The Chase Fish and Oyster, we have a strong focus on fresh, clean, healthy seafood. After looking at the fast, casual market in Toronto, we noticed a lack of quick, quality fish options for people looking for a healthy lunch or dinner. Front Street Foods is a great option for us to expand our philosophy to Pan Am attendees, people who work in Union Station or commuters looking for something on the go.
What do you love most about your business?
We love the opportunity to expose people to accessible food that is still of high quality and is creative; the opportunity to work with trusted vendors to ensure that we are acquiring the finest products and the ability to share this experience with our guests.
What's the easiest way to describe your food? 
Clean, simple, healthy, refreshing, tasty, and holding integrity for the ingredients we use.
What is your brand all about? 
Our brand is guest first focused – looking to define the future of hospitality in every thing we do. Culinary, hospitality, atmosphere, service and entertainment, we want to offer an evolving experience that is genuine.
Please share/list some menu highlights that you will be serving this summer at Front Street Foods.
Our opening offerings are a classic haddock and chips platter, consisting of panko-breaded Nova Scotia Haddock, southern spiced garlic wedges, and a crisp summer vegetable slaw dressed with a bright herb dressing.
In addition, grilled white shrimp that have been marinated in herbs and chill peppers, served on a savoury soba noodle salad, dressed with a sesame vinaigrette.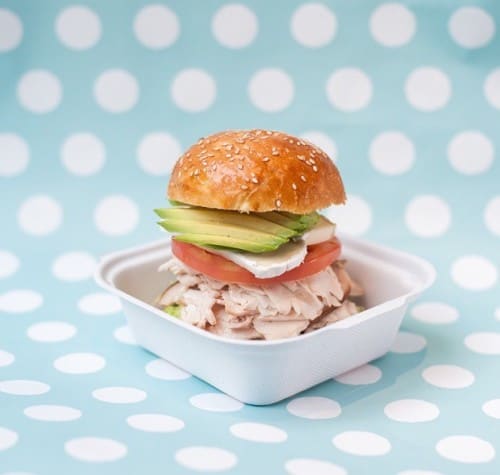 When someone says "summertime food," what do you think of? 
Fresh crisp vegetables, barbecue, acidic bright flavours.
Favourite seasonal ingredients? 
Peas, tomatoes, peppers, crisp lettuce.
Can you share with us one of your kitchen rules? 
The absolute first kitchen rule is to think of everything we do from organization, efficiency, flavours, freshness and quality and how it affects and benefits our guests. Everything is designed to offer the best product and to accommodate every guest.
Favourite summertime drink? 
Nothing beats fresh hand-squeezed lemonade.
Current life motto:
"The difference between who I am and who I want to be is what I do today."
Being good is not a target, being great is. That will only come to those who earn it every day.
What's on your summer bucket list?
Deep sea tuna fishing in Nova Scotia.
Be sure to check out Little Fin at Front Street Foods for a delicious haddock and chips platter!