In my closet hangs a Gap jean jacket that I bought in 1998. There is nothing remarkable about it, but it's comfy and it goes with everything. I still wear it all the time.
The fashion industry likes to tell us how to dress. We are told how to wear statement pieces, how to mix patterns, how to colour block, how to layer, how to work our edgy street style, etc. The list of how we can "revamp", "refresh" or "build" our wardrobe goes on and on ad nauseam. Never have we opened a fashion magazine to see the words, "Dress Normal" until now.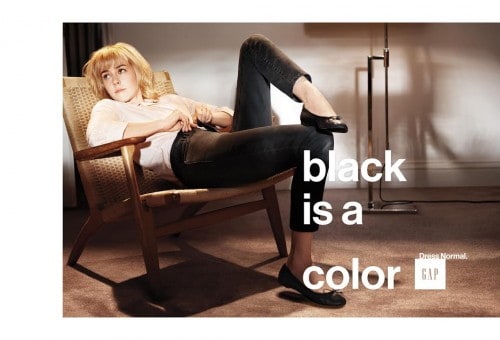 In order to flip fashion on its head by replacing trusted words that we're used to like "original", "unique" and "edgy" with "normal" you need a serious game plan. You don't just hire any slick agency in a Brooklyn loft, you hire David Fincher. The Academy Award-nominated director (The Girl With The Dragon Tattoo, The Social Network, Fight Club) has created four short films that show how Gap is celebrating the art of dressing normal. (There is an art guys! Good news is you're already doing it.)
Beyond these steamy shorts, Gap is running print ads featuring photographs of striking personalities who are admired for their art of dressing normal. Angelica Houston, Elisabeth Moss, Jena Malone and Zosia Mament are paired with statements like "a simple shirt for you to complicate" or "get caught wearing the same thing", "let your actions speak louder than your clothes". The result is brilliant.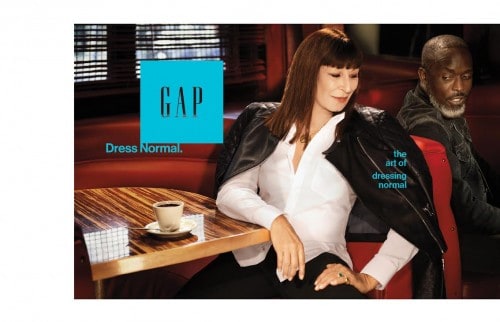 Pick up any fashion mag this September and you'll see how advertisers and fashion editors use countless words to describe pieces and looks. Most of it is bullshit. I know that, you know that. Gap's #DressNormal campaign is like asking a 12-year-old girl to look in a mirror and describe the jeans and denim shirt that she's wearing. She'd probably roll her eyes and say, "I dunno, they're just, like, jeans and a shirt." B-I-N-G-O.
This campaign is saying what we've all been thinking for years: Gap clothes are normal. But that's not a bad thing. While the shirt may just be a shirt, the possibilities of how you wear it are endless. If you're lucky it will weather the trends and stick with you, like my beloved 90s jean jacket.
Magazines will tell you hundreds of ways to dress this fall. Be yourself and dress how you want. After all, while your shirt may be normal, you're anything but.
Enter to win a Gap gift card to shop their fall black denim collection! 
Tweet, "Hi @shedoesthecity, I need some simple @GapCA black jeans to complicate. #DressNormal"
Gift card is valued at $90. Three winners will be selected by September 12th at 4pm EST. Check out the collection now!