Not sure what to bring to Thanksgiving this weekend? WE CAN HELP! Not only are these Chocolate Pumpkin Brownies super tasty, but they'll also leave your home smelling incredible. (It's been a few hours, and I can still make out the sweet smell of chocolate and pumpkin spice wafting through my apartment…mmmm.)
I've had a pretty fulfilling relationship with Green & Black's chocolate for quite some time. Organically and ethically sourced, their bars have become a staple in my pantry (and stomach). Sometimes, I get a little adventurous and grate them over vanilla ice cream or Greek yoghurt, and on extra special occasions, I melt them down with a bit of butter and drizzle over pretzels with sea salt and Dulce de Leche (SO GOOD).
Surprisingly, I don't ever use chocolate in my baking, until this Thanksgiving! As soon as I stumbled upon this recipe that Green & Black's created with a little help from natural foodie Regina Braun, I knew I had to give it a try.
Easy and decadent, it's the perfect addition to the dinner table; I can definitely see this becoming a Thanksgiving staple in our family.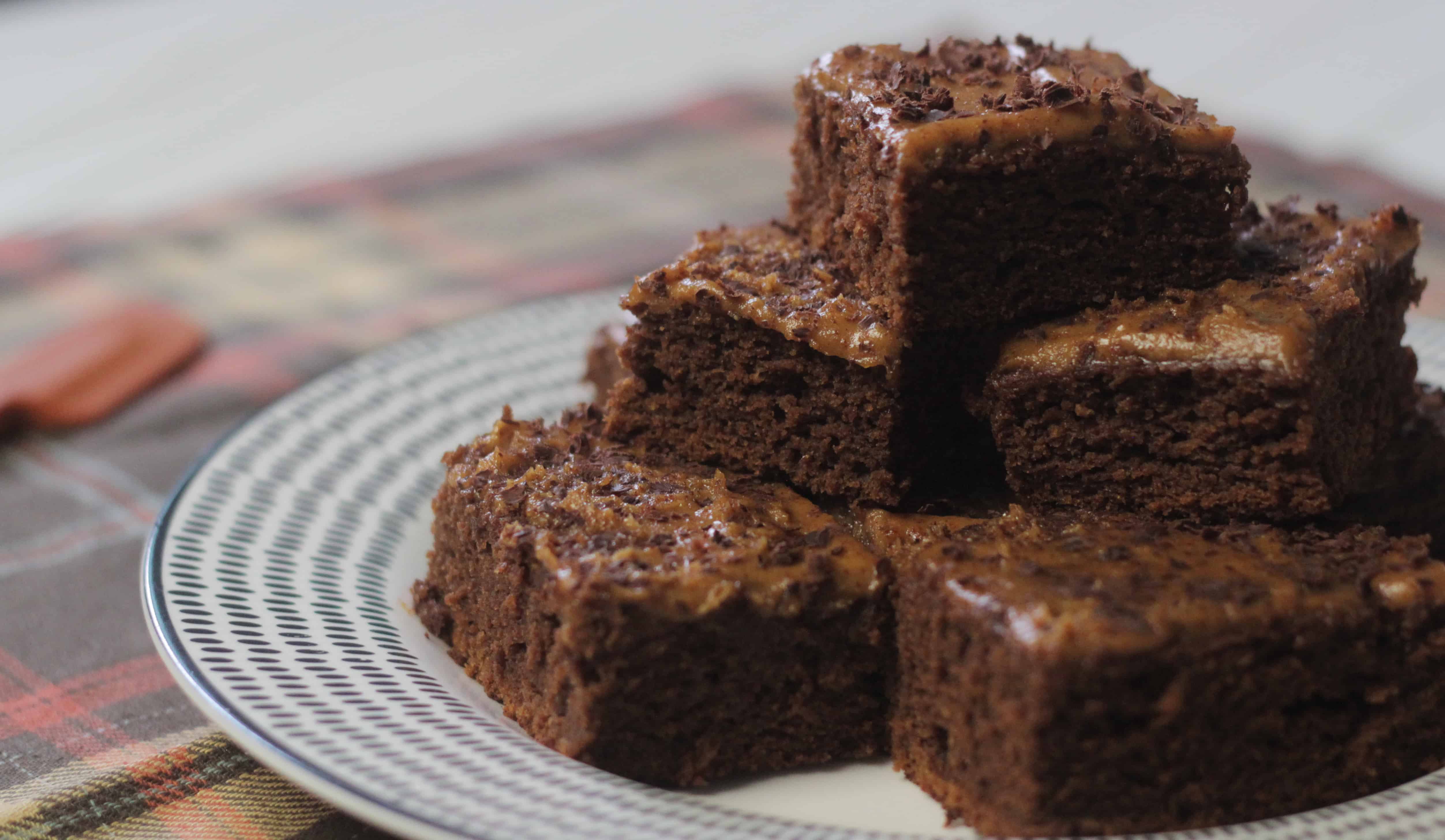 Chocolate Pumpkin Brownies
What you'll need for the Brownies:
4 oz Green & Black's Organic 85% Dark Chocolate
1/3 cup butter or coconut oil
1-1/2 cups coconut sugar or unrefined sugar
1 cup pumpkin puree
2 eggs
2 tsp vanilla extract
3/4 cup white whole wheat flour (or regular whole wheat flour)
1 tsp pumpkin pie spice
1 tsp baking powder
1/2 tsp sea salt
What you'll need for the Pumpkin Almond Butter Frosting:
1/4 cup almond butter
2 tbsp pumpkin puree
2 tbsp maple syrup
1-3 tbsp almond milk (or milk of choice)
1/2 tsp vanilla extract
1/4 tsp pumpkin pie spice
Directions:
Preheat your oven to 350° F. Line an 8- or 9-inch square pan with parchment paper.
In a saucepan melt Green & Black's Organic 85% Dark Chocolate and butter/coconut oil on low heat while stirring regularly.
Once melted, stir in the sugar and pumpkin puree, then eggs and vanilla extract.
In a separate bowl whisk together flour, pumpkin pie spice, baking powder and sea salt. Add the dry to the wet ingredients and fold in without over mixing.
Pour the brownie batter into prepared pan and bake for 30-35 minutes. For fudgy brownies, a toothpick inserted into the centre should come out with just a few wet crumbs attached.
Let the brownies cool before frosting and cutting.
For the frosting, stir together all ingredients in a small bowl. Add more milk to achieve desired consistency. Thicker frosting has to be spread, while thinner icing can be drizzled.