It doesn't feel like New Year's Eve. That sense of hope and newness that we typically feel is glaringly absent. With Ontario COVID case counts at their highest, we're all at home (again), ringing in 2022 with trepidation. That said, the evening can still be a memorable and joyous occasion—and we're going to try our best to make that happen.
For some inspiration, we tapped April Wozny—the Toronto event planner and producer has always been the life of the party. April also co-founded Business Woman's Special, the beloved queer and inclusive dance party that coloured the scene with good vibes for over a decade. In recent years, April has become a prominent voice in the recovery movement, on a mission to build sober confidence. Swapping gin for Ginger Ale, she remains the life of the party.
Even in this sombre era, April has a plan to sparkle. "I'll be transforming my apartment into my own personal party haven for my partner and I. Thinking Studio 54 à ma maison. Lighting will definitely be key. I'll be gussing it up in a yellow crushed velvet suit, slapping on some bold red lipstick and strutting around in heels," she shares, and encourages others to get creative too.
"Get out of your sweats! Bust out the hairspray, your best outrageous outfit and wear those heels!" she laughs. Hairspray…it's something we haven't thought about for years, but we're willing to go there tonight, because why the hell not?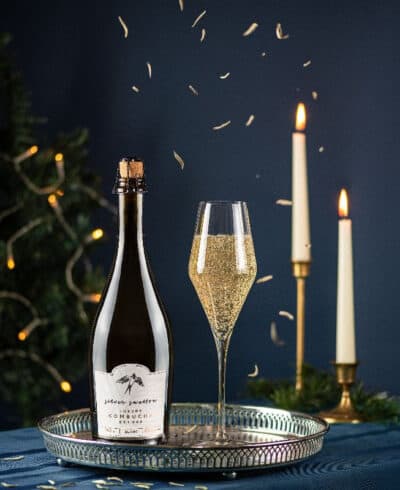 The scene that April describes for her party of two screams fuck you, COVID! The virus is not going to get in the way of her celebration, and it's motivating us to get off the couch. "Let's make this NYE decadent and glam at home! Flex those charcuterie wreath skills. Lap up luxury sipping Silver Swallow. Get yourself some oysters. If you're strapped for cash, replace the expensive groceries for a good ole greasy pizza and pop in your fanciest champagne flutes (go high/low, baby!). Move the coffee table and make a dance floor while blasting Kylie Minogue's 'Disco' album."
Picturing April do this is giving us energy, but we also get that you may not have the same exuberance—we hardly have the drive to brush our hair. If hosting your own private dance party isn't realistic, bring the Dwayne Gretzky NYE concert into your living room. It's free, and will make you smile.
Even in this incredibly shitty year, there have been joyous moments. Find them, hold them, write them down, share them, relive them, and savour them. Then go on a night walk, breathe in some fresh winter air, find a star, and make a wish. A big sky of exploding fireworks isn't necessary to find magic, in fact, it is often easier to spot in the quieter moments.
Happy New Year to YOU!