Attending a Toronto Symphony Orchestra (TSO) concert is blissful escapism, and there is still time to grab a seat for the Gimeno + Hannigan performance (May 19 & 21). Surprise a music lover in your life, or treat yourself to a solo date at Roy Thomson Hall (we do all the time and have found that attending a concert alone is a wonderful way to press pause on a hectic life).
Music Director Gustavo Gimeno will conduct the TSO as they perform the breathtaking music of Stravinsky's masterpiece, The Firebird. The evening will also include a prelude by Julia Mermelstein, written in celebration of the Toronto Symphony Orchestra's 100th season; then, music of "riotously inventive" (The New Yorker) composer Zosha Di Castri, featuring incomparable Canadian soprano and contemporary-music icon Barbara Hannigan.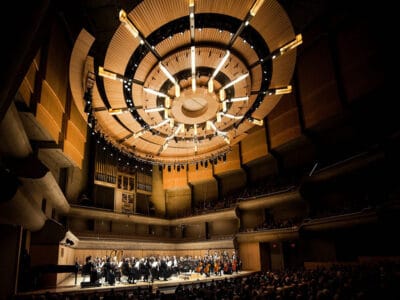 A TSO concert experience is more than the music. For us, it is also about dressing up—even just a bit—and doing something out of the ordinary. A walk to David Pecault Square, and even the immediate surroundings outside the concert hall, is always bursting with life. Before you step inside, take in a CONTACT Photography show! There are several free outdoor exhibitions in the neighbouring area. Or pretend you are a tourist and grab a drink in the lobby at the Shangri-La Hotel, or hit the The Ritz Bar before or after the concert. Extend the evening into a truly memorable Toronto experience.
A night with the TSO always feels special, and we're continuously amazed at how much of an impact the sounds of violins, and other instruments, have on clearing our heads. Looping thoughts in our brain, that stir our anxiety, soften. Solutions to problems are often solved as we sit in our seats and listen. It's astonishing, really. Give it a try.