Are you off bread? GOOD. Neither are we!
brodflour (8 Pardee Ave.) is the newest addition to Toronto's bakery scene, offering something a little extra: it's the only bakery that uses 100% of their own flour. This new urban mill and bakery uses traditional milling techniques, and makes and bakes with flour that is flavourful and nutrient-dense. Plus, you can watch your flour being milled and your bread being baked. UM. YES. NOW.
We chatted with brodflour co-founder Dara Gallinger this week.
SDTC: Tell us a bit about yourself and how you came to be inspired by bread-making.
DG: I have always—in some way, shape, or form—been interested in and passionate about food. I've always loved to feed people and that took shape business-wise when I worked on the PR and development side of the restaurant industry in Montreal prior to getting my MBA at McGill.
After school, I worked in a marketing role in big grocery. There, I really saw how essential bread is to people, but also how industrialization was destroying the quality of this staple food. Bread is supposed to bring joy. So for me, brodflour was natural: it made sense to get back to the basics and make bread how it was meant to be enjoyed.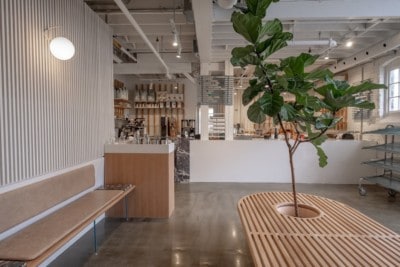 What is your first memory of eating REALLY good bread?
I spent thirteen years in Montreal, which spoiled me rotten when it came to food. At the time, Jeff Finkelstein, who now owns Hofkelstein, was baking bread in his basement for some of the top restaurants in the city. It was sourdough—naturally fermented bread—that simply blew my mind the first time I had it. I never understood that bread could be that good until then.
Can you walk us through a visit to brodflour?
We designed the space with the Scandinavian concept of hygge in mind—coziness, warmth, and family. Every time I walk in, I feel like I can slow down and breathe. The natural light and the immediate smell of warm, fresh bread inspire joy and calm. Walking in, you'll see a large communal dining space and our incredible toast and coffee bar. But the best part is seeing our millers and bakers at work in their element. Coupled with the mouth watering aromas, watching them make the freshest flour and baked goods always leaves me drooling.
Why did you want to incorporate a community focus with brodflour?
Growing grain helped build society, bringing people close to "break bread" together and make bread together. Centuries ago, farmers would grow their wheat, bring it to a community miller to stone mill it into flour, and then bake bread in community ovens.
Ultimately, bread has always been at the centre of community. It transcends cultures, languages, and borders as a staple of the home. It's warm and invites laughter and conversation. We wanted to reintroduce the world to bread through the cornerstones of this kind of community baking.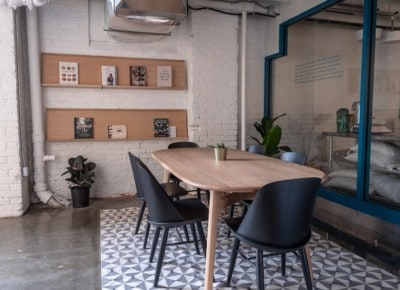 What is one component of the bread-making/milling process that would surprise most people?
I think people would be most surprised to hold fresh stone-milled flour in their hands within a few hours of it being milled. Normally, we understand flour to be a staple that can sit in our pantries for months and months and even years, that runs through your hand like sand, that can never spoil. Fresh, stone-milled flour is a completely different beast.
Since we don't process anything out of it, the germ oil is still very much alive and intact (not to mention packed with minerals, flavour, and nutrients). When you squeeze a handful of fresh milled flour in your hands, it sticks together somewhat like clay.
I remember the first time I held fresh flour in my hand. I was in Austria as part of a worldwide bread research tour, and I was visiting a stone flour mill producer. They were in the middle of milling a batch of flour so they let me get up close and personal with it, and I remember when I held it in my hand it struck me that I was looking at a completely different thing. In my heart of hearts, I believe flour should be fresh—similar to produce. I think people would be absolutely shocked to see and feel the difference between shelved and fresh flour. I myself often go into the mill room at brodflour and put my hand into a batch of freshly-milled flour. I'm struck by the moment every single time.
What do you love the most about what you do?
I love working with and meeting people who care about food. From the farmers we work with directly to the people who work our front lines, the common thread of every person involved with brodflour is that they are not only passionate about food but they believe inherently that what we are doing is important. I think this notion allows all of us to really dig deep to find the energy, day in and day out, to put out the best quality bread and to delight the people who enter our space.