The Peggy Sue Collection is pushing farm-fiber fashion to new heights. A unique Canadian company, they are committed to using only North American fiber, milling and manufacturing for their products. All of their garments are traceable, even down to the hand-made wooden buttons. Peggy Sue Collection's mission is simple: they believe in knowledge of the process, quality construction, craft, and a beauty that runs deeper than a silhouette.
Peggy Sue Collection recently won the TFI New Labels Fashion Design Competition, a national design platform showcasing what Canada's emerging designers have to offer, and has been showcased on CBC Radio.
We caught up with Peggy Sue this week:
Now that you've won the New Labels competition (congratulations!!!), what's next for you?
Our next move it to capitalize on the New Labels momentum by digging back into the local supply chain and making improvements to the materials, fabrics and yarns that we weren't able to act on during the competition (because the process began 1.5 years ago). As well, we'll curate an "on calendar" presentation in Toronto and US markets. We're going to be re-investing in local farms, mills and artisans/makers who helped us make our TFI New Labels win possible.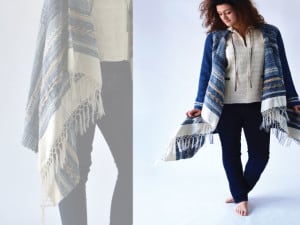 What three words would you use to describe your aesthetic?
Intelligent. Thoughtful. Elegant.
Where do you find inspiration for your collections?
I find inspiration in the people I work with and the places I see during my trips to learn about fiber and heritage traditions. The Canadian landscape is stunning and with each new season I'm able to see something new, which allows me to build the conversation in my collection.
What, in your opinion, is overrated in the fashion industry? Underrated?
Fast fashion trends are overrated and short-sighted. It's more important to see what you can bring to the global community to make fashion relevant and approachable. Then, a long-lasting style and a greater meaning can unfold.
PEOPLE are grossly underrated in the fashion industry: our garments put the human factor first and represent North Americans, our neighbours, and their livelihoods. We work with incredibly skilled workers with 20-40 years as experts (farmers, mills, makers, weavers, engineers, shearers). They deserve to be paid more than minimum wage and finding ways to show how invaluable their skills are through our garmentry is an ongoing challenge.
We're loving the farm to fashion movement! What's your workflow like? Can you take us through the steps of creating a garment, from conception to completion?
The fiber sourcing and processing starts 1.5 years before market show dates. We're sourcing fiber now for Fall/Winter 2018. This considers shearing (alpaca and sheep wool) and harvesting (cotton).
I'm very aware of the weather, the seasons, and how climate change is drastically affecting the supply chain timelines because I'm out visiting the farmers, mills, weavers and spinners regularly to see their process and how their workflow/materials are shifting.
I don't start with sketches and concrete designs and find materials to suit; I first see the colours, the quality and the constructions of the annual fiber harvest and then figure out how to work within it.
It all starts with mutual respect – understanding their challenges while simultaneously asking them to work with you to evolve and grow their product/service.
What advice do you have for aspiring fashion designers in Canada?
Listen and be open to what the world needs you to do. A single voice may be strong on its own, but the chorus of an entire community makes for a significantly more impactful message.
Check out the Peggy Sue Collection on Instagram.