There are approximately 30 fashion shows happening in Toronto this week. Only one label has been around since 1983.
Judy Cornish and Joyce Gunhouse met while studying at Ryerson, and co-founded Comrags soon after graduation. For decades, the edgy label has remained a favourite for women of all ages, moving somewhat counter to the mainstream. They consistently manage to distinguish themselves without fighting for the spotlight.
Comrags will host their AW15 show tonight at SMASH SALVAGE in the Junction neighbourhood, far away from the bright lights and noise at David Pecault Square.
We caught up with Judy Cornish to ask her what first turned her on to fashion, what treasures she holds dear, and how she'd describe Canadian fashion to a stylish Berliner.
She Does The City: What's on your love list?
Judy Cornish: My daughter, my cottage, coffee each morning from Ella's, secondhand shops and birds.
What do you listen to when you're working?
Great Lake Swimmers, Calexico, Mogwai, Gillian Welch, Bonnie Prince Billy, Sigur Ros.
What's a beloved treasure in your home?
Too many to name; all made by my friends…some less well-made than others, all equally cherished.
You can have a secret vacation home anywhere in the world. Where is it?
Tree fort on the Isa Penninsula in Costa Rica, where the ocean meets the forest, watching monkeys swing through the trees and the macaws in the sky.
What film do you often find yourself recommending?
Most recently The Duke of Burgundy and A Girl Walks Home Alone at Night. And always Diary of a Mad Housewife, Fishtank and Before the Rain.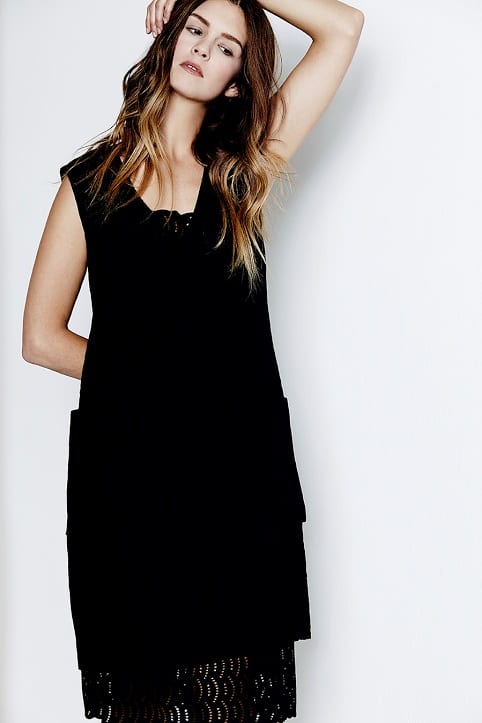 What food makes you happy?
Red wine and popcorn, lemon pasta, sheep's milk cheddar and black liquorice.
What will find a lot of in your closet?
The colour black. Slips.
What first turned you on to fashion?
Initially music–David Bowie, T. Rex, Lou Reed. My mom teaching me to sew opened an incredible world to me.
How would you describe your AW15 collection?
It's about lives lived, aprons, Tina Modotti….gentle yet strong, tidy and disheveled.
Your friend from Berlin asks you to describe Canadian style: What do you say?
Coming out of a harsh winter, I'd say we're good at practical…a sea of parkas.
Current life motto?
"Never say never." Followed closely by: "Do as I say, not as I do."