SDTC: Tell us your story! When did you decide to start your businesses and how did the idea come about?
JK Gourmet got started, quite literally, in the home kitchen.  It was not an idea for a business originally, but rather, it came out of a lifestyle decision, to help Jodi deal with the diagnosis of her ulcerative colitis.
At that time (2001), no stores carried anything in the snack, cookie, cereal categories that Jodi could safely eat.  She beagn following the SCD (Specific Carbohydrate Diet) which strictly calls for the elimination of ALL grains, rice, potatoes (and most starches), and refined sugars.  So Jodi began creating her own treats that she would bring along to eat at a restaurant or at a family dinner.  After the meal, when dessert was brought to the table, Jodi reached into her bag and brought out one or more of her treats.  They were quite delicious, (also much healthier), all grain-free (thus gluten-free), and sweetened only with honey.  Jodi heard enough compliments to give her the confidence to try selling them commercially.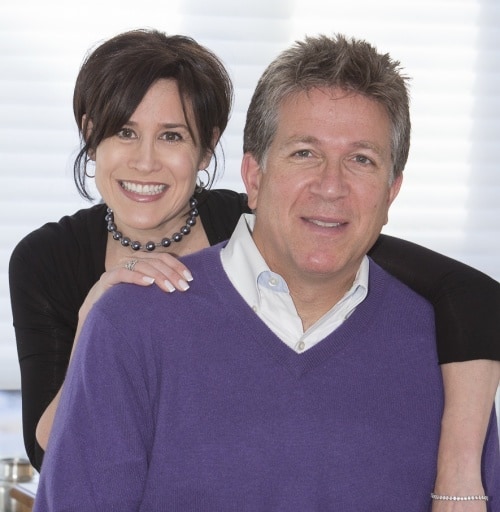 With advice and suggestions from the sidelines (mostly from me, her husband), Jodi began selling her biscotti and muffins to some local neighbourhood stores.  Fast forward to the present, and you can find JK Gourmet products sold across Canada, and in the USA, in the finest health food, organic, gourmet and specialty retailers, as well as on-line.  We produce everything ourselves in our dedicated facility in Toronto, where we've been for the past 6+ years.
Jodi is the "poster girl" for food vs medication when it comes to healing your digestive issues, convinced as she was (and still is) that what she ate should help her feel better.  To this day, Jodi remains medication-free, and has become a knowledgeable and very credible resource for people looking for advice, whether they suffer from celiac disease, Crohn's, ulcerative colitis, and other issues related to IBS.  Over the past decade+, JK Gourmet has established itself as a trusted and innovative brand all over North America, producing a diverse range of products that are always gluten-free, paleo-friendly, kosher….and delicious.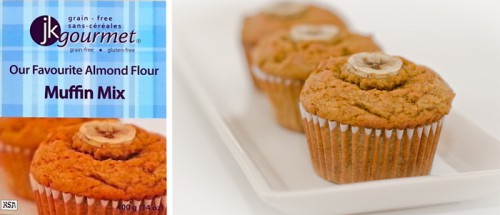 SDTC: What can we expect from JK Gourmet this year at Gluten Free Garage? 
JK Gourmet is introducing some delicious new products that are now being launched to retailers across the country:
GG Bite Snacks: crunchy, chewy and awesome snacks! (several flavours)
Chocolate: honey-sweetened, dark, organic and fair-trade….smooth and amazing! (4 flavours)
SDTC: Can you share a recipe you love with us, and tell us why you love it!
The recipe for the Apple Galette comes from one of Jodi's bestseller Cookbooks "Grain-Free Gourmet".  It is easy to prepare, appealing to the eye, and delicious!  The advantage of baking with our JK Gourmet Almond Flour is that it is very finely-ground.  This makes a big difference in the final result.  The powdery texture of the Almond Flour will enable you to make fluffier, less dense desserts, whether it's a pie crust, muffin, cookie or pancake.  Also, the Almond Flour offers a neutral taste, allowing you to enjoy the other foods and flavours you add, like the apple, the cinnamon, etc.  You don't need to mask the flavour of the Almond Flour, as you might with other nut flours.  Also, almonds are nutritious, and an excellent source of fibre and vitamin E.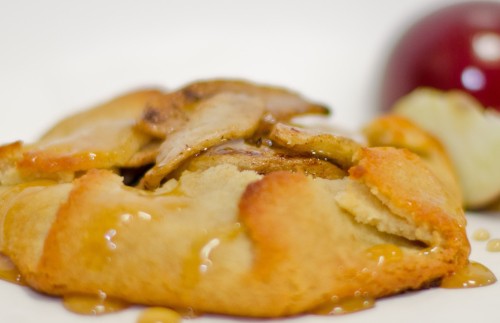 Apple Galette
A galette, is a French word given to a free-form rustic pie that is made without a pie plate. In this galette, the apples are precooked on the stove and then poured onto the pie crust which is then folded around the pie with an opening at the top.
It is very easy to make this pie since it requires no crimping or shaping and it does not at all matter if it is lopsided.
Crust:
– 1½ cups (375 ml) almond flour – 3 tbsp (45 ml) butter cold and cut into pieces – 2 tbsp (30 ml) honey – 1/8 tsp (.5 ml) baking soda – ¼ tsp (1 ml) salt  
Combine all the ingredients into the work bowl of the food processor and pulse until coarse and crumbly or mix all ingredients by hand until they come together in a ball.
Flatten the dough into a round disk between two large pieces of plastic wrap and gently roll out the crust into a 12" round. Put dough, still between the plastic wrap, on a baking sheet and place in the fridge while you make the filling.
Filling:
– 1 Tbsp (15 ml) butter – 6 medium apples, peeled, cored and each sliced into 16 wedges. – 1 tbsp (15 ml) honey – ¼ tsp (1 ml) ground cinnamon  
Melt butter in a large sauce pan over medium heat.
Add apples and honey and cook until they are beginning to soften.
Add cinnamon and cook for another minute.
Remove from the heat and cool.
Assembly:
Preheat the oven to 325F (180 C).
Working quickly, remove rolled out crust from the fridge and peel off one side of the plastic wrap. Put the crust down on a cookie sheet lined with parchment paper and remove the top layer of plastic wrap.
Pile the apples in the centre of the dough leaving a 3" (8 cm) border of crust around the apples.
Use the parchment paper to help fold the border of the pie crust over the apple mixture and pinch together any tears in the dough.       If at any point during this process the dough becomes too soft, return it to the fridge for 5 minutes and continue when it is cold.
Bake the galette for 30 minutes until the crust is golden brown.
Gluten Free Garage is Toronto's original pop-up marketplace of all things deliciously gluten-free, and is going down on Nov 9th, 2014! You can buy tix and check out there vendors HERE!