SDTC: Tell us your story! When did you decide to start your businesses and how did the idea come about? 
Kelly's Bake Shoppe's Grand Opening was December 2012 and is just up the street from Lettuce Love Cafe. It was a dream if mine to have a bakery since childhood and to be able to do it with my daughter, Erinn is just (as they say) the icing on the cake. We always realized the importance of eating healthy and we wanted to share it with the world. It was important for us to always be Gluten-free, Egg-Free, Dairy-free, Vegan and Peanut-Free as we are serious about nutrition and making the world a kinder, more sustainable place AND we wanted everyone to be able to enjoy treats together. We have won numerous awards including Best Bakery and Best Cupcakes in Burlington for 3 years straight. It's such a beautiful space and the variety and quality of what we make far exceeds expectations. Thousand's flock to our delicious haven weekly, from as far as Ottawa and Pennsylvania, to devour our delicious cupcakes, cookies, brownies and everything else in between.
SDTC: What can we expect from Kelly's Bakeshop and Lettuce Love Cafe this year at Gluten Free Garage?
We'll be bringing 3 flavours of cupcakes, World Peace cookies and of course our Award-Winning Brownies that won the Toronto Vegan Bake Off and Best Vegan Dessert for Toronto and the GTA for two years now.
SDTC: Can you share a recipe you love with us, and tell us why you love it?
Erinn and I have always had a sweet spot for Carrot Cake. This one we created without any wheat or gluten in it and we wanted to make sure it was moist and full of flavor. Pineapple and coconut help to boost the natural sweetness of carrots and they also enhance the grated carrot in the cake to produce a really nice texture. We love this one!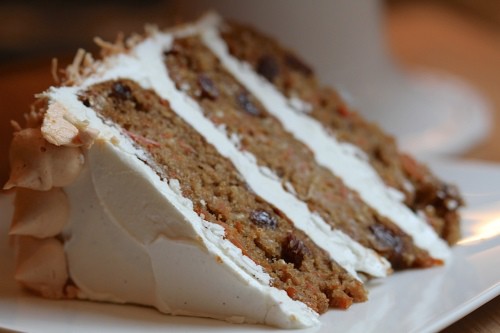 Kelly and Erinn's Carrot Cake
(makes 10-16 servings)
Ingredients:
– 
3 1/2 cups of gluten-free all-purpose flour (I prefer Bob's Red Mill) – 1 Tbsp baking powder – 2 tsp baking soda – 1 ½ tsp xanthan gum – 1 tsp salt – 1 1/2 tsp cinnamon – 1 tsp ginger – ¼ tsp allspice – 1 ¼ cup unsweetened coconut milk – 1 tsp apple cider vinegar – 2 cups sucanat (evaporated cane juice) – ¼ cup maple syrup – 1 ¼ cup canola oil or melted coconut oil – 2 tsp pure vanilla extract – ¼ hot water – 3 ½ cups grated organic carrots – ¼ cup grated coconut – ¼ cup drained pineapple pieces – ½ cup raisins  
Preparation:
1. Preheat oven to 350 F. Prepare three 9" cake pans with non-stick spray or parchment paper lining.
2. In a medium mixing bowl, whisk to combine dry ingredients: flour, baking powder and soda, xanthan gum, salt, cinnamon, ginger and allspice.
3. Combine coconut milk and apple cider vinegar and set aside.
4. In a large bowl combine sucanat, maple syrup, oil and vanilla. Mix with a hand mixer. Add the coconut milk and vinegar mixture and briefly mix again.
5. Add the dry mixture to the wet mixture in the large bowl. Mix with a hand mixer until combined and beginning to thicken.
6. Stir in the hot water and stir. Fold in the carrots, coconut, pineapple and raisins.
7. Pour batter into cake pans and bake for 20-25 minutes or until toothpick inserted in the centre comes out clean.
8. Allow to cool completely before frosting or see the Baker's Note below.
Cream Cheeze Frosting
(makes enough to frost 1 triple-layer cake)
Ingredients:
– 1 cup palm shortening or Earth Balance Shortening – 1 ½ cup vegan cream cheeze (I love Toffuti brand) – 2 Tbsp coconut nectar or maple syrup – pinch of sea salt – 2 Tbsp vanilla extract – 6 ½ cups powdered organic sugar, sifted  
Optional: fold ½ cup coconut into frosting for extra coconut flavor
Preparation:
1. With a hand mixer (or a stand mixer with the paddle attachment) blend the shortening and the vegan cream cheese until combined.2. Add the nectar or maple syrup, salt and vanilla and continue to mix until combined.
3. Add the sifted powdered sugar slowly, in batches, mixing after every addition.
4. Mix on high speed for about 2-3 minutes until you have the desired consistency.
Keep covered in sealed container in refrigerator until ready to use.
Baker's Note:
Once the cakes have cooled, remove from pans and place on flat cookie sheets lined with parchment paper then cover with plastic wrap. Place in freezer for about 3 hours or overnight. When you frost frozen layers, it is much easier to work with and you get a more professional-looking finished product.
Gluten Free Garage is Toronto's original pop-up marketplace of all things deliciously gluten-free, and is going down on Nov 9th, 2014! You can buy tix and check out there vendors HERE!