SDTC: Tell us your story! When did you decide to start Lettuce Love Cafe and how did the idea come about?
Kindfood (now called Lettuce Love Cafe) opened in May, 2010 and became an overnight success in Burlington, Ontario. It was a cafe and bakery under one roof. The idea to do this came from having a very health-conscious childhood, and later meeting my husband, a successful restauranteur. We fell in love and became "foodies" who traveled the continent to find the best and healthiest foods and restaurants. We opened Kindfood shortly after, with the food and baked goods being the two dominant forces in the business. As I developed more recipes for the "bakery" and honed our skills, the two started competing for space until one of them had to go in 2012. Kelly's Bake Shoppe was born in  December 2012 and In 2014, Kindfood was re-branded to Lettuce Love Cafe; the rest they say is history! We have a line every day due the rise in popularity of people realizing we are what we eat and what is so cool is that our two business are walking distance from each other, so you can dine at Lettuce Love Cafe, and then literally stroll on over to Kelly's for dessert.
SDTC: What can we expect from Lettuce Love Cafe this year at Gluten Free Garage?
We'll be making some of our most famous uber fresh and healthy brown rice Bowls and soups….. To keep you energized all through GFG!
SDTC: Can you share a recipe you love with us, and tell us why you love it?
We have so many great ones, we couldn't narrow it down to just one!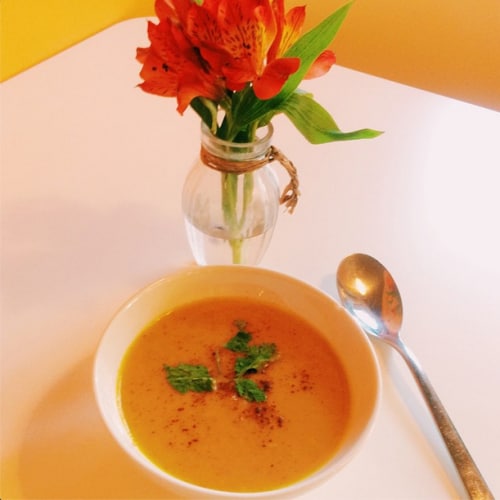 Best Gluten-free Vegan Butternut Squash & Curry Soup
First, you'll need:
1 butternut squash (3lbs) peeled, cubed and dusted with 2 tsp. cinnamon and then roasted for 30 minutes @ 350F and left in oven for 30 minutes more (covered with foil to cook longer and allow the cinnamon to infuse deeper).
Additional Ingredients:
– 1 medium yellow onion diced and chopped – 2 garlic cloves, minced – 2 tsp curry – 1 tsp cumin – 2 cups vegetable broth (low sodium) – 2 cups water – salt and pepper – 1 apple peeled and diced (prefer green apple)
Preparation:
1. Add onion to large soup pot and sauté in olive oil for 5 minutes. Add garlic cloves and sauté for another minute. Add curry and cumin for 30 seconds, stir into onions and garlic. Add squash and stir for a few minutes more.
2. Add salt, pepper, vegetable broth and water and bring to a simmer for 10 minutes.
3. Use hand held immersion blender to puree squash and all of soup, or you can out in a blender and blend until smooth.
4. Add diced apples now and then simmer for 20 minutes more to deepen the curry flavour.
5. Add one can organic 'lite' coconut milk at the end. Warm and serve!
YUM!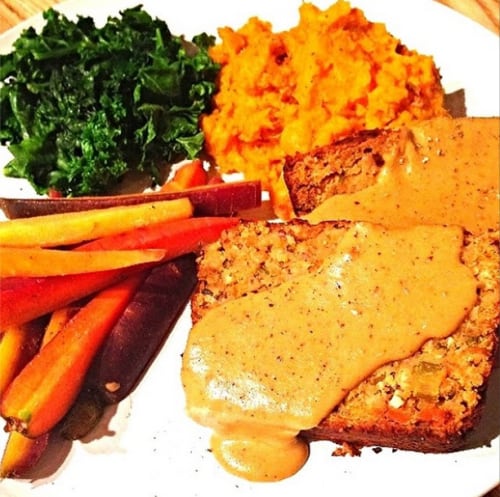 Best Gluten-free Vegan Quinoa Nut & Millet Loaf
(8-9 servings)
What you'll need:
– 1 small butternut squash, peeled, remove seeds and cut into 1″ chunks (about 6 cups of cubed uncooked squash) – 2 tbsp olive oil – 1 tsp sea salt – 5 cups water – 1 cup green dried lentils, rinsed well – 1/2 cup millet – 1/2 cup quinoa, rinsed – 1 large onion, chopped into small dices (1½ cups) – 3 cloves garlic, minced – 2 celery stalks, chopped into small dices (about ⅔ cup) – 2 medium carrot, chopped small dices (about ⅔ cup) – 1 tbsp chopped fresh rosemary – 1 tbsp chopped fresh thyme – 1 tsp dry basil – 1/2 tsp dried chilis – 1 cup GF oats (Bob's Red Mill) – 2 tsp dried parsley – 4 tbsp nutritional yeast – 1/4 cup whole raw almonds, finely pulsed in mini-processor – 2 tbsp mellow yellow miso, thinned out with – 2 tbsp water
Salt and Pepper to taste
Preparation:
1. In a 8X8 square baking pan, Roast the Butternut Squash. Preheat oven to 375F. Line a large heavy baking sheet or 13 x 9 pan with parchment paper. Toss the squash in a bowl with the olive oil and then place on baking sheet and roast for 30 minutes. The 'browner the better' as it will give the loaf a very earthy, deep roasted flavour. Set aside and cool and then put in food processor and blend until smooth.
2. Bring the 5 cups of water and sea salt to a boil. Add the rinsed green lentils into the boiling water for 5 minutes and reduce heat to a medium low heat and cover and simmer. Then add the millet for 20 minutes more (be sure to set the timer). Then add the quinoa and stir and then simmer with a cover for 10 minutes more. Set aside and cool this mixture.
3. Saute the chopped onions for 2 minutes on medium high heat, then add the minced garlic for another minute until very fragrant. Reduce heat now and add the finely diced celery and carrots. Saute for 10 minutes on medium heat. Add fresh rosemary (1 tbsp) and thyme (1 tbsp), dried basil and dried chilis. Set aside.
4. Now you get to start combining everything you've prepped so far. In a large mixing bowl add the Millet, Quinoa and Lentil mixture. Now add carrots, celery and onion mixture and fold. Then add the measured GF Oats, dried parsley, nutritional yeast, coarsely crumbled raw almonds (pulsed in the food processor) and miso with added water.
5. Now lastly add the Butternut Squash puree to the mixture and fold until blended…..There are a few steps to this recipe but totally worth it.
6. Add salt and pepper to taste. My preference is to not cook with it and allow your taste buds to start enjoying other spices. You can always salt and pepper when the loaf is on your dinner plate.
7. Put mixture in an 8 X 8 cake pan. Bake for 50 minutes UNCOVERED at 375F. You need it to be uncovered…. and allow it to brown on the edges. Remove from oven and let it cool for 5 minutes before cutting into pieces
8. Serve with some sautéed Kale and Chipotle and Rosemary Mashed Sweet Potatoes, Brussels Sprouts and Vegan Gravy
Note: Use the delicious leftovers for sandwiches (served with sliced avocado and sliced tomato and dab of chipotle mayo) the next day and also as another option, crumbled on top of a salad. Scrumptious!
Best Gluten-free Vegan Gravy
(makes 2 cups of gravy)
Ingredients:
2 cups Rice Milk or Soy Milk or Coconut Milk (plain and unsweetened)
2 tsp Arrowroot Starch (dissolved in 4 tsp Rice Milk)
4 Tbsp Nutritional Yeast
1Tbsp Miso (Mellow Yellow flavour)
1Tbsp Wheat-Free Tamari
1 tsp Dijon Mustard or Organic Stone Ground mustard
1/8 tsp Black Pepper
Optional: add sauteed onions and or mushrooms
Directions:
1. Heat the rice milk (or soy or coconut milk). Whisk in dissolved arrowroot and stir continually until starting to thicken.
2. Add nutritonal yeast, miso, mustard and cracked pepper and continue to whisk until thickened. That is simply it. If you wish to add sauteed mushrooms or onions, you can stir them in now. They absolutely enhance the flavour.
Note: to thicken gravy more, you can add more arrowroot. Never add arrowroot directly to the gravy; it must always be dissolved first in liquid to eliminate lumps.  
Best Gluten-free Sweet Potato Mash
Ingredients:
– 6 medium Sweet Potatoes, peeled (enough for 4 people) – ½ cup regular thickness Cashew Cream – ¼ cup Earth Balance – ¼ tsp (to taste) Chipotle Chili powder – pinch of sea salt to taste
Boil potatoes until soft and drain. Put back in pot. Add cashew cream, Earth Balance and Chipotle Chili Powder. Mix with hand blender until thoroughly whipped.
Serve with Pecan-Crusted Scaloppini and Beurre Blanc Sauce drizzled on top of Scaloppini.
Gluten Free Garage is Toronto's original pop-up marketplace of all things deliciously gluten-free, and is going down on Nov 9th, 2014! You can buy tix and check out there vendors HERE!