SDTC: Tell us your story! When did you decide to start your businesses and how did the idea come about?
MW: To put it as simply as possible, I love to eat. I love to experience food and all of its nutritious wonders, but more than anything I love to share my delicious knowledge. Whether I am teaching, cooking, consulting, writing, demonstrating or creating – it's all about food; it's what I live for. I give people a reason to eat healthy, fresh and delicious foods – that is who I am!
On a personal note, my food journey started when I was 13 years old. I had decided that the vegetarian lifestyle was for me. To look at this a little deeper, I should mention that vegetarianism has always resonated with me as a deep personal interest. My best friend growing up, along with her siblings and family, were vegetarian. This was probably my first exposure to the idea of a plant-based lifestyle, and for some reason it stuck with me- I guess it was destiny! As the years went on there was a drive in me to learn more- that initial interest I had in vegetarianism was starting to shape the way I thought about things. Gradually I researched more and more into the best way to consume whole foods and stay healthy. This led to me become a personal trainer, a holistic nutritionist, certified chef and eventually influenced me to start my own business and open up Marni Wasserman's Food Studio and Lifestyle Shop (510 Eglinon Ave West) which aims to educate people about food and a plant-based lifestyle through cooking classes, workshops, retreats and my book Plant-Based Diet for Dummies.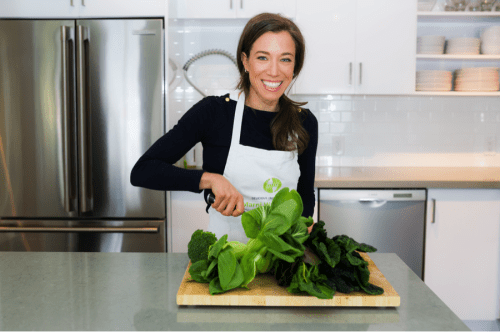 SDTC: What can we expect from Marni Wasserman this year at Gluten Free Garage?
MW: Our booth is bursting with the best, naturally gluten free products! Come by and try my own superfood tea blend, or hear more about my 5-week series Glow Without Gluten cooking classes! I will be covering everything from simple gourmet dinners, antioxidant rich dishes, how your greens can make you glow – and even the best holiday eats that are all gluten free!
I want to show the gluten-free community of Toronto (through my talk at the event AND my cooking classes at the studio) how to plan, prep and prepare a variety of nourishing gluten-free dinners and how to understand simple substitutions of common or long-lost favourite ingredients. Just because you're eating gluten-free does not mean you have limited meal ideas or a lack of what to eat—in fact, you have more! You can expect to learn all this in my talk on Sunday, November 9th at 2:00 pm and by coming to my booth to learn more about my classes.
SDTC: Can you share a recipe you love with us, and tell us why you love it? 
MW: Of course! My Baked "Tuna" Casserole recipe is always a crowd favourite (that is hearty, delicious plant-based and gluten-free of course!).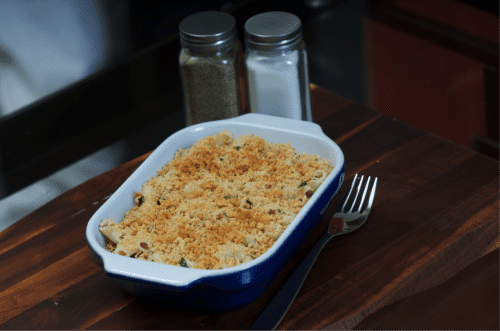 What's In It:
– 1 small onion, cut into sauté slices – 1 tablespoon sesame oil – 1 cup wakame, soaked in cold water for 5 minutes, removed and chopped – 2 tablespoons tamari – 1 package of brown rice noodles or quinoa spiral noodles – 3/4 cup water – 1/2 cup tahini – 5 tablespoons tamari – 1/2 cup gluten free/brown rice bread crumbs  
How It's Made:
Preheat oven to 375 F.
Sauté onion in sesame oil until transparent. Place wakame on top of onions. Add tamari, and cook for about 10 minutes until the liquid is absorbed.
In the meantime, cook noodles until done. Drain and set aside.
Mix together tahini, tamari and 3/4 cup water smooth. If the sauce should curdle, continue mixing.
Mix onion, wakame mixture, noodles and tahini sauce together. Cover with breadcrumbs.
Bake for approximately 20 minutes.
Prep time: 10 minutes
Cooking time: 40 minutes
Serves: 6
Leftovers: 3 days in fridge or 2 months in freezer
Once you make this recipe, you will never look at a bowl of alfredo or creamy pasta the same way! Why do I love it so much? This wholesome take on a cheesy tuna casserole is full of nutritious ingredients, but what stands out is the wakame, lending the recipe a salty "sea" taste. Aside from flavour, it also delivers tons of minerals and phytonutrients! Enjoy alongside a bowl of steamed kale, a dark leafy green salad or some miso soup.
Gluten Free Garage is Toronto's original pop-up marketplace of all things deliciously gluten-free, and is going down on Nov 9th, 2014! You can buy tix and check out there vendors HERE!