Featuring over 65 local and artisanal vendors, Gluten Free Garage is set to go down on Sunday May 1st at Artscape Wychwood Barns. As a returning media sponsor, we've loved seeing GFG grow over the last 5 years, and become not only the massively successful event that it is, but also a pillar in the GF community. A feast for all the senses, expect to hear inspiring speakers and sample a vast assortment of tasty offerings from sauces and pasta to baked goods, cheezes (HA!), dumplings and pickles – our mouths are already watering!
In anticipation of Toronto's original gluten free pop-up marketplace, we're profiling a handful of this year's vendors we love, including gourmet dumpling delivery service, Steambox Dumplings! (Editor's note: THEY'RE SO GOOD!!!). Handcrafted using the freshest of ingredients and quality Ontario meat and poultry, Steambox Dumplings are MSG and preservative free! Apart from daily delivery, they do also pop-up events alllll around the city.
Tell us your story! When did you decide to start your business and how did the idea come about?
It started around the dinner table, honestly! Kayeon has been hosting dumpling parties for years – she would make the filling and friends would come over, claim their seat at the table and help pleat the dumplings. It was a time to come together, catch up and share stories. Kayeon hosted all sorts of parties – the food always excellent – but dumpling night was the one you did NOT miss.
When all the dumplings were pleated and cooked in batches, they'd be plated, dropped on the table, and snatched up within minutes! She always called out when it was the last round and it was literally every person for themselves. It was legitimately stressful. People would semi-stand in anticipation of the plate, friends would argue over the last one, it was hilarious. That was the spark. After years of gathering people together around a table, in Toronto and Vancouver, it was dumpling night that made Kayeon consider leaving the corporate world as a graduate architect and pursue her love for cooking.
What's been the most exciting part about owning your own business? What's been the most challenging?
The most exciting part is not knowing exactly where this business is going to end up! The journey so far has been full of opportunities and adventures that we had no way of anticipating and it has been quite the ride. Be it driving a cargo van through a golf course to set up, or serving up dumplings outside during sleet and torrential downpour, it's been exciting, that's for sure.
The most challenging part has been finding balance in our lives. As a small business with so many aspirations, there are always a million things to be done and it's hard to know when to stop. We have been striving to be more mindful and practice self-care, but sometimes when we have three events lined up back to back, we're in the kitchen pleating for 20 hours straight and up until seven in the morning. You have to love what you do, and we have to remind ourselves of why we started to keep the steam going!
What can we expect from you at GFG?
We are so excited to be a part of GFG as it marks the official launch of our gluten free dumplings! We've offered them by special order for a while now, but never at an event where people can enjoy them hot or take home frozen. We've been fine-tuning our gluten free wrapper recipe for months now and are thrilled to offer a product that is so scarce on the GF market. We want to be able to share our dumplings with everyone – vegan, gluten-free, allergy-sensitive, and the like. As two people living with allergies of our own, we intimately understand how difficult it can be to find quality food, and the level of trust that's placed on the makers. It's a labour-intensive recipe and a lot of consideration goes in to avoiding cross-contamination, but being able to provide a product to folks who would otherwise have to go without is so worth it.
What's your favourite product that you make (at the moment, I'm sure it changes all the time), and why?
There are so many favourite flavours and we love them all like they're our children, but a favourite of ours right now is the Cheddar Ragu. It's so damn good. It's like a pizza pocket on steroids. How can you go wrong with aged sharp cheddar, Ontario hot soppressata and pork, all slathered in a house-made, tomato meat sauce?! We also really like the Beef 'N Basil as it's a burst of juicy flavour with a satisfying crunch of the wrapper. We definitely go through phases of what our favourite dumpling of the moment is! Oh, and shrimp is a classic as well. We'll always love that one. See what I mean?
Can you share one of your recipes with us? Please feel free to include as many pics as you'd like.
Totally! One of our favourite sides is kimchi — a fermented, crunchy and spicy cabbage. It pairs amazingly well with dumplings (and everything, if you ask us!). Here's how you can make your own!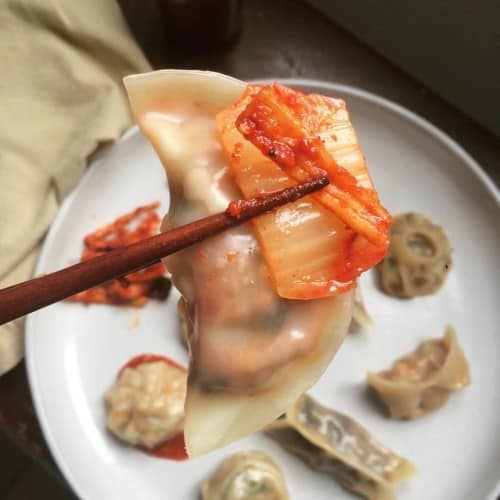 What you'll need:
1 head Napa Cabbage
1/4 cup Sea Salt
1 cup Water
1/2 cup Mochiko (Glutinous Rice Flour)
1/3 cup Fish Sauce
1 cup Korean Chili Pepper
2 inches Organic Ginger, minced
4 cloves of Garlic, minced
Optional: Chives, Green Onion or match sticks of apple or Asian pear
Wash and cut Napa cabbage into strips. Sprinkle with sea salt liberally and get into all the crevices. Let stand for an hour or so until the leaves wilt.
Heat water in a sauce pan and once boiling, add Mochiko until thick and bubbly. Allow to cool completely.
Add fish sauce, red pepper, ginger and garlic to Mochiko and mix to form a sauce. Add desired green onion, chives, Apple or Asian pear.
Wash cabbage to get rid of excess salt and rinse 3 times.
Massage sauce into cabbage.
Store in an air tight container at room temperature for one day and then refrigerate. The kimchi will continue to ferment and ripen.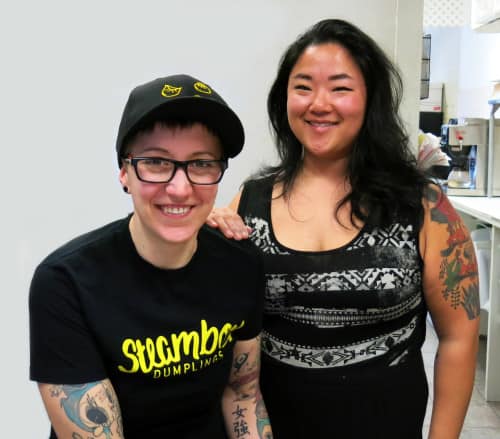 CONTEST!
Enter to win a pair of tickets to Gluten Free Garage by tweeting:
"Hi @Shedoesthecity! Please send me to @glu10freegarage so I can indulge in all the yummy gf goodies!"
Winner will be announced on April 25th. Good luck!
Gluten Free Garage is Toronto's original pop-up marketplace of all things deliciously gluten free, and it's going down on Sunday May 1st! You can buy tix and check out the vendors HERE!