Featuring over 65 local and artisanal vendors, Gluten Free Garage is set to go down on Sunday May 1st at Artscape Wychwood Barns. As a returning media sponsor, we've loved seeing GFG grow over the last 5 years, and become not only the massively successful event that it is, but also a pillar in the GF community. A feast for all the senses, expect to hear inspiring speakers and sample a vast assortment of tasty offerings from sauces and pasta to baked goods, cheeses (HA!), dumplings and pickles – our mouths are already watering!
In anticipation of Toronto's original gluten free pop-up marketplace, we'll be kicking off a series of profiles with this year's vendors, starting with Liz Gallagher, the Toronto-based vegan and raw food chef behind Unbaked Cake Co.
Liz originally started Unbaked Cake Co. to share her sweet treats with friends and family, and to help change the misconception that most people have about raw food and raw desserts. All Unbaked Cake Co. desserts are 100% vegan (and raw) and made with the very best locally sourced, all natural, organic ingredients.
Over the course of the past few years, Liz's desserts have been featured at the CNE and Delicious Food Show, and are now being sold at various specialty shops throughout the downtown Toronto area. The response to these raw treats has been overwhelmingly positive, so much so that Unbaked Cake Co. won "Best Raw Vegan Dessert" at the 6th Annual Totally Fabulous Vegan Bake-off in March 2014, runner up in the "Professionally Crafted Gluten Free Dessert" category at the Vegan Bake-off in March 2015 – as well as "Best Unbaker" at the 2015 Veg Food Fest's Unbake-off. BlogTO has also named Unbaked Cake Co. one of the top 15 Instagram accounts for Toronto vegans to follow!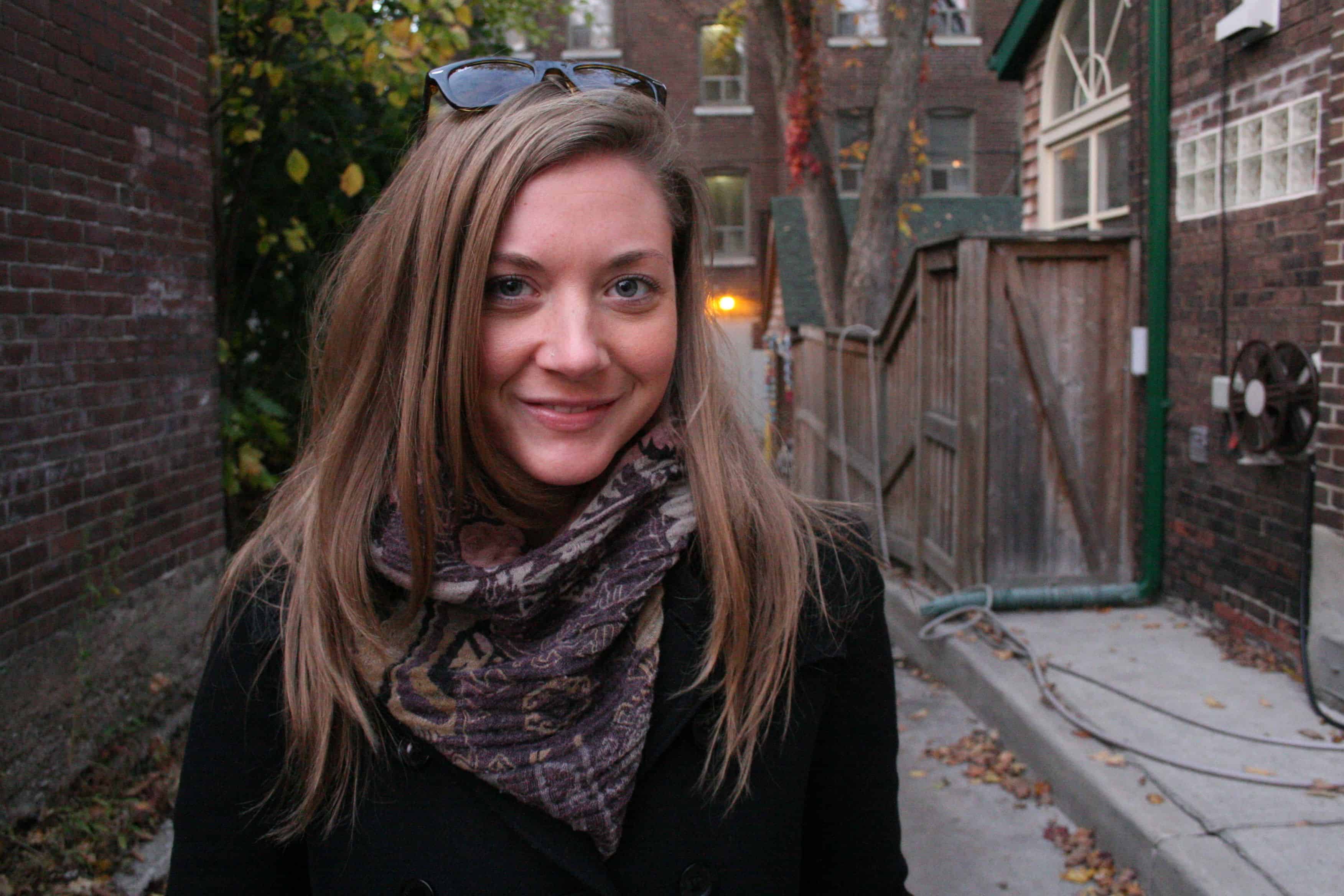 Tell us your story! When did you decide to start your business and how did the idea come about?
Unbaked Cake Co. began about two and a half years ago as a side project. After being introduced to raw food through a friend at university, I started making raw vegan desserts and dishes for friends and family. Almost all of my spare time was spent in the kitchen… I was totally hooked. It wasn't long until I started day dreaming about moving to the city and getting involved in the raw vegan community. So, when I moved to Toronto for culinary school a few years later, I did just that. I worked at a well-known raw vegan restaurant in Toronto for about 2 years and became their raw vegan dessert chef. I was in charge of creating all of the restaurant's desserts. I even had the opportunity to teach their very first raw vegan dessert class. When I eventually left the restaurant, Unbaked Cake Co. was born. I can't imagine a life where I'm not creating raw vegan treats every chance I get.
What's been the most exciting part about owning your own business? What's been the most challenging? 
The most exciting part about owning my own business has probably been watching it grow. It's completely surreal to see how far Unbaked has come over the past few years. I've gone from making treats out of my small bachelor apartment, to working out of a beautiful commercial kitchen space in Leslieville. On the flip side though, the most challenging part has definitely been trying to find and maintain that work-life balance. It's a tough thing to do when you're trying to grow a business, but I like to think I'm kind of doing an okay job of it? It's a constant struggle, but it's 100% worth it!
What can we expect from you at GFG?
All things raw dessert! I'll be selling and sampling a selection of my mini tarts, cheesecake by the slice, oatmeal fudge bars, chaga brownies, macaroons, and a few different cookie varieties! I'll have gift certificates and tote bags available for sale as well.
What's your favourite product that you make at the moment? (We're sure it changes all the time.)
That's a tricky one. I'm a HUGE chocoholic, so my favourite product would have to be my oatmeal fudge bars. They're actually a recreation of a treat sold at Starbucks (that I was obsessed with before going vegan). And I pretty much have them in my freezer at ALL times.
Can you share the recipe with us? 
Of course! I'd love to share the recipe for my oatmeal fudge bars – and hope you enjoy them as much as I do!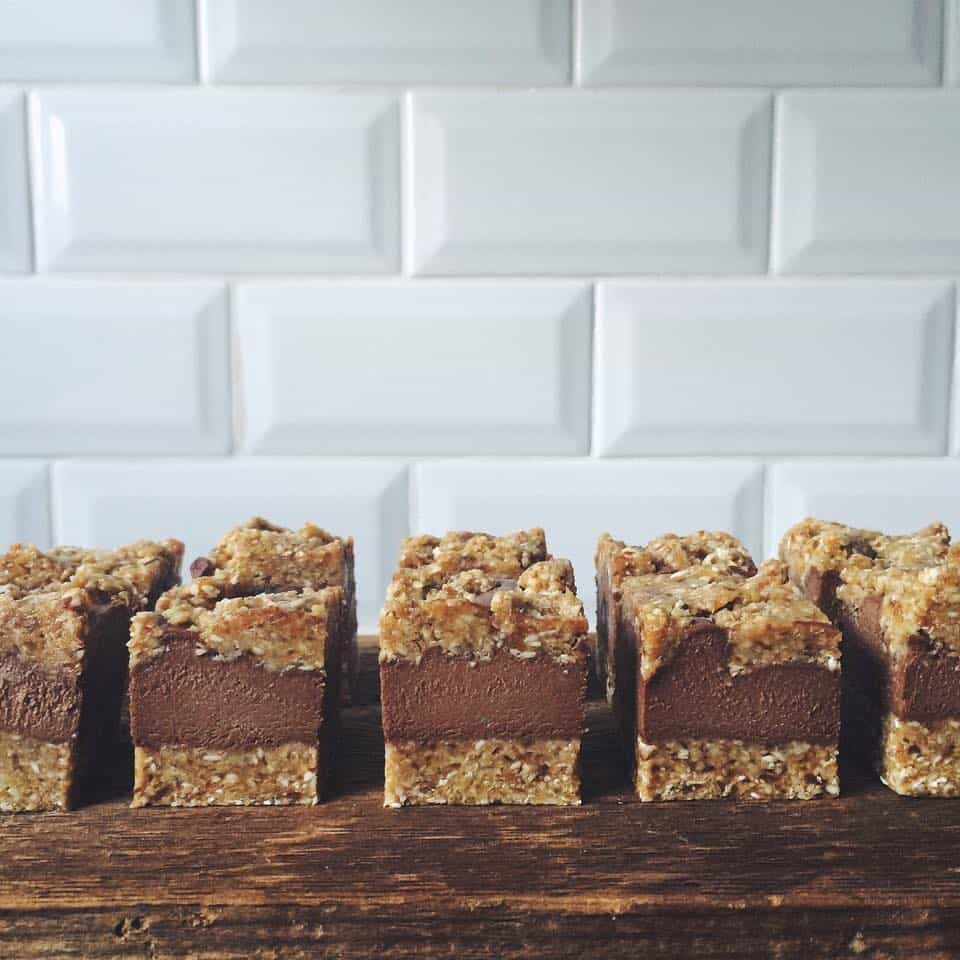 Oatmeal Fudge Bars
Oat Base:
2 cups gluten free oats
1 1/2 cups raw cashews
1/2 cup ground flax seed
1 cup Medjool dates, pitted
1/2 cup agave
1 tsp Himalayan pink salt
Chocolate Fudge Filling:
1 1/2 cups raw cashews
1/2 cup cacao powder
1/2 cup coconut oil, melted
1/2 cup agave
3/4 cup water
1. For the oat base, process oats, cashews, ground flax and salt in a food processor until finely ground. Add dates and pulse until incorporated. Slowly pour in agave and pulse until mixture comes together.
2. Reserve 1/3 of the base and press the remainder into a plastic wrap lined 9″ x 9″ square baking dish and set aside.
3. For the filling, process all ingredients in a food processor or high speed blender until smooth and creamy.
4. Pour filling into baking dish and let it set in the freezer for about 10 minutes.
5. Crumble reserved oat base evenly on top of the fudge filling and return to the freezer to fully set overnight.
6. Slice into squares and enjoy!
CONTEST!
Enter to win a pair of tickets to Gluten Free Garage by tweeting:
"Hi @Shedoesthecity! Please send me to @glu10freegarage so I can indulge in all the yummy gf goodies!"
Winner will be announced on April 25th. Good luck!
Gluten Free Garage is Toronto's original pop-up marketplace of all things deliciously gluten-free, and it's going down on Sunday May 1st! You can buy tix and check out the vendors HERE!