Recently, I posted an Instagram picture of a gluten free pizza crust that I had made using cauliflower, and oh my, it got a good response!  I mean, let's face it, pizza crust is one of those things that us GF folk really get the short end of the stick on, so I'm not surprised about the excitement!  This recipe also sparked some excitement among the paleo friends/readers I have as it's completely paleo. Also, did I mention there's no dairy in it?
I've tried countless different ways of making a cauliflower crust, and it always falls apart. NOT THIS ONE! I was so excited about how well it turned out that I made it twice this weekend.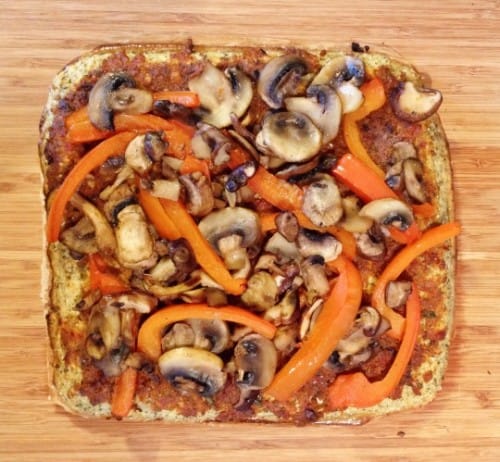 The crust of the pizza is inspired by Green Kitchen Stories.  The fun part about this recipe is you can really change the toppings to whatever you want!  The first time I made it I did zucchini, bell peppers and arugula as the topping, and today I did mushrooms and bell peppers.  Both times I used a store-bought pesto (Le Grand) as I didn't have time to make sauce from scratch.
Tips For This Recipe:
-You may need to drain the cauliflower (it holds a lot of water, so you may need to try and squeeze as much out as possible).   The second time I made the recipe, I didn't have to do this because the cauliflower mash had been in the fridge for two days, so had dried out on its own.
-I wouldn't use a super liquidy (yes, I know this isn't a word) topping as it may make the crust too moist.  I used a pesto, so it wasn't soggy.
-Do whatever you want with the toppings – get creative and pile on the veggies – like I did in this version: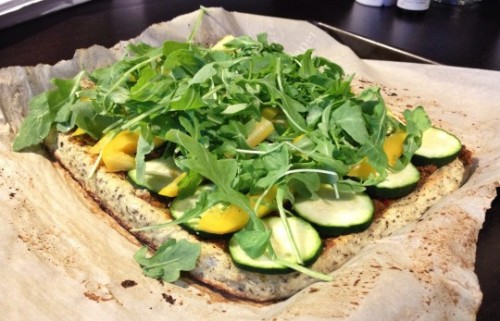 Gluten Free Pizza Crust Recipe
Prep time: 25 mins
Ingredients
Crust:
½ large head of cauliflower
3 eggs
½ cup almond flour
¼ cup nutritional yeast
1 TBSP Italian seasoning
salt and pepper to taste
Toppings:
1 TBSP coconut oil
½ red bell pepper
2-3 cups cremini mushrooms
¼ cup Le Grand Pesto with a Kick (or another pesto/sauce of your choice)
Instructions
Preheat oven to 400F
Line a baking sheet with parchment paper
Roughly chop cauliflower and place in food processor
Blend until a mash like consistency
Drain whatever excess water you can from the cauliflower
Remove from food processor and place 3 cups in bowl
Add in the almond flour, nutritional yeast, Italian seasoning, and eggs and mix well
Roll into as good of a ball as you can (It will be quite moist – almost wet)
Place 'dough' on baking sheet and spread into shape that you want (I did square – approx 8×8
Bake in the oven for 25 minutes
Meanwhile, heat the coconut oil
Saute mushrooms and bell peppers until cooked
Place on crust when it's cooked, and place back in oven for another 10 minutes
Mandy King is a Holistic Nutritionist and Gluten Free Guru who shares her expertise with She Does The City. For recipes and nutrition tips, visit her website, HEAL. Follow Mandy on Twitter@mandyking_HEAL. Like Healthy Eating and Living on Facebook here. You can also find Mandy on Pinterest and Instagram.