Jameela Green Ruins Everything is zany, daring, and hilarious, and exactly the type of novel we'd expect from Zarqa Nawaz, creator of CBC's award-winning sitcom, Little Mosque on the Prairie.
When Little Mosque first premiered in 2007, there was nothing like it. The beloved comedy series about a Muslim community in Saskatchewan (where Zarqa is from) helped rescue the public broadcaster which was, at the time, languishing. It also helped pave the way for shows like Schitt's Creek, Kim's Convenience, and Workin' Moms.
With Little Mosque being such a global hit, it's easy to wonder why Zarqa didn't go on to do more shows. It's something the writer has also questioned—a lot.
In the past 15 years, Zarqa admits that it's been difficult to watch the trajectory of white creators in Canada's film and TV industry rise up, their path almost unrecognizable to her own. "If I had been a white male in my career, things would have been different," she says. Writing Jameela Green provided Zarqa with a channel to expel her frustrations—with Canada's arts and entertainment industry, but also God. "Those feelings were there when I was writing the book, and I was exploring them."
She doesn't hide from the fact that Jameela is a character that grew from her anger and resentment, but the story is a wild and humorous one—Zarqa's use of comedy is gutsy as hell.
We first meet Jameela at her book launch, where things don't go as she envisioned. Irate that her book isn't getting the attention she feels it deserves, Jameela reluctantly seeks answers through prayer, pleading with God for help. "My first book, Laughing All the Way to the Mosque, didn't make it to the New York Times bestseller list. Like Jameela, I was very upset!" says Zarqa, with a laugh. "I was narcissistic and self-involved."
Zarqa's candidness is a little shocking, but mostly admirable. Born out of strong feelings, the writing began without a plan, a process that the author doesn't recommend. "Writing a novel is a difficult art to master. People think it's easy, but it's not," she says, sharing that it took 6 years and a rejection before Jameela Green Ruins Everything got accepted. But the page-turning book is well worth the wait.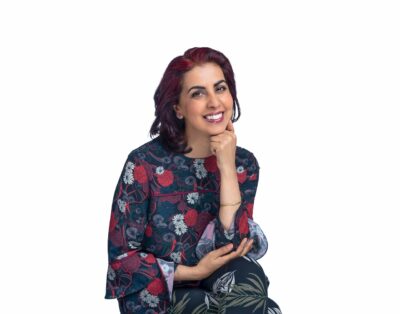 One reviewer on Goodreads exclaims that Jameela Green reads like a fast-paced TV sitcom, and it's true. So desperate for success, Jameela will do anything. One bizarre move leads to the next, and within a few chapters, Jameela's life is unrecognizable as she finds herself in the middle of an international terrorist operation. "Once I decided that Jameela was going to the Middle East, I knew this was going to be about ISIS." The result is a satirical masterpiece that few on earth would dare to do.
Humour has always been the author's preferred way to communicate. In Little Mosque, she used it to combat stereotypes, but in her novel, the agenda runs deeper. "I always write comedy. It's a great way of processing the world, particularly when people may not agree with you," she says, explaining that a biting and hilarious spy novel is a much more accessible way to get people thinking about American foreign policy than a dry academic paper.
In 2014, when ISIS gained a global presence, Zarqa began to see how one-sided the media was, and how much of the news painted all Muslims as violent and threatening. "People weren't looking at ISIS in context, at why they exist and the forces that shape them." In a totally out-there and refreshing way, Jameela Green Ruins Everything encourages readers to examine everything from a different perspective.
Different from anything we've read, Zarqa uses prayer as a creative writing device. Chapters are broken up by first-person prayers of different characters, allowing readers to quickly understand their concerns, fears, motivations, and deepest desires. "I am Muslim and I pray five times a day. I thought it was a great device to get into people's heads and understand where they are."
Like Jameela, Zarqa is straight-up with God; she doesn't shy away from telling God exactly what she wants, and regularly asks why her book isn't on the bestseller list, or why hasn't Netflix called to make a show? "I'm always asking for stuff. I complain to God all the time. I'm not very spiritual… I want success. That's the way I am—that's how I roll."
Zarqa Nawaz is every bit as courageous, free-spirited, and unparalleled as the unlikely hero she's created in Jameela Green.