From its original inception to the incredible not-for-profit enterprise it has become, SKETCH is a testament to the power of vision. The seeds of SKETCH were planted in Phyllis Novak's brain in the early '90s. While pursuing a career in acting, Novak, SKETCH's artistic director, started giving theatre workshops at a drop-in centre for homeless and marginalized youth. Wildly popular, the workshops sparked Novak's imagination, making her realize, "Wow, if young people are engaged in a theatre process then a whole bunch of really incredible benefits are going to come their way, plus we're going to make some fantastic art." Want to see it in action? Head to Rad Grad on Wednesday, June 11th.
Foregoing acting to focus on creative programming that empowers youth, Novak developed SKETCH in 1996. Through various iterations and locations over the past 17 years, it grew to become an innovative, inter-disciplinary, community arts initiative that allows homeless youth and youth living on the margins to learn artistic, leadership and entrepreneurial skills, and to experience the transformative power of art.
Huda Eldardiry, who was selected for SKETCH's Community Artist Program (CAP)—a one year intensive training program in which participants learn to expand their artistic practice through mentorships, outreach, residencies, project planning and more—echoes Novak's beliefs on the potential for change that art promotes. "Art makes me question myself," Eldardiry says. "Art is that mirror that nobody wants to face. In drawing your textile or in painting or in writing, I'm basically forcing myself to look at my weaknesses and my strengths. Art, for me, is a way to heal."
A Toronto-based, multimedia visual artist, Eldardiry, along with her CAP peers, will be celebrating their graduation from the program at Rad Grad. Open to the everyone, Rad Grad will not only feature performances, art, music, video screenings and more, but will allow the public to visit SKETCH's new Community Arts Entreprise Hub in the Artscape Youngplace building, also home to SKETCH's admin hub a few floors above it.  This newly renovated, 7,500  square foot space is "set up a little bit like a learning lab," says Novak, comprising of a large open space for various studio and textile arts, dance, movement and music studios, and an expansive kitchen and garden. "We want to have lots of exchange of skills and learning so that people can make connections into every kind of sector," Novak adds.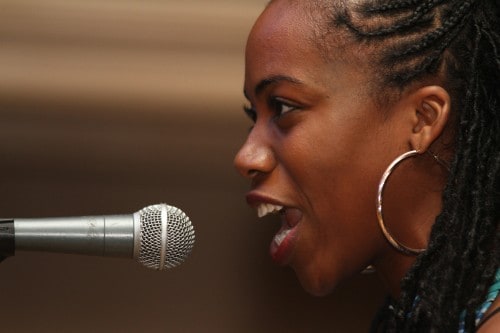 These connections are not limited to SKETCH members, however, as the community is also strongly invited to engage with them in whatever way they get most excited about. Community members can initiate new artistic projects by renting out space at the Community Arts Enterprise Hub; they even have the option of bringing on a youth apprentice from SKETCH. Those lucky enough to have learned a special skill and who want to pay it forward are welcome.  This is an engagement opportunity for people who are not necessarily connected to the old style of charitable giving in which they make donation to an organization and then detach themselves from it, says Novak. "If you have a brand new idea, bring it," adds Eldaldiry. "Let's heal together. Let's have a conversation. Let's have a coffee. Let's have food. l want to get to know you. Let's get to know each other."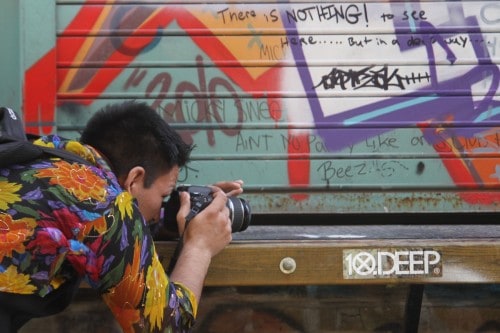 Come meet the SKETCH peeps at Rad Grad 2014, Wednesday, June 11th, 6pm-9pm, 180 Shaw Street, Lower Level. FREE!!!