Devon Fiddler is a Cree Woman from the Waterhen Lake First Nation in Saskatchewan. Devon is a social entrepreneur, and the Chief Changemaker of SheNative Goods Inc, a brand of handbags, clothing and accessories. Devon has built SheNative to help empower and change perceptions of Indigenous women and girls. She recently took part in the Indigenous Runway Project and is now up for the YWCA 2016 Women of Distinction Award for the category Under 29.
SDTC: Walk us through a typical day in your life.
DF: There is no typical day! I try to create a schedule but it never works, especially now that I have a newborn. Some days, I'm getting ready for a local fashion show; some days I'm bookkeeping; some days I'm setting up for a trunk show, tradeshow, event or pop-up shop! I try to do the designing in between all the business stuff.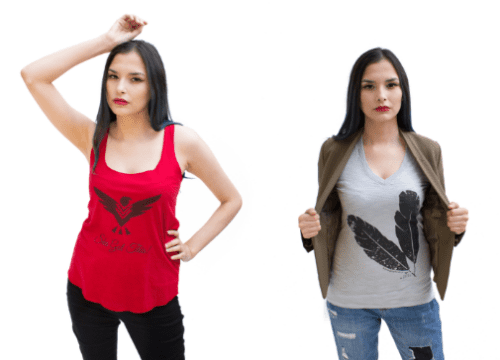 How do you approach creating a new piece? Do you flesh it out with renderings or just let it evolve organically?
I typically get inspired first. I research pieces in history, modern trends, style, and Pinterest. I get colour inspiration from runway trends. I try to draw it out myself and piece together the look I'm going for with a vision board, and I go from there and it evolves.
What is your advice to other young Indigenous designers who are in the midst of launching their careers?
Work on your branding, and make sure that you are consistent! Don't be afraid of doing something new and completely out of the box while you're establishing your branding because it will set you apart.