Acclaimed DJ, creator, producer and indie director D.W. Waterson (aka hey! dw) has officially launched the highly anticipated second season of the hit Toronto web series That's My DJ, alongside award-winning production company TOUCHPOINT Films.
Created and directed by D.W. Waterson, That's My DJ is an unapologetic look inside the new order of rave and showcases original music and live performances from D.W. herself.
A multi-faceted talent, D.W. is recognized as one of Toronto's most in-demand DJs known for her signature sound of bouncy British beats and high-energy live drum solos. We got a chance to speak with D.W. this week.
SDTC: When did you first become interested in directing?
I remember in high school every Friday night I would go to Blockbuster (yes, ye ole' Blockbuster) and rent festival-nominated films, seasons of TV and the latest 90s teen movies. I was hypnotized by the art of storytelling, the actors the cinematography, the drama, the magic. I would actually sit there and take notes. Little did I know what all of those nights would add up to.
Can you walk us through a day in your life?
Oh man, every day is so vastly different for me, which is why I love it so much. One day I could be on set for sixteen hours directing a music video, and the next I could be working from home post-supervising a television show and heading to the club to DJ an epic party at night.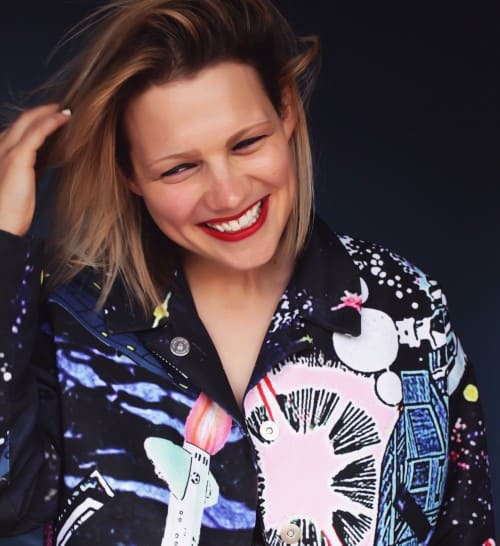 Who have been your mentors throughout this process?
I have been surrounded by some of the most talented, supportive and loving people. Cylinder Sound & Touchpoint Films have been like a family to me, giving me access to their space, collaborating/working on That's My DJ Season 2 and investing in me as a creator. On top of that, Matt Eastman, the director of the award-winning web series Whatever Linda, has been like a big brother, constantly putting me up for jobs as well as dropping my name and helping push my brand to major players in the industry.
What are the changes you would like to see in the industry?
I would love to see the gatekeepers of funds in the Canadian film industry start to invest in up-and-coming talent.
Why do you love producing your own music?
I think it's a chance to take all of the sounds and rhythms I've heard in the clubs over the past eight years, sit in a room and play. What makes an audience tick? What does this bass loop make me want to do? If the answer is "take off my pants and dance my face off," then I know I have something.
When did you know this was what you were supposed to do with your life?
Over the past couple years it has become more and more clear to me that directing and DJing are not only my passions but have also become my career. There have been multiple moments all the way from directing Seasons 2 and 3 of That's My DJ, working with Rhombus on the film Closet Monster, building up my event Home Brew from nothing, to selling out the Supermarket every month and all the way to playing WayHome last year as hey! dw. This is what I do.
Check out That's My DJ here. Follow D.W. on Facebook, Twitter, Instagram and Soundcloud.