After being asked to leave her day job to focus on her health, Julie Bednarski was forced to reassess her life. It was around that time that Bednarski stumbled upon the perfect snack: the rejuvenated kale chip. She started experimenting with recipes. At first her family got on board. Then friends. Then everyone wanted a taste of her small-batch kale chips. The Healthy Crunch Company was born, and finally the crippling eating disorder that left Bednarski in the hospital numerous times would cease to have a hold on her.
Julie Bednarski's love-hate relationship with food began young, but it was also this relationship that inspired her to channel her past struggles to build a food empire. We caught up with her this week.
SDTC: Can you walk us though a typical day in your life?
JB: The great thing about my work is no one day is typical, which I LOVE. Being an entrepreneur of a growing business, there are many things that I get to do.
My day usually starts around 5 a.m. I like to get a quick workout first thing in the morning to ensure I do something active for myself before the day starts. Swimming, power walking, or cycling are my preferences. After that I will meditate for fifteen minutes and read my intentions for the day. Meditation has changed my life and has helped me be grounded and focus on my mind. I have learned that the mind is very powerful and the thoughts that you feed your mind can either break you or create you.
By 6 a.m. I'm either catching up with emails or taking my two golden doodles – Sophie and Charlie – for a walk. Then by 8 a.m. I am at our manufacturing facility. I meet with our Plant Manager to check on how production is going for the day and if there are any issues that might arise. Our kitchen production team – our "kale ladies" – start work just before 7 a.m., and I always like to check on how things are going in the back.
After that, every day is different. I could be meeting with new customers, meeting with our sales team, meeting with our distributors, meeting with our marketing/design team, meeting with our accounting team, doing deliveries, research and developing new flavours, meeting with our team to discuss new or existing projects, connecting with our PR company, or setting up trade shows.
I usually get home between 7 p.m. and 8 p.m., play with my pups or take them for a walk. Then it's dinner time, usually something plant-based as I love my veggies. I love making a large salad with lots of different vegetables, healthy fats and beans. By 10 p.m., it's lights out for me. I love my sleep!
You struggled with disordered eating prior to starting your business. Can you talk about what that was like? 
My eating disorder started when I was thirteen years old. Typical of most young teen girls as they feel the pressures of looking a certain way when they are young. I was overweight as a child, reaching almost 200 lbs by the age of twelve. I was an inactive child, not participating in sports or eating healthy. Although my parents provided us with healthy food, having busy parents left me eating a lot of food and watching TV when they were not home.
When I was thirteen years old, I got up one Saturday morning and wanted to go swimming. From that day on, I started to exercise and eat healthy, and the weight started to come off. My weight loss started off as a success, but then turned into an obsession as I would exercise every day for hours and not eat anything. The attention I started to receive from my weight loss perpetuated my obsession with exercise and disordered eating. Once you have the mindset of someone with disordered eating, it's very difficult to get yourself out of the vicious cycle because what you see in your mind is completely different than reality.
Fast forward seventeen years later, when I turned thirty and my eating disorder reached its peak. I only weighed 95 lbs, was a size 00 – yes that size does exist – and my body had shut down. I was in and out of the hospital and could not work as I had many different health issues. Not eating for seventeen years, in combination with compulsive exercise, left me weak and unhappy. I had digestive issues and could not eat anything without getting a severe stomach ache. I have hormonal issues – as I did not have my menstrual cycle for seven years and was in menopause. Insomnia, depression, anxiety, headaches, fatigue, suppressed immune system, anemia, and osteopenia. Basically, my body had enough and was shutting down. I got to my lowest point when I had to stop working and quit my job. My disordered eating was affecting every aspect of my life – work, relationship, family, and my overall happiness. I knew I had to change or I might not live a long life.
How did you eventually overcome it?
I believe I had to reach my lowest point in order to decide to make a change. I said to myself, "I can not live like this anymore." I wanted more from life than just being thin. I had no job or relationship, as I was too sick to work or be sociable. From that moment, I decided to commit myself to getting better, unconditionally of what I looked like or how long it would take. It took over two years of focusing full-time on my health and happiness to get better. I surrounded myself with team of experts that helped me through the process of healing my body. I focused on doing a lot of mind-exercises – visualization, meditation, positive talk – and these exercise truly shifted my ideas in my mind. I moved away to a treatment centre to focus on my health and happiness.
Within a year, my body had rebounded from all the therapies, hormones and supplements that I was taking. I had reached almost 200 lbs again within a short period. This created new challenge, as I went from being really skinny to overweight again. This time was different, as I was committed to health and knew that my body was rebounding from many years of unhealthy behaviours and was re-calibrating itself. I started to learn how to love food again. Cooking has always brought me pleasure, and I decided to enroll in culinary school during my healing process. Food is critical, as we need it to survive. Learning to love food again, and rebuilding my relationship with food was critical.
What do you want other women who may be struggling with an eating disorder to know?
Being super thin is not worth sacrificing your health and happiness. I know first-hand that you are never happy when you have an eating disorder. You whole life is surrounded by disorder behaviours, how you look, what you ate, or how you feel. There is so much more for you to experience other than focusing on food and your body. You have to learn to accept yourself. You have to LOVE yourself more than anything else. You are the most important person, and if you don't take care of you first, then nothing else matters. Take it day by day, and focus on healing.
Can you offer some hope for getting better?
I truly believe that you have to want to get better. You have to learn how to LOVE yourself and be happy with who you are at the core. No one is going to help you or give you the solution other than yourself. You have to commit to yourself that no matter how bad things get you will focus on the end goal of healing your mind and body. Everything starts in the mind. You can create the person you want to be by imagining them in your mind. Shifting your mindset to not focus on how you look but how you feel is important. Life is so precious, beautiful, and has so much joy to offer. Finding out what makes you happy and gives you joy is critical. When you discover that, you shift your thinking away from your body to positive aspects of your life. Surrounding yourself with positive people and those who love you regardless of how you look is also important.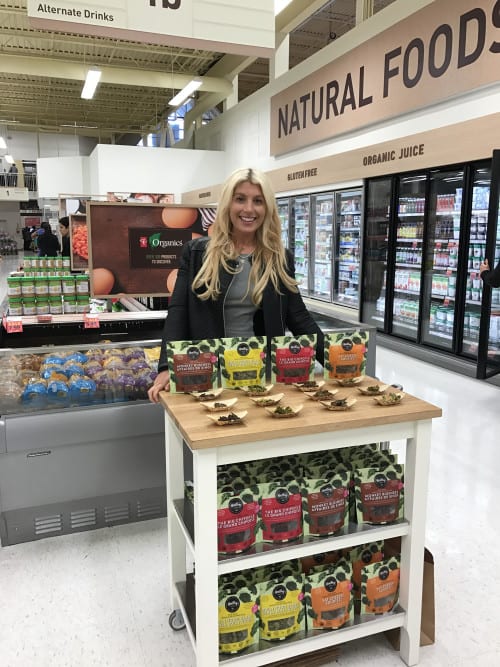 What excites you most about where you are at now?
Business – and developing new products for consumers. I love being creative in the kitchen and developing new and healthy food products. I'm excited to see how far Healthy Crunch can go with distributing our products throughout North America. I am also excited to develop new healthy food products with the same values and philosophy as The Healthy Crunch Company. We are receiving lots of great feedback and interest from customers. It always surprises me to see how much people love our kale chips – I am very grateful for everyone's support and interest in our products.
What have you got planned for the coming year?
We will continue to make the high-quality kale chips that are nut-free, peanut-free, gluten-free, certified organic, and vegan. We will be launching national distribution of our products by the winter of 2016. From West Coast to East Coast, everyone will be able to enjoy Healthy Crunch Kale Chips. You will be able to find our products in all major grocery stores by January 2017. Anywhere you're on the go, you'll find Healthy Crunch Kale Chips. We will be launching our NEW large multi serving kale chip packaging in January 2017. In addition, we will be launching three NEW flavours of kale chips and kale krumb shakers in January 2017.
Where do you get your inspiration to live your most healthy life?
I always strive to be better. I'm not perfect and will never be perfect! I'm always improving myself, and I take things day by day. What I consider a healthy life now is being fulfilled with my work, family, and personal relationships. Working to create a business that allows me to inspire and educate others on living a healthy life and being happy inspires me to continue to strive for my own personal health and happiness. I have many goals and aspirations in life, and if I am healthy and happy, achieving everything is possible.
Any tips on how to put health first?
Be kind to yourself. Be patient. Think about where you want to be, no matter how crazy the idea. You have to have a plan, write it down, and commit to it. Make yourself a priority, and take it step by step. Small steps add up over time, and just remember if you had unhealthy behaviours for years, it might take years but things will change over time with commitment!