Rose Barroso, the force behind
Barroso Homes,
designs luxury homes that are widely regarded as some of the most spectacular in Toronto. Working with an architect, she helps affluent clients design their dream spaces. It was a career path that came to her rather unexpectedly; but it is a field in which she truly shines.
We chatted with her about what it's like working in a male-dominated industry, what looks inspire her and what she's learned along the way.
SDTC: Walk us through your education/career trajectory.
RB: My education does not align with where I ended up at all. I completed high school with Honours in Toronto and attended University of Toronto where I studied Modern Languages. My intent was to become a translator for the government.
As a kid, I wanted to study different languages and work as a spy, of all things. I always knew I loved the study of languages and never changed paths throughout high school and university. So far from where I am now!
Did you ever imagine you'd be designing custom homes?
Absolutely not, I am still surprised as to where I ended up, and how much I enjoy my job.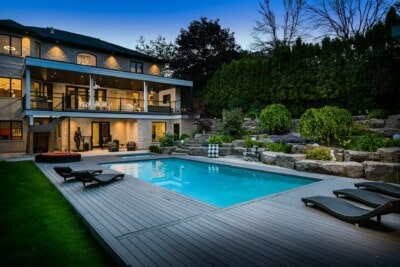 So how did you get into this career?
I accidentally fell in. I was a working for an airline as their European Department Manager, and was enjoying it, until my husband–who was in the home building industry–planted this bug in me. Because I would travel often, I chose to sit with him during the evenings as he worked on his construction plans. I suppose I asked a lot of questions and the information started sinking in. I began by renovating a small home in the downtown area. The home sold in three days and I was over the moon! So I did it again and again for a few years, until my husband encouraged me to move into building, not just renovations.
What has been your all-time fave project to work on, and why?
I do have two favourites of all time – ArtHouse7 and the Hillside House. But ArtHouse7 tops the list. Located in South Etobicoke, it is jaw-dropping. The exterior design is simple but very modern in style. Everything about the interior is filled with detail, very family-oriented, open concept, inviting and cozy.
Walk us thru a typical day in your life, from getting up til going to bed.
Balancing the personal and professional is chaotic, and at times–hair pulling stressful.
I have two children (11 and 13 years old) who attend school on the opposite side of town from our residence and our site locations. By 6 a.m. I am ready to go, then I get the two children up. By 6:30 a.m. they are in the kitchen for breakfast and by 7 a.m. we have to be in the car ready to leave.
I then drive 45 minutes for a school drop off and another 45 minutes back.
By 9 a.m. I am at the office responding to emails. Within the next couple of hours I typically have a meeting – either visit a site and meet with trades, visit a showroom to source or select materials, meet with City officials, or with clients.
I generally forget to have lunch, but lots of coffee does the trick.
At 3 p.m. I am juggling work while thinking about the children's after school schedule, extracurricular or sports activities. They both have Tae Kwon Do practice twice a week. My son plays rep soccer, and has practice three times a week and games on the weekends. My daughter has horseback riding practice once a week, and is a member of the school swim team with practice twice a week.
I am starting dinner at 8 p.m., the kids are off to bed at 9:30. I have a few hours to sit with my husband to go over our days and discuss tomorrow's schedule, and by midnight we are making our way to bed.
What is your motto lately?
"If you do what you love, it will never be a job."
Worst piece of advice you've received?
Of all the advice I have ever received, someone once told me to "Follow the herd!". It was in reference to choosing a career that has a clear path to success.
You can create a career out of little more than passion. It can take years to find your way to the right one. Take your time and don't be afraid to make a change.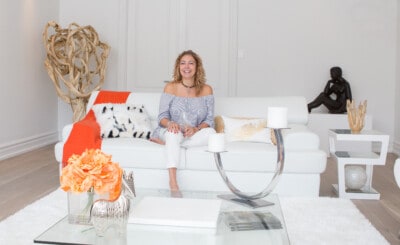 Biggest challenge you've overcome in your career?
I have had two massive challenges to overcome:
1. Being a woman in construction. Unfortunately, like for many, to this day the biggest challenge is being a female in a male-dominated industry. Although it has started to improve, there is still a widely held perception that a male can handle "it" better.
2. Starting to build modern-style homes in Toronto 12 years ago, when the local market and demand was very, very different. I have to attribute some of the initial resistance to modern to the area in which I was building, which was/is very traditional and not very welcoming of change.
What do you love most about what you do?
I indeed LOVE what I do.
I love the freedom to create and change perceptions.
I love the opportunity to make a dream come true for someone.
I love that I am in an industry with constant innovation, and that I am able to introduce others to new design and ways of looking at things.
I love that I get to work with so many different clients, and am constantly meeting new and adventurous people.
What home looks are inspiring you in 2019?
If anything, I typically work outside the trends. I have always been drawn to pairing contrasting styles, whether it is introducing contemporary interiors to a more traditional structure, or bringing traditional touches to a modern build.
Which ones would you like to retire already?
I'm sure many would disagree, but I think it is time we retire the Tudor style. It does not allow for enough natural light, and the interiors are too divided for our family or social ways,
Any advice for young women wanting to venture down this particular career path?
Be prepared to be patronized, and don't let it phase you. Don't allow anyone to tell you that you can't or shouldn't. If it something you truly love, it is worth fighting for.