Roxana Zaman graduated from Simon Fraser University in Vancouver and landed a job at TD, where she quickly climbed the corporate ladder. Shortly after, the opportunity presented itself to start Maple, an app that provides Canadian patients digital access to doctors. Zaman decided to do a 180 and launch her own biz.
Maple helps alleviate the stress associated with overcrowded walk-in clinics across Canada. Via Maple's in-app video call, you can bypass lines, headaches and gross waiting rooms and see a GP in real-time.
We chatted with Roxana this week.
SDTC: Can you describe your career/education trajectory?
RZ: My parents decided to immigrate from Romania to Canada in 2001 to give me and my brother a chance at a brighter future–I was eleven. Both my parents were university-educated individuals, so I always felt a duty to get a good education and find a stable job.
I attended Simon Fraser University in Vancouver. I studied finance and economics, and by the fourth year I was getting consistent Honour Roll marks. I was heavily involved in all kinds of extra-curricular activities, like working on large-investment recommendations for my school's $10 million endowment fund.
I always felt confident academically, but knowing how to interview well took a lot of practice. Just having good grades isn't enough to get that dream job. The environment is incredibly competitive for business graduates, and you have to find ways to differentiate yourself. Upon graduation, I did weeks of mock interviews to learn how to captivate an audience with my thirty-second elevator pitch and answer questions like, "Why do you deserve to be the successful candidate vs. everyone else?"
I ended up receiving an offer for a great opportunity with TD for a leadership development program. From there, I chose a career path in product and P&L management. I spent my time leading the bank's customer acquisition and retention strategy and tactics and broadening my business skills in the areas of pricing, managing costs, planning and forecasting. My aspiration of becoming an executive at TD started to feel tangible so long as I'd stick to the career path outlined to me by the bank.
What made you want to make the leap from corporate job to your own biz?
In 2015, I remember sitting down with my friend Dr. Brett Belchetz (now CEO) and his good friend Stuart Starr (now CTO) to talk about an idea they had to improve access to healthcare in Canada and beyond. How? By connecting doctors and patients online.
They had built a prototype and they needed a "business person" to help them write a business plan and raise money.
While Canada has one of the best healthcare systems in the world, we rank very poorly compared to other developed countries when it comes to timely access to care. A significant amount of our population waits days to see a primary care doctor and months to see a specialist.
I started imagining how much time we could save people, and how much capacity we could free up in our healthcare system, by introducing a more efficient and comfortable way to see the doctor. Virtual care (AKA telemedicine, telehealth, e-health) has already proven its value all around the world. Large telemedicine companies–Babylon Health, Push Doctor, Teladoc, Doctor on Demand and many others–are already connecting millions of patients with healthcare providers online for diagnosis and treatment.
I certainly didn't know much about technology nor the healthcare industry, but I knew I'd make a strong addition to Maple beyond writing a business plan. I became increasingly excited at the thought of being a part of something where I could help make a difference in people's lives, rather than feeling like a small piece of a puzzle in a corporate environment. So after making my case to Brett and Stuart, I became the third co-founder and decided to put my banking career on hold. Maple was incorporated in 2015, and I haven't looked back since.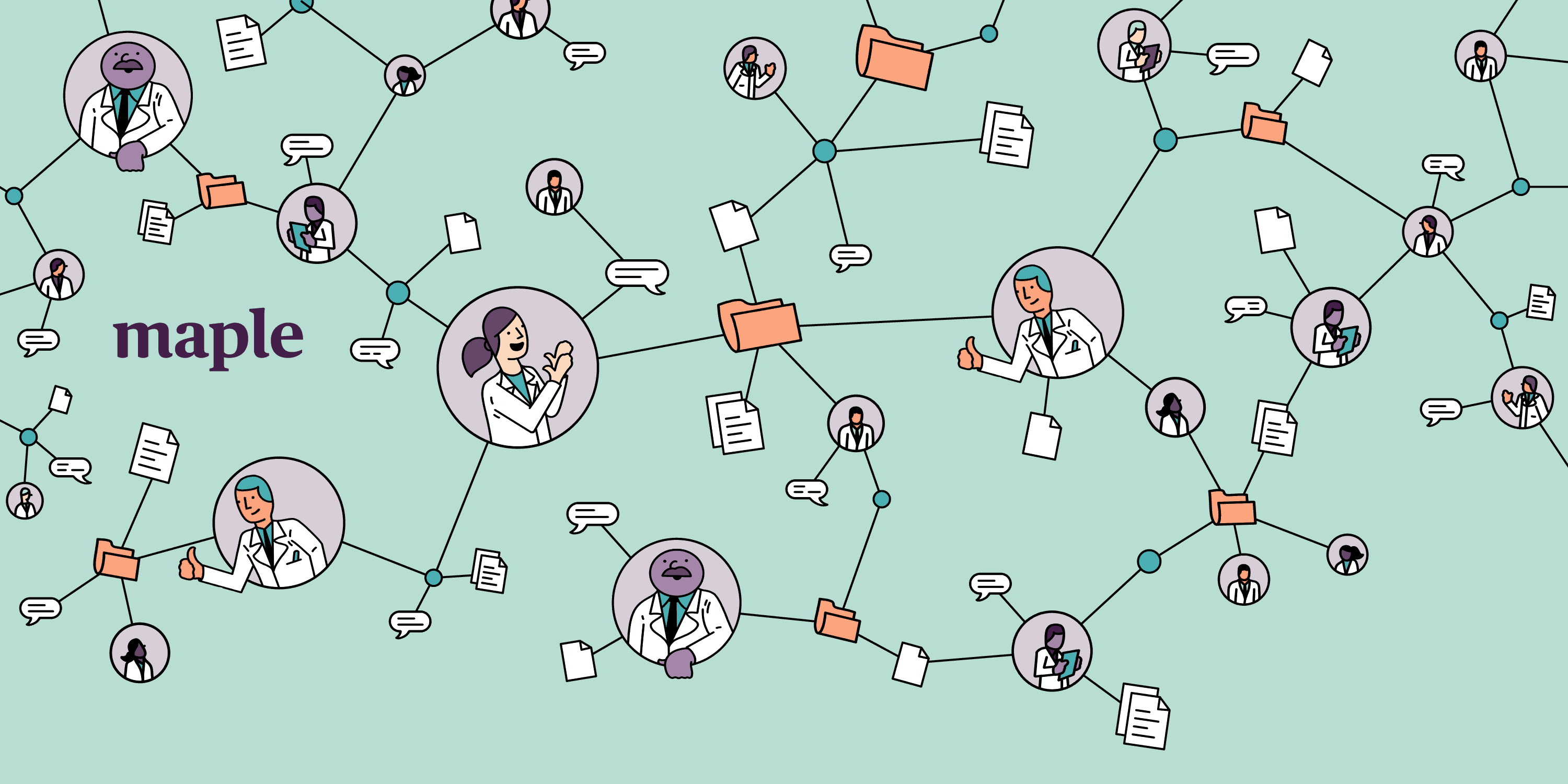 What are the major benefits of having a service like Maple?
From a medical perspective, it's incredible how many diagnoses– over half–do not require a hands-on in-person consultation.
We've all been there–having to take half a day off work for a doctor's appointment. Maple allows you to see a doctor instantly without having to take off that time, without having to pay for parking or visit a pharmacy. Patients simply tap a button to request a consultation, and they immediately get connected to a doctor. The types of conditions doctors can treat remotely include eye and ear infections, cold and flu, urinary tract infections, allergic reactions, skin issues and rashes, vomiting and diarrhea, sexual health issues, mental health concerns, and more.
With nearly 20,000 patients and more than 100 Canadian licensed doctors on the platform, Maple promises patients a live chat or video visit within five minutes, day or night–the shortest wait time for a doctor in Canada's virtual care industry.
What has been the biggest challenge in getting Maple off the ground?
Maple is the only service that connects patients with doctors right from their smartphone or computer for diagnosis, digital prescriptions and medical advice on a 24/7 basis. For this reason, the majority of provincial health governments do not yet cover online (or telephone) medical visits–only in-person medical visits are covered. This means there is a fee for patients to use Maple, currently starting at $49.
We believe every Canadian needs to have access to Maple, so it is our hope that governments will choose to provide funding in the future. In the meantime, we've had to work incredibly hard to make the service accessible and affordable for as many Canadians as possible, by working directly with Canadian employers and insurers. Recently, we announced our partnership with Sun Life to help bring online doctor visits to millions of Canadians. Still, we're just getting started to spread awareness that this type of service is available.
Walk us through a day in your life.
I absolutely love mornings and getting a workout in at the start of my day. I'm typically up at 5 a.m., and either in a yoga class or at the office by 6-6:30 a.m. When I get to the office, I like to dedicate the first few hours of my morning solely to creative thinking and brainstorming. Whether it's researching and thinking about a new marketing campaign or contemplating our geographic expansion, I find this uninterrupted thinking time very valuable.
By 9 a.m. I'm starting to respond to e-mails and beginning a series of meetings throughout the day, either with members of my team, vendors or clients. As COO, I get to wear many different hats, but ultimately my main area of responsibility is growing the company and hiring the best and brightest people. Our office is located in the OneEleven innovation hub in downtown Toronto, alongside fifty of Canada's most promising tech startups. I make it a point to connect with my OneEleven peers from different companies to get advice or just bounce ideas on specific challenges that others may have more experience in than me.
I like to leave the office anywhere from 6 to 7 p.m. If I'm not catching up with friends or attending an event, I like to be home and relax by cooking dinner and reading. I review my emails one last time before bed and hit the lights by 10 p.m.
What is the most rewarding part of running your own biz?
Being a founder means you get to create and build something out of nothing. So you take your best shot and hope people will see the value in what you're doing. For us, the ability to deliver a great patient experience has always been our guiding principle. My proudest moments happen when we get to hear exactly how Maple is making a difference in people's lives.
Similar to Uber, we ask people to rate their experience after every visit, and the feedback Maple gets is truly remarkable. I'm proud to see that the medical issue resolution rate on Maple is best in class at 91% and that 98% of patients have consistently rated us 5 out of 5 starts–these stats are like a stamp of approval to say that what we've been building over the last three years is working.
What do you want potential clients to know about Maple?
We want people to know that our mission is to make healthcare more accessible for all Canadians, and in doing so, we hope to create a more sustainable healthcare system for everyone.
Find out more here.