Birch Babe is a collection of premium, all-natural waste free beauty and body products made in Bon Echo, Ontario by Debbie Alger. But since the pandemic hit, her team has expanded to include her two daughters too.
Debbie has always led an eco-friendly lifestyle, but it was a solo trek to Patagonia that inspired her to go greener. "I remember the supervisor—at the Patagonia place where I volunteered—smoked but he was so stringent about not wasting that he'd would put butts in his shoelaces when on a hike," she recounts, "Everyone was so vigilant about waste that finding a gum wrapper would freak them out."
Upon her return, three years ago, Debbie began tinkering with skincare formulas in her kitchen. Her daughters, Lindsay and Kelsey, affectionately refer to her as the "Mad Scientist", but they're genuinely impressed by their mom's determination to grow a company that inspires consumers to invest in everyday essentials that are both good for our health and the environment.
Birch Babe products are now sold in 50+ speciality stores in North America, but both Lindsay and Kelsey knew that their expertise could help grow their mom's company even more. When the pandemic hit, they finally had a chunk of time to work with and gave Birch Babe an overhaul, both in branding and optimizing the e-commerce side of things.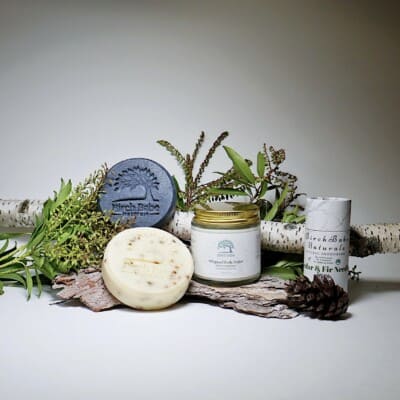 Hailing from two totally different industries, the sisters put their talents to work.
As a bar manager used to running a staff of 30 people, Lindsay hunkered down as project manager, using her organizational skills to run the Birch Babe studio "I went from running a staff of 30 people to running a staff of 2 and I'm honestly way busier than ever because my mom is the equivalent of managing 50 staff!!!" she laughs.
Like Lindsay, Kelsey's career as a film director also came to a grinding halt when COVID hit. After a few weeks into the pandemic, she realized that she could spend the time helping her mom. "I had been watching Birch Babe grow organically over the last 3 years and so I knew the product was good because the branding was only OK and people kept buying, writing rave reviews and sharing organic content about it. I also know that anything our mom does is basically amazing because she puts her whole heart into EVERYTHING," says Kelsey, proudly. "So it just made sense to take my experience in advertising, production and creativity and apply that to rebranding Birch Babe, giving it the voice it deserves and sharing it with the world!"
Working together is a new thing for the trio, and like most mother/daughter relationships, there was concern that coming together as a team wouldn't go smoothly. But within a few months of pooling together their talents, they successfully revitalized the brand, and launched a whole new Organics Collection.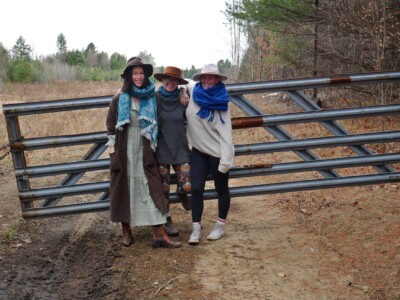 "We have one blow up a day and many laughs every day," says Debbie, smiling, "I anticipated more butting heads and arguments and disagreements but we've gotten along surprisingly well." To their surprise, the experience has been a fun one. All three women have a newfound appreciation for one another's strengths and talents.
"I always knew my sister was a badass boss and basically the hardest-working person in the room but seeing it is one of the most incredible things. She's only been running the Birch Babe studio for a couple months and in this time we rebranded, launched a new website, doubled in sales (and counting) and are moving to a new bigger and better space and Lindsay just owns it and makes it look effortless!" gushes Kelsey. "It would be hard to slack around her because she's so on it! It's impressive and I'm such a proud big sister. Oh, and sometimes she wears a red plaid onesie to the studio and it's amazing."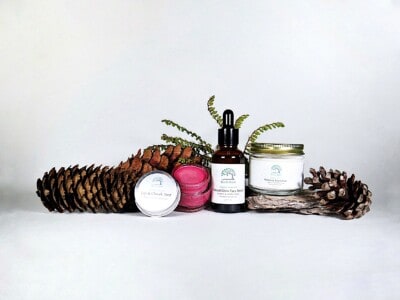 What are the hottest sellers for the holiday season? Debbie, Lindsay and Kelsey have different guesses:
Lindsay: "I think the top sellers for men will be the Woodsy Jay Body Butter. It smells amazing!! I want to write my name on my man's forehead when he wears it out! The Gentle Face Scrub is an amazing addition for the winter to scrub away and dead and dry skin."
Debbie: "The Rejuvenating Face Cream is our heavier face cream and amazing for the colder months. It's becoming a popular seller and we've seen a bunch of new positive reviews on the site for it! Honestly I can't live without the Organic – Natural Glow Face Serum. The face serum and cream are an incredible combo."
Kelsey: "It's all about Kits!! We have an The Essentials Kit for anyone looking to get started with waste-free all-natural skincare, The Organics Kit with the top organic sellers and the Clean Makeup Kit with all-natural makeup for the holidays. They're the best deal, and come wrapped in recyclable brown boxes with cute brown paper and twine wrapping. What's also super popular and perfect for the holidays is our darker Fireside Temptation Lip and Cheek Tint."
See the full Birch Babe collection here.