Over the holidays I got really sick. I was visiting my parents and instead of getting in some good R&R, I found myself coughing non-stop, blowing my nose on things and finding solace in hot toddies. They didn't taste that good, just a haphazard mix of hot water, lemon, honey and whiskey but they made me feel so much better that I didn't bother to perfect the recipe. But I've got it now. This is the ultimate cure-all that also tastes really delicious. The ginger tea is soothing, the ginger syrup sweetens it up, and the liquor opens up the airways. If your feeling fine and dandy, albeit a little cold, there's no need to feel left out. This drink is perfect for you too.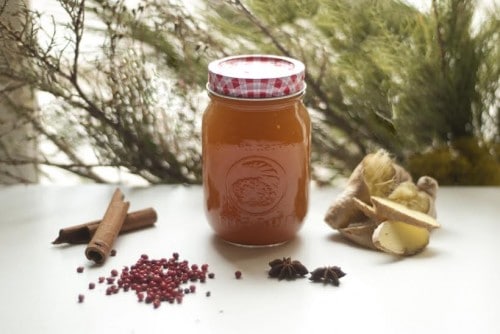 Ingredients:
2 oz of whiskey or spiced rum
1 oz of home made ginger syrup
3 ounces of ginger tea
Tbsp of butter melted in and stirred
Freshly grated nutmeg
3 drops of ginger bitters (optional)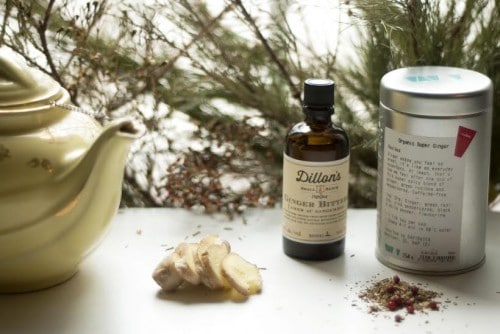 Method:

Make a ginger simple syrup using this recipe from Imbibe Magazine.
Brew a pot of ginger tea. I used David's Tea Super Ginger to make this cocktail but if you don't have that, using roughly chopped ginger and some lemon in hot water will work just as well. Make sure it's been steeping in your cup or teapot before you mix it into the cocktail.
Build the cocktail in your mug starting with the alcohol, then the syrup, and then the tea. Melt in the butter when it's done, grate fresh nutmeg on top, and garnish with a cinnamon stick.
Mmmm. I feel better already.
All photos styled by Jenny Morris and taken by Michael Morris. Wooden tray, vintage glasses and Dillons ginger bitters from BYOB Cocktail Emporium.