20 minutes / Easy / $15
Autumn is HAPPENING. This is bigger than pumpkin spice, y'all. This is about chunky knits and ankle boots and jeans and stretching out those perfect sandals you bought on sale by rocking them with socks until your poor toes just can't take it anymore. Summer is all about light, breezy accessories, but now we're truly getting into the Statement Necklace Zone (think about those intense jewelled numbers you were rocking to Christmas parties last year). Here's how to take some extra stuff you've got lying around and turn it into a haute piece that will take you from back-to-school to holy-crap-it's-winter-already:
You'll Need:
Buttons (I stuck to a theme of white/gold but I think any colours would look great)
Glue Gun
Felt
Jump Rings
Chain
Clasp
Scissors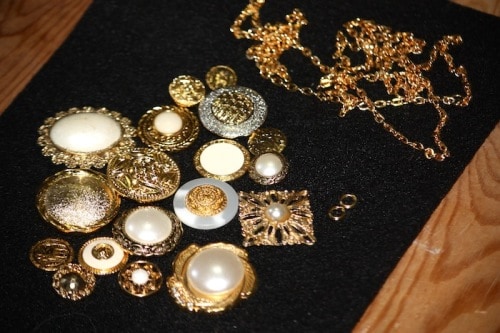 Steps:
Lay out your felt (I doubled up so it would be a bit stronger) and arrange your buttons in the order you would like
Glue the buttons to your piece of felt
Cut out all around the buttons – trimming as close to the buttons as possible. Be sure to leave a small bit of felt at the top right and left for you jump rings/chain
Pierce the felt to make a hole for your jump rings and attach the chain to the jump rings
Cut the chain so it is the desired length of your necklace and attach your clasp with two more jump rings to your chain
Wear your perfect new necklace with a fall cardigan and some boots!
Limberlina are Kimberley and Laura—they teach people with creative ambitions to make their own mark in and outside of their homes through simple, imaginative and inexpensive DIY projects. Follow them on Facebook, Twitter, Pinterest and Instagram  and check out their DIY Kits here!