TW: pregnancy loss, miscarriage, infant loss
I had a scary pregnancy with my 15-month-old, Arlo.
Although I wanted him more than anything, I couldn't let myself get excited about having him. I didn't bond with him in utero. At his first ultrasound, they told me they couldn't find the fetal pole and I spent Christmas believing I had a dead baby inside me. I discovered I had a marginal cord insertion in my placenta. He was flagged for Down's syndrome. I was told he was too small, and was an intrauterine growth restriction (IUGR) baby, and because I had 5% of my amniotic fluid left I would need to go to the hospital for weekly monitoring.
I was terrified.
We waited four months before telling our friends and family. I was seven months pregnant when Adrian and I bought our first and only prenatal baby item⁠—a Value Village onesie with foxes on it. Nervous throughout the pregnancy, we didn't post any photos or announcements on social media. We didn't even have a car seat when he was born.
I was in the front pit of a Weezer/Pixies show at Toronto's Budweiser stage, on a hot July night, when I went into labour. At first, I thought it was just waves of back pain, but they intensified and Arlo was born the following morning, weighing 5lbs 10oz. A month premature, we spent four days in the hospital monitoring his blood sugar and treating him for jaundice.
Because I had distanced myself so much from him while I was pregnant, I was worried that I wouldn't feel "it" as they say, but as soon as he was placed on my chest, intense and overwhelming feelings of love and protection – that I didn't even know existed – washed over me. I was in love.
---
This September, I was pregnant again — just shy of 12 weeks.
The odds of miscarriage at that point is 1.7%. My partner Adrian and I had seen our baby's heartbeat on an ultrasound at eight weeks. Everything was looking good, fetal pole and all, everything was there. I let myself get excited. I bought some cute baby clothes. We told our immediate families and some close friends. We were going to tell our extended families our good news at Thanksgiving when we were at 15 weeks.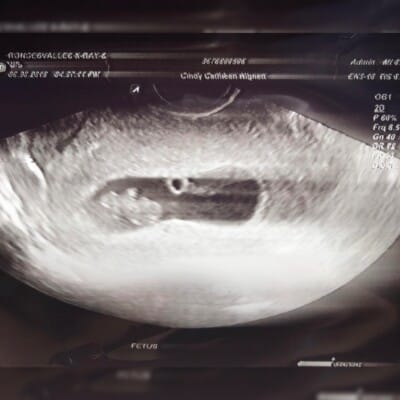 We went to PEI and Halifax to visit friends on September 16th. The day before we left Halifax to fly home to Toronto, I noticed some spotting. I called our midwife. It was very light. I had light cramping the night before but felt fine that day. I was to let her know in 24 hours if the bleeding or cramping increased or didn't subside. We were hopeful. It was light all day with no change. Adrian and I decided to go to a walk-in clinic that night, hoping to ease our minds. The doctor used a Doppler to try and find a heart beat, but nothing could be found. He said that it wasn't uncommon at 12 weeks not to find a heart beat using a Doppler and not to worry. Because my bleeding was so light⁠—and not bright red⁠—he was hopeful things would be okay. He said it was okay to fly and I should follow up with my doctor when I get home. The next day things were the same. Light spotting, no cramps. I updated the midwife. We decided to schedule an ultrasound for the following morning when we got home.
Our flight left Halifax at 4:20pm. The plane was pretty much full but thankfully we got an empty seat in our row of 3 so we had more room with Arlo. During the flight, I started to feel cramping. It got stronger. We were about an hour shy of landing in Toronto when the realization hit me – these weren't just cramps⁠—these were contractions. I timed them. Every two minutes, 30 seconds long.
My heart sank. I got up to use the bathroom. There was a lineup. I contracted while in line, slouched over against the wall at the back of the plane clutching my belly. A flight attendant asked me if I was okay. I started crying. I told her I was 12 weeks pregnant and having contractions and that I was likely in the process of having a miscarriage. She offered me water and tissues. She said; "maybe it will be okay," and asked if I needed anything else. I was in shock. I said no thank you, but after a pause: "Maybe a wheelchair for when we land?" She said okay. I used the bathroom and went back to my seat.
My contractions got more intense throughout the flight. I was clutching the seat in front of me during the contractions. We were towards the back of the plane.
The plane touched down at 5:42pm. I immediately paged our midwife. She confirmed what I already knew: I was having a miscarriage. She advised me that if I wanted to go to a hospital they would confirm what was happening and give me something stronger for the pain, but that was about it. I wasn't going to wait in emerge for that.
The plane took forever to dock. When it finally did, everyone in the rows surrounding us stood up, and that's when my water broke— in front of dozens of people. I didn't know it was my water breaking. I didn't know that happened during a miscarriage. I thought it was the baby and blood and everything coming out of me. I started sobbing loudly. I couldn't catch my breath. Adrian was holding my hand and trying to keep a squirmy Arlo calm.
The people at the front of the plane were still getting off. Everyone at the back of the plane was still surrounding us. A different flight attendant heard me crying and headed to the back of the plane to see what was wrong. I told her I miscarried. She didn't understand; she had a thick French accent and she didn't realize there was someone in labour on the plane. She wasn't close enough to speak quietly, so I announced through sobs that I lost a baby.
I stood crying, hovering above my seat until everyone was off the plane. I locked myself in the tiny plane bathroom. I was wearing black leggings and everything was soaked. I sat on the toilet and I felt something come out of me. I scooped it up with my hands.
It was my baby.
I held him. I saw his eyes, his arms, his legs. I cried and I stayed in there for 5 minutes. Adrian knocked on the door. EMS was there, he said. Through sobs, I told him I was holding our baby. I had a clean pad in my purse that my friend had given me in Halifax, just in case. I wrapped my baby up in it, put him in my purse and left the bathroom.
As we exited the plane, I told the EMS man about the contractions and miscarriage he nodded his head and gave me a knowing look. He moved his hands up and down and said "right, because of the air pressure change." Rather than explaining that airplanes don't cause miscarriages, I just said; "Light bleeding started yesterday, we were hoping for the best."
I refused care because now that our baby was gone, it didn't seem relevant. The flight crew offered me the wheelchair I had asked for. I didn't want to sit on it because I was soaked in what I still thought was blood. EMS put a disposable white blanket on the chair for me. A female flight crew member wheeled me to the luggage area while Adrian pushed Arlo in the stroller and carried our backpacks.
As we approached the luggage carousel she asked if someone would come in to get us. I told her my brother was outside in the car and I explained that I needed to change my pants; my clothes were in my luggage. Adrian got our luggage off the carousel. The woman parked the wheelchair, said goodbye and left. Because Adrian had Arlo, two bags of checked luggage, 2 backpacks and the diaper bag, I had to walk to the bathroom alone. I got up off the wheelchair and looked down at the disposable blanket. I was shocked I see that it was not covered in blood, but in yellow fluid, with only a fist sized amount of blood. My water. As I was walking to the bathroom, I felt contractions again, then I felt a gush which felt like my insides emptying out me. I wobbled into the wheelchair bathroom and pulled my pants down. It was the placenta, and so, so much blood. I tried to wipe off my legs and the bathroom floor. It looked like a murder scene. I threw out my underwear. I went back to Adrian and we found my brother outside. I brought the disposable blanket in his car so I wouldn't get blood all over his seat.
Its been 19 days. I'm not okay, but I know I will be. I feel the need to tell my story. I want to shout it from the rooftops. I want everyone to know that my baby existed. I want people to acknowledge him and not say things like "it's so common", "it wasn't meant to be", "you'll get pregnant again". I know these words are meant as a comfort by the people that speak them, but it minimizes the child I lost. He was real to me. I held him in my hands and I loved him. That's the baby I wanted, my baby.
If you see me and you're afraid to bring it up, don't be. I want you to bring it up. I want you to acknowledge my baby. I don't need advice, or for you to try and fix it, just an acknowledgement, a simple "I'm sorry". I don't want his memory to disappear.
Adrian and I jokingly referred to our baby as Gorby from a comic strip we both like. His name was Gorby, and we loved him.