Last year around this time the world went nuts (again) for the goddess named Adele. After four looooong years, she finally dropped her third album, 25, and gave us the post-breakup anthem to end all post-breakup anthems, "Hello," which had everyone from mini-van moms to college students singing/drunk texting, "Helllloooooo from the otherrrrrr siiiiiidddeeee," to the one(s) that got away.
And if that weren't enough Adele-palooza for the masses, girlfriend went ahead and announced a freakin' world tour and we all promptly lost our shit. Not only because the songstress hadn't performed live in years, but also because (due to a Ticketmaster technical issue) attempting to buy tickets was almost as depressing as an Adele ballad itself.
Well, except for this girl: me. I must have called a thousand times (to Ticketmaster, that is), and somehow by the grace of Adel-ic forces I got through and swiftly ordered four tickets. MERRY CHRISTMAS, ONE AND ALL. Last night, we finally got to open the gift that is Adele, and I'm happy to say it was totally worth the wait.
Prior to the concert, my friends and I searched for Adele's opening act. We found a set list, but no opener. We thought maybe it would be a special, secret hometown guest, like Drake (the two have exchanged their mutual fandom), or maybe little Shawn Mendes (he opened for Taylor Swift last year).
After downing our $$$ plastic glasses of red wine (I could have bought two bottles of wine for that damn price, ACC!) we finally took our nose bleed beggers-can't-be-choosers seats around 8 p.m. The lights soon went dark just as the huge Adele closed cat-eye that had been projected onto the screen opened (mildly creepy). And then we heard the ominously perfect, "Hello. It's me."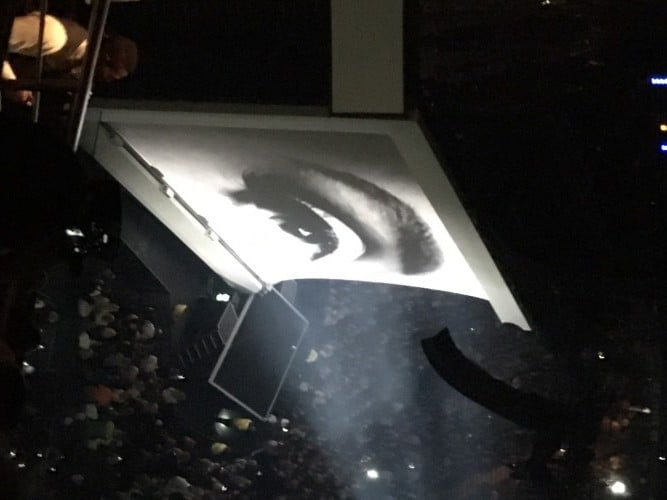 Oh, snap! There wasn't any opening act because ADELE DOESN'T NEED AN OPENING ACT.
The singer appeared on the B stage in the crowd and belted out her ringtone hit (seriously, assign that song as a ringtone, it's LOLZ) wearing a gorgeous sequined floor-length black dress.
"I'm going to do two hours of singing about my ex-boyfriends," she said, kicking off 120 minutes of pure Adele bliss, which included peppering her show with her bawdy sense of humour and personal anecdotes.
Things I loved about the show:
Adele's love for Toronto. She said she was told it's pronounced Toron-TO. "I was told to pronounce the second T." She shared that her photographer and personal trainer are both from the city, and "the fact that you made Drake and Mac [makeup], I'm in my element here."
Her honesty. "It's tough about singing about my ex-boyfriend when I'm dating the father of my child. But he's a strong man."
Her realness. Before performing (to perfection) "Someone Like You," Adele shared the story behind the song that anyone who's suffered from a broken heart (read: allllll of us) can relate to. "I got to know myself through this song, which is about someone who didn't love me. It was the lowest I've ever got, and I felt like I would be lonely forever. It feels like it's going to last forever. Then you think, 'Why did I spend so much time thinking I was dying?' I avoid my life sometimes, so that's why I write songs. It brought me knowledge about what I wanted and what I didn't want. I'm grateful for the relationship. I got the record, so obviously my emotions tilt to the positive side."
The fact that she DID NOT CHANGE OUTFITS and still managed to look FLAWLESS.
Things I didn't like about the show:
Crowd interruption. Though Adele loves connecting with her audience when she is spilling her heart out about past loves and trying to say something, you know, meaningful, please don't continuously interrupt her with, "I Love You Adele!" She's having a moment, and, like, she knows. We sold out her shows, four times. She KNOWS.
Merch prices. The cost for an Adele concert tee was INSANE ($50-$70). I usually like to get a token from the concerts I attend, but I couldn't justify paying those prices (especially after blowing $40 on wine). (Although, had there been a vile of Adele's tears for sale, I'm not going to lie: I would have FOR SURE bought that.)
The show ended with two encores ("When We Were Young" and "Rolling in the Deep") along with projected photos of a young Adele and a pregnant Adele, tons of confetti, and Adele thanking us and then ending the night with: "I'm going to take a shower."
God, I love her.