Inland returns this May with a brand new venue, an exciting new partnership, but the same commitment to spotlighting Canadian fashion designers who are committed to ethical and sustainable fashion.
The made-in-Canada fashion marketplace will pop up for three days (May 6-8) at Toronto's Design Exchange. Over 40 designers, hailing from Vancouver, Montreal, Toronto, and all over the country, will come together to show off their talents. Shop from Anne Dahl, Anu Rainu, Atelier Hotelmotel, Eliza Faulkner, OKAYOK, Mas Montreal, and other labels we love. Inland is the best place to find unique pieces to add to your spring/summer wardrobe.
"Inland's mission centres around sharing sustainable collections, advocating for diverse representation and amplifying local voices. We do this through bringing together Canada's most celebrated small-batch designers and ethical creators," says Sarah Power, founder and director of INLAND. "After two long years, we're thrilled to return to our in-person roots, welcoming designers from ten cities across Canada."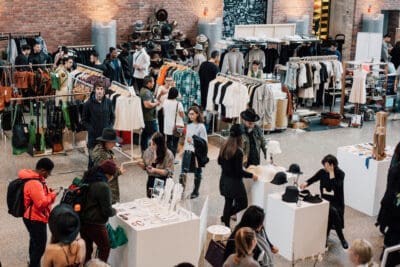 Partnering with Fashion Art Toronto means that you can also check out runway shows from 40 Canadian designers + feature fashion-inspired art installations. Highly-anticipated shows include SZ, 3-Dimensional, Silva Minted and CHAVAH LINDSAY. See full schedule here.
"Fashion Art Toronto and INLAND share the same goal – to support and shine a spotlight on Canadian fashion designers and artisans. Joining forces for the 2022 event felt natural. We can't wait to welcome people to the Design Exchange, where they can watch dynamic runway shows, shop local brands and .socialize with friends. It's going to be an incredible celebration of Canadian fashion," says Vanja Vasic, founder and executive director, Fashion Art Toronto.
We have incredible talent in this country and this event allows guests to connect directly with the designers, get a better understanding of the industry, and support the slow fashion movement.