Bang Bang Baby opens in theatres August 21st. Not only is this a film with beautiful costumes, but the overall aesthetic – from the soft pearls to pretty pastel sets – drives the story. Having often fantasized about working in the wardrobe department, we spoke with Costume Designer Sarah Millman about what it's like to dress hundreds in period clothes and why so many people think they can do her job.
Sarah studied art at NCAD (Nova Scotia Art and Design) in Halifax, and also spent some time at New York City's prestigious Cooper Union. While she had experience working in retail and had always enjoyed fashion, it was a new-wave film course that made her fall hard: "I really loved the Godard women with their cat eyes, striped shirts, and pencil skirts, and I was interested in how fashion worked in moving images," says Millman, who fell into the wardrobe department by accident. "I was making art and showing art and getting grants, but when the money would run out, I'd jump to an indie film and work in wardrobe. It's only in the past five years that I've done it more seriously." Now, there are few within the Toronto film scene that haven't worked with Sarah.
While many make the assumption that anyone can do wardrobe, both the creative process and logistical timeline require methodical thinking, astute organizational skills and oodles of talent. "It's a hard job. There's a saying in film if you work in the wardrobe department: You're the first person there and the last to leave. Always. Physically, there is so much stuff. When you see a person walk on screen (no matter how significant their role is), you have to imagine that everything, from the bottom of their toes to the top of their head, has been chosen for them. That becomes an inordinate amount of things."
For Bang Bang Baby, the process began by sitting down with Director Jeffery St. Jules to properly understand his vision. "I talked to Jeffery about his references, musically and visually. He'd been with the script for ten years, so his vision was very strong. But he's not a costumer, so he didn't necessarily have access to the language." But one thing was for certain; he liked Ann-Margaret in Viva Las Vegas. So that's what Millman started with, but first she needed to figure out a way to honour the inspiration while still creating something new.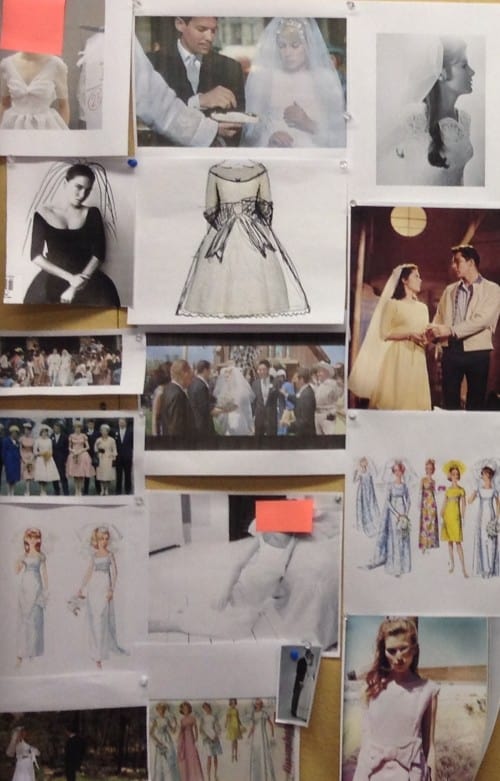 "I really enjoyed the research process; it was probably my favourite part. I also love reading the script and getting to know the character with both the director and the actor, then bringing my own ideas and thoughts to it and seeing how it works out in the end."
For Millman, the visual creative process often begins with the building of a giant collage board that draws on influences and inspiration, both historical and contemporary. "I was looking at celebrities, fashion and films that were influential to Jeffery. But I also looked at modern styling because I wanted it to have this different edge, not just like a period drama that everyone does. It has a little bit of a contemporary feel. I looked a lot at Lula magazine – they do a lot of that frothy, girl-child fashion editorial."
The fashion in every film is important, and it plays a huge role in helping to build the characters and mood in Bang Bang Baby. "It's dreamy, it's confectionary and we wanted to highlight the innocence of the lead character, Steffy (Jane Levy). Pastels, cotton candy – we wanted her world of delusion to contrast this sickening, evil, sad, abusive [world]."
Not constricted to clothes that were historically accurate, Millman was able to be playful while selecting her pieces. Most of the fashion was pulled from Toronto's professional costume houses, but Millman also called on some designer friends. "Because the film is fantastical, they weren't too concerned with it being on the nose in terms of period. This would irk other costume designers (to not be historically specific), but I was excited because it meant I could ask friends like Calla [Haynes] to borrow her pieces." In other scenes, Millman called on friends who work in vintage or had costumes illustrated and designed, like the wedding dress by Kelly Frances.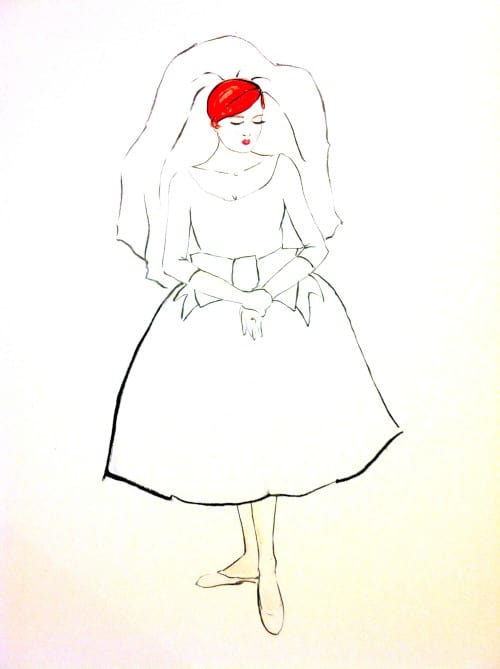 With a small budget and tons of costumes, the work is demanding, but sometimes the most challenging aspect is that so many think they can do Millman's job. "Because everyone wears clothes, everyone has an opinion. They think it's either not a job, or they don't understand why can't they just bring their own pants."
Let's be clear, just because you are super stylish and know how to find a red-carpet look within the racks at Value Village, it does not mean you are a costume designer! In this biz, Millman wears the pants.