From Bachelorette to the host of Love It or List It to W Network's Jillian and Justin, Jillian Harris has been a reality TV star for a long time. While her superbly curated Instagram may make Jillian seem, well…perfect (with her 767,000 followers and amazing shots of her frolicking in fresh snow or in bed with her son, Leo, and dog, Nacho), Jillian is the real deal. She doesn't give you polished, edited responses when you ask her about tricky life stuff: she lays it on thick and honest. Of course, this is why she rules reality TV, and it's also why she captured our hearts.
Now, enjoying the quiet family life in Kelowna, British Columbia, Jillian touched down in Toronto a few weeks back to add her sparkle to Ferrero Rocher's Pop-Up at Yorkdale Shopping Centre. Before the doors even opened, a line of 100 or so formed. Some were there for the irresistible chocolate balls; others were definitely there for Jillian. (Case in point: a new mom with a new baby expressed that she washed her hair and got dressed because Jillian posted that she'd be in town. How sweet.) We went for both: balls and Jill.
No matter how you slice the yuletide log, this time of year is A LOT. "Things will unravel and go to shit, because they always do," says Jillian, with a chuckle. "Laugh about it, go with the flow, and put a bit of extra Baileys in your coffee." See why we like her?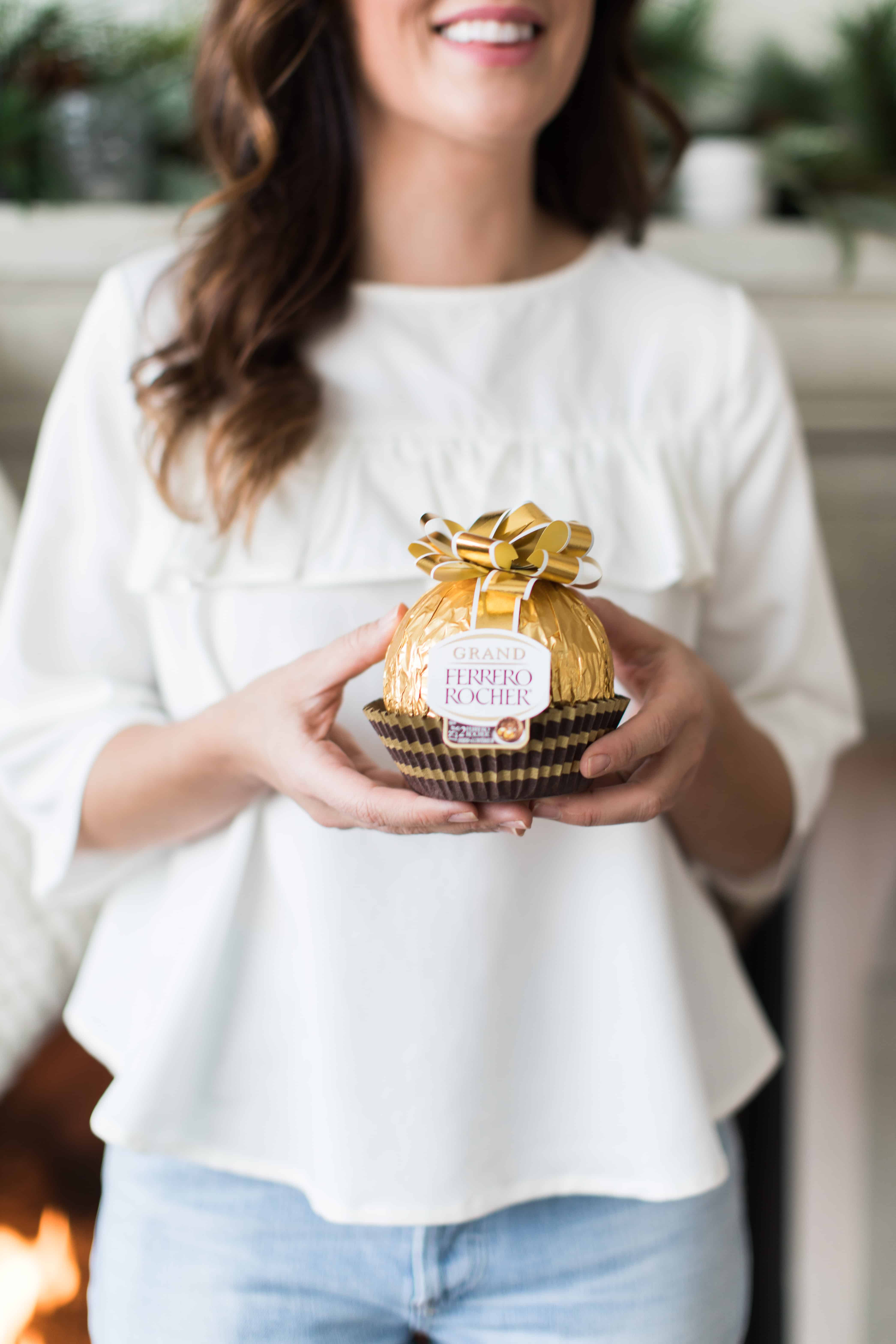 If you're feeling overwhelmed and stressed about making everything perfect and finding the right gift for everyone on your ever-growing list, Jillian's advice is to just stop and realize that the pressure we're feeling is often self-inflicted. "It's not necessary to gift to everyone! Nobody really cares about that $10 gift. It's better to pause, write a note, or just pick up the phone," she says, referring to the spiral of Christmas chaos that engulfs us all. "It gets out of control! Most people like to give more than they like to receive anyway."
And if any of you are feeling like you have no money this year, and it's getting you down, let Jillian's story give you hope: "Six or seven years ago, before I went on The Bachelor, I was flat broke. I told everyone that they weren't going to be getting Christmas presents from me, and I requested no one buy me anything. Everyone had a hard time wrapping their heads around it, and I was like, 'PLEASE! If you get me something, I will be upset!' When Christmas morning came and everyone was opening up their gifts, I just sat there with my Baileys and watched. It was my best Christmas ever. I felt so present – so in the moment. It made me realize that Christmas wasn't about the gifts."
Take it from Jillian: don't try to do it all, keep it simple, keep it thoughtful. A handwritten note with a Ferrero Rocher topper is more than enough. (And it will save you money on the gift that no one remembers anyway.)