Joan Baez shot to fame when she was just 18. In 1962, at age 21, she graced the cover of TIME Magazine. "I was the right voice at the right time," reflects the legendary folk singer and activist, who is now 82.
Grappling with stardom at such a young age is one of the many subjects explored in the poignant new doc Joan Baez I Am A Noise. But the film does a deep dive into all areas of Joan's big, complicated life, thoughtfully examining the various chapters of her 60-year musical career, including her final year on the road.
Directed by Karen O'Connor, Miri Navasky and Maeve O'Boyle, and with Patti Smith as Executive Producer, the film succeeds at showing the many multitudes of Joan: singer, writer, revolutionist, sister, daughter, mother, lover, peacemaker, rebel, and deeply sensitive soul. Her remarkable story is shared with brutal honesty, giving audiences a fascinating, stirring, inspiring, and unforgettable film.
Old diaries, cabinets full of taped therapy sessions, and a treasury of handwritten letters help stitch together Joan's story. Everything makes the cut, or as shared in the directors' statement, this story is "free of dewy-eyed nostalgia".
Audiences meet Joan as a young girl, who never quite fits in. Born into a Quaker family with a Mexican father, Joan was a target of racism during her childhood and youth, often made to feel "less than". Singing became an outlet, but social consciousness came first. "Before I could even verbalize it, I would say that a social consciousness was born in me before the voice developed."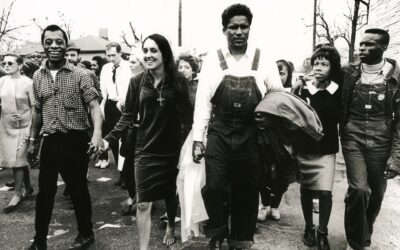 Joan is often regarded as one of the first American singer-songwriters to use her voice for social protest. In the above photo by Matt Heron, Joan is pictured at the Selma March, holding hands with James Baldwin and James Forman. Anyone who attended the 1963 March on Washington will remember when she took to the mic and sang "We Shall Overcome". It was a moment and song that became synonymous with the 60s counterculture and civil rights movement. "When I stepped into the civil rights movement, I kind of stayed there. Non-violent action was what I was born for," she says during a TV interview in the 1980s.
Incredible archival footage shows Joan at the March on Washington with Martin Luther King Jr. and later walking alongside him in Grenada, Mississippi, during the march to integrate schools in 1966. Nearly six decades later, Joan still tears up when she talks about King's I Have a Dream speech and that tense time period in America.
But the film also takes viewers into the quieter moments of Joan's life. A particularly interesting thread delves into the pressures and rivalry that occurred amongst her sisters, Pauline and Mimi, when Joan suddenly became a household name. "It was overpowering having her as a younger sister," Pauline shared. "I think at first we were very close, but then I had to go my own way. Her presence became too much."
While there were many career highs, there were also periods when Joan felt lost, or "rudderless". In the mid 1970s, she had a career revival with Diamonds & Rust, her hit song, where she pours out poetic and intimate details about the difficult relationship she had with Bob Dylan a decade earlier. "We changed each other's lives and outlook and music and careers," she says in the film, also admitting that Dylan broke her heart.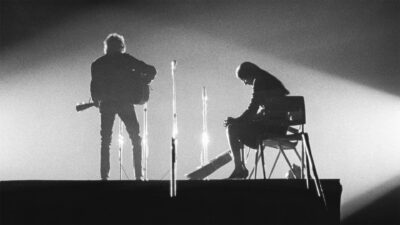 At age 50, Joan is haunted by repressed memories and tackles unresolved family trauma. In mid-life, she also confronts her struggles with intimacy. "I'm not good at 1:1 relationships, I'm great with 1:2000," she jokes, but it's obvious the issue has always weighed heavily on her.
In recent years, Joan's son, Gabriel Harris, joined his mom on tour as a member of the band, sleeping in the tour bus, rolling across the United States, and playing sold-out theatres night after night. "It became a path for us to reconcile our relationship," he remarks in the film."
In her old age, Joan continues to dance barefoot in the streets. She doesn't feel the need to live too much longer. She remains wild and free, but contentment is not something that has ever come easy. Her life has been anything but dull.
Joan Baez I Am A Noise opens October 6 at Hot Docs Cinema in Toronto. The film opens October 14 in Vancouver (Vancity) and throughout the fall in other cities.