Karen Chapman's impactful Quiet Minds Silent Streets will get its world premiere at TIFF on Sept 12, as part of their boundary-breaking Short Cuts Programme 05. The documentary offers a thoughtful window into the minds of a GTA youth group who turn to meditation and mindfulness in the midst of the violence surrounding them.
The 17-minute film focuses on the community of Malton, a neighbourhood in northeast Mississauga with a history of gun violence. In September 2019, Malton made headlines when a horrific mass shooting in the area left an innocent 17-year-old boy dead, and five others injured.
Made in partnership with the meditation app Headspace, Chapman's doc shows us the profound impacts of mindfulness and other mental health resources in a community trying to heal. The film is executive produced by Canadian filmmaker Director X, well-known for making music videos with the likes of Rihanna and Drake.
We caught up with Chapman to hear about her experience shooting Quiet Minds Silent Streets, and her creative and impact-driven approach to filmmaking.
Why were you compelled to make this film?
For the past 17 years, my work has focused on navigating trauma because there was such a void in resources when I needed them.
So when Director X asked me to direct a film that centered on the effects that gun violence has had on the Malton community, my intention was to add value in telling a compassionate story that held weight and dignity.
What conversations do you hope it will inspire?
Remembering to return to our breath on a daily basis feels obvious but it's not. I hope that this film inspires conversations around mental health and finding better ways to support children and youth who are dealing with trauma.
Can you tell us about a discovery you made while making your film? Factual or personal? Something that you uncovered that will stick with you.
The youth of Malton inspired us to take breaks during filming to meditate. I'd peek up and see every crew member from sound to PAs, with their eyes closed, exhaling together in unison. So simple but it aligned us. It changed the way that I work, I continue to implement mediation during filming.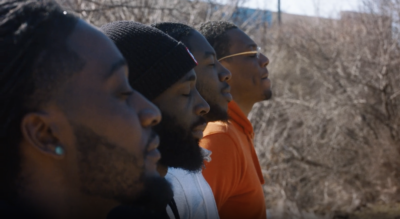 What was the first film you saw that made you realize the power of film?
Watching Big Bird weep during Jim Henson's funeral has always stayed with me. I was small and hadn't yet encountered loss but in that moment, I began to understand. If something so sincere as grief could be communicated through a giant yellow bird puppet (sorry, Big Bird), then that's what I wanted to learn how to do.
What is some advice that someone gave you once that has helped you on your journey as a filmmaker?
Learn when to quit. But before you do, do the very best with what you have and then walk away. If you've planted seeds the harvest will come, pacing, worrying and watching it won't help it grow. Know when to leave things alone.
What individuals have inspired you over the years?
I'm fortunate enough to have developed my work in a culture of mentorship and reciprocity, a foundation laid by Black filmmakers like Claire Prieto and Sylvia Hamilton. But my mom is my north star, she reminds me to do the right thing, come what may.
What part of the filmmaking process is the most creatively fulfilling for you?
I love directing and yearn for time on the floor. Building worlds with like-minded crew, capturing moments that we later string into stories, feels like flying.
What do you do when you know you're approaching burnout?
I usually don't realize until it's too late but I'm learning to be more aware and to maintain balance in my daily life.
What do you do to get your creative juices flowing?
Often I find that I'm most creative when I'm doing something completely unrelated to my work which can be a bit of a nuisance but I've learned to keep a pen handy. Also, I bought a small trampoline during the pandemic, it's just the right dosage of silly for me.
What philosophy is currently guiding you… or put another way, a new approach to your work/life that has been helping you?
Being at the service of the story and those helping to bring it to fruition has always guided me through the journey of each film.
Can you tell us about something you've noticed in the Canadian film industry that is making you feel hopeful right now?
At 16 years old, filmmaker Lana Lovell put a camera in my hands through a youth program which led me here. I'm seeing more organizations invest in introducing Black youth to film and I think it's an important step in the right direction.
Having a premiere at TIFF Is a very big deal. In your words, what does it mean to you?
Short documentaries can be a tough sell for film festivals, so for Quiet Minds Silent Streets to begin its festival run with a premiere at one of the world's largest festivals, it means a great deal.
Watch the trailer for Quiet Minds Silent Streets: