Relaying memory like a strip of Polaroid film, Katie Bond Pretti describes a pair of worn out sneakers – visibly torn and scuffed from her endless walks from Los Angeles's Echo Park to the paint supply store on Melrose. "I like walking. After a few years of travelling, I kept really good documentation of my wrecked footwear – blood spots and everything – from walking everywhere."
A stylish bohemian, Pretti is a painter of habit in a perpetual state of movement; from coffee shops, dive bars and new studio spaces. Her paintings, if you haven't seen them, are a vibrant collection of fine-line female forms, watercolours and intricate oils that have been sold across the art capitals of the world.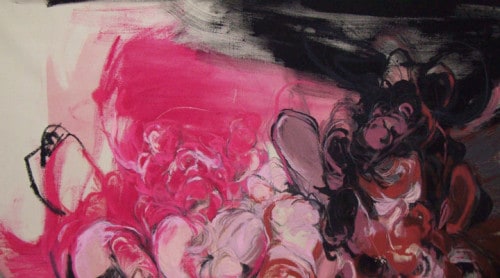 Preparing for her next group show in New York, I contacted her for an interview. Days later, I wandered into Ossington's Ideal Coffee to chat with the Toronto-based artist about oil stick satisfaction, travelling the world on foot and her fixation with the female form.
What series or painting are you currently working on?
I'm currently working on a series of four paintings, which have been commissioned for a group show in NYC coming up in the fall. And I just finished working on a huge commission, which is a really good thing. So a lot of stuff is in the works!
You've travelled to LA, Buenos Aires, Toronto, Brooklyn, all over the place. How has travelling impacted your artistic style or relationship to art?
Travel has impacted me on a number of different levels. The really, really obvious one is the ability to go and view art in different cities. We're lucky to have the AGO, but it's not like going to the Victoria and Albert Museum in London or the Pompidou in Paris. It's not the same. To go to other places and see these other collections impacted me. When I was travelling, I was haunted by this artist, Giovanni Battista Tiepolo, everywhere I went. It was a luxury to be able to go to all these countries and understand that I was meant to see this artist.
Being in other cities, the colours are different. I'm not a sophisticated painter by any means, but I constantly think about light and colour. The light is different in every city, and so the ability to make work in other places is also important.
Where will you travel to next?
I'm resisting the urge to pack my bags and go back to LA. But I want to go somewhere new; I'd like to explore northern Europe. Maybe even north-eastern Europe and see some Dracula-esque castles. Alternatively, Belize. That's absolutely not related to art. I just really want to go there! And Hong Kong!
You mentioned you're in the middle of moving studios. Describe to me what makes the absolute fucking PERFECT studio?
Well, the absolute perfect studio has NO power switches and NO power outlets on the wall. There's nothing on the wall but wall. It's pristine, and it's dry wall, with natural light. Oh! And an outside space, since we're in dreamland right now.
Any weird or funny routines you want to share that have helped you with your creative process?
I like to work in the morning. In an ideal world, which I don't live in, I would just roll out of bed and start working. No conversation, no nothing. So morning more than evening. And hell yes to coffee. Lots of it. All day long.
One of the few times I've shared a studio with someone, I was told that I was incapable of working until I had rearranged my work area. Now, every time I start something new, I have to rearrange my chair, make sure my beverage station has coffee, and move things around. I've also come to realize that I'm orally fixated. I need to have something in my mouth when I'm working. Whether I'm drinking or eating (or smoking), it's a part of my process.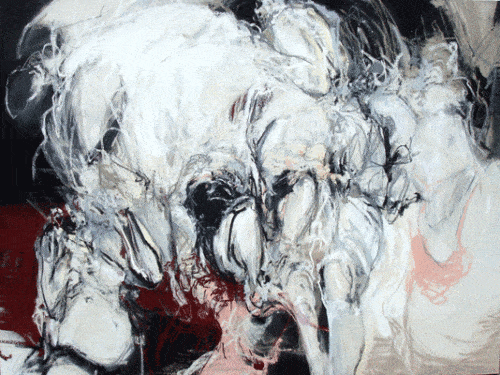 Have you ever had an artistic dry spell?
Yes, definitely. I experienced that intensely last fall and winter. That had a lot to do with my live-work situation. Moving from a large space to a small space in a shitty neighbourhood was really heartbreaking. I felt really trapped, and I missed running into people on the street when I'd leave the house. It was a depressing winter so that certainly spelled dry studio time.
It's been the longest day of your entire life and you're craving a drink. What do you order?
An enormous beer. At GUU, you can get a GIANT Sapporo for $9.
If you could paint one thing, over and over and over again, what would you paint?
The female form.
Let's talk about how you title your artwork. How do you assign text to your art?
I have a little notebook where I collect little bits of texts from different places. Whether it's something I read in a book, heard on TV or little conversations, I'll jot things down as I go. It's not necessarily the original context, but it's usually a tiny snippet, word or way that two words fit together that start to form a picture in my head. That picture is almost always associated with a kind of feeling. I use my tools to tease out that feeling.
When I'm working and I'm stuck, I always go back to what I'm trying to feel. Am I talking about something that's a dark idea? Or am I talking about something that's more atmospherically light or sexy, dirty, bloody and gory? For me, it's always a re-visitation of the original concept.
You use a blend of oil, water colour, pastel, acrylic and graphite. Do you have a favourite paint media and why?
Oil stick. Because it's like drawing with a giant lipstick, which is sooo satisfying. I use oil because acrylic doesn't have the same lusciousness. Oil stick is the bee's knees to me.
How do you push yourself as an artist?
I try to use positive reinforcement, but usually negative reinforcement is the best. I tell myself, "Listen, loser, you've got to do this." I also tend to be very task oriented – writing lists – and I guess I'm pretty nerdy that way. I really like to make stuff and love what I do. I feel like the luckiest kid in the world to be able to make paintings. Literally, there's nothing else I'd rather do.
If you could give Katie Pretti, age 21, some good old life advice, what would you tell her?
Eat, drink and be merry, and try to be less hard on yourself, young Katie. Life is a game!