Malorie Urbanovich is the founder and fashion designer of her ready-to-wear, high-end women's line, Malorie Urbanovich. While her win of the Mercedes-Benz Start-Up prize may have helped to propel her into the spotlight, it is her stunning body of work that has held the fashion world's attention. This March 18th, she will be showing her Fall 2014 collection at World MasterCard Fashion Week in Toronto—woah, oh, Canada! Whether she is designing garments for the effortless sophisticate in you or wrangling a small army of artisans, this lady is never too busy to be the lead creative force behind her brand. Based in Edmonton, Malorie enjoys colour over black, knitwear and the city of Paris.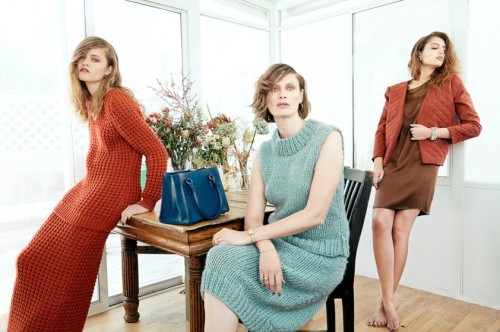 SDTC: Where did you pick up your interest in designing?
Malorie Urbanovitch: I started out working for a modelling agency in Edmonton, doing test shoots as a stylist. I began working closely with some photographers and we were getting published work. I liked being a stylist a lot, but felt like some items were missing. I started making pieces to supplement what I couldn't find in Edmonton because there is not a lot of choice when pulling from stores. From there, I found that I really liked sewing. That's when I took a few courses at the University of Alberta during my film degree and learned pattern drafting and sewing. I just taught myself the rest. It's been a hobby that has grown into my career.
SDTC: What made you decide to do fashion full-time?
MU: I showed my first collection in West Canada Fashion Week in Edmonton while I was full-time in school. I started to get some good responses and interest from buyers, so I took on more. I also heard about the Mercedes Benz Start Up program through Caroline Gault. She is the Alberta correspondent for Fashion Magazine and she reached out to me saying how she thought it would be a really good opportunity for me. Until the competition, I wasn't really considering being a fashion designer as a career. But when I won the semi-finals the first year, I started to think this was something that I could actually do. So I started to do this full-time and I entered the competition again. It is such a great opportunity for young designers to get a chance to show a collection at Toronto Fashion Week. There is a lot of exposure involved, so that was the main reason I did it again this year. Going for it again has brought a whole new box of fun.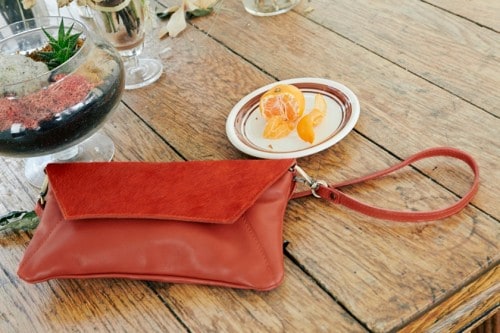 SDTC: In terms of growing your business, what's the last year been like for you?
MU: It's been so crazy. I am doing production over in Europe, so there's been a lot of travelling and the brand has really grown. I'm now doing a pretty big collection of knitwear, hand knits and machine knits in Italy. Bags too, and there's jewelry this season. I'm really expanding on all of the aspects of the brand and it's been really fun. It is just a huge challenge to balance time. It is just me and my partner Michael; he takes care of the business stuff and I do all of the design. We are both feeling pretty overwhelmed with the workload right now, but it's just been so amazing.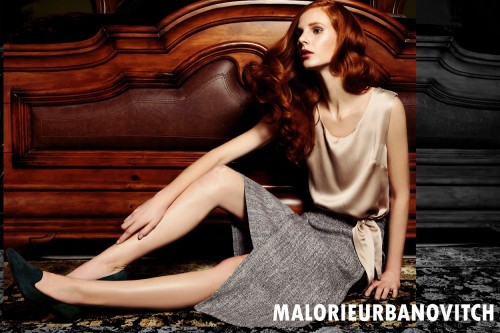 SDTC: Fashion can be cutthroat; what have you done to set yourself apart?
MU: One thing that I keep hearing from people is that they can always recognize my clothes. I think just having a point of view is really important in the industry. When each collection is completely different, or it could be by any designer—that doesn't really express what you should be trying to get across. Just knowing what your style is, what you're going for with the brand, who your customer is and as well, just being consistent and showing collections that grow stronger. I think it's really important to show your work. Make collections every season and make them better and better every time.
SDTC: What is your design aesthetic?
MU: Really minimalistic. For me, it's mostly about colour. That's the first element that I consider when I design a collection. My minor was in painting, so I have always been really drawn to color. I know a lot of young designers are just doing the black thing and you know, that's cool and very popular and black sells. But for me, colour is just so much more exciting.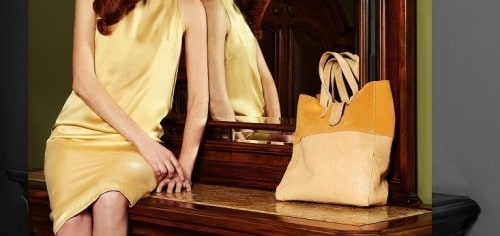 SDTC: What's the preparation like leading up to Fashion Week?
MU: It's very frantic. A lot of last minute stuff. I am still waiting on samples that are being delivered from Europe and I sew all of the sewn samples myself. So it's a lot of hands-on work and tons of interviews. We are getting ready for our showroom, which we are doing for the first time this season. There is a lot of prep for that, so it's a million things happening at once. 14 hours days.
SDTC: Could you give me a snapshot of your typical day?
MU: I head over to my studio around 8 AM and lately; I've just been sewing and pattern drafting. I run errands and coordinate photo shoots. Usually we are doing some sort of promotional campaign, something for the website, or shooting look books. Every day is very different. We work with quite a few people in Edmonton who are artisans. I have a woman who is weaving custom fabrics; I have four knitters who are doing it all by hand. I have a jewelry-maker, so I am meeting with all of them and going over their progress. It's a lot of management over people.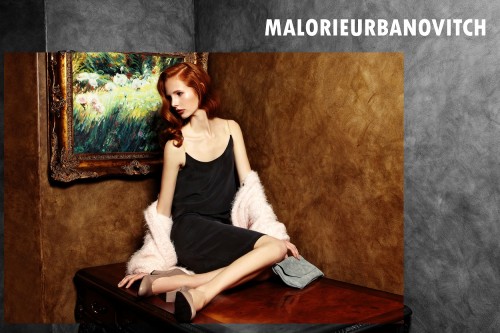 SDTC: If you could go back in time, what advice would you give yourself at the start of your career?
MU: It's not as hard as it may seem to keep going. There can be a lot of disappointment, but there's a lot of excitement as well. You really learn that sometimes you do have to let things go. As an artist, we want things to be perfect but you do have to pass some things off to people… and that's okay. And if the colour is slightly off, or the knit is not exactly how you envision it, you can just roll with the punches and not get worked up over it.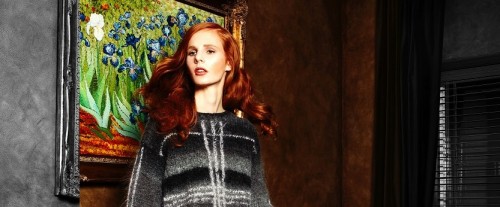 SDTC: If a young designer asked you for advice today, what would you tell them?
MU: You have to show the world that you are a force to be reckoned with and that you are here to stay. You can't make one collection and take a break. Or if it doesn't go well, you can't just wait a few seasons. You have to always be giving your audience something to look forward to and to see. I think consistency is the main thing and after a while, you can't help but be noticed because you are there and you continue to do work.
SDTC: What is your got-to work attire?
MU: Mostly, I am working at the studio so it's really just jeans and T-shirt. I'm not a very fancy girl. I definitely design for a fantasy me—what I would wear if I was out in the streets of Paris every day, going to cafes. I get really dirty at the studio, so it's not very elegant. But I do wear what I design and I try to wear other designers, supporting them. For events and things, I'll try to wear something that inspires me or is what I aspire to be one day.
SDTC: What's your favourite part of the job?
MU: The final product is what I look forward to. Just seeing the collection come down the runway and having that feeling of relief that everything worked out, all of the elements coming together. You are able to put on a show, entertain people, and hopefully inspire them.
Catch Malorie Urbanovitch on March 18th as she shows her Fall 2014 collection at Toronto's World MasterCard Fashion Week!
Ladies Who Lead is an interview series that features young women who have carved their place into some of the most cutthroat industries out there. Their paths to the top may not be linear; they may have not always gotten it right the first time. But these driven, savvy women have succeeded thanks to their strong work ethic and will to design their lives according to their own high set of standards.
But we aren't just going to point and look at shiny things. Instead, we are going to decode how these women got here and how we—the unemployed, the underemployed, the misguided, the interested—can follow their lead. Shedoesthecity brings career mentors right to your screen every other week. Real women, real careers, real advice.