Julianne Costigan is freelance stylist in the Canadian fashion industry. Currently, she's working with Phillip Lim's new collection for Target on a project for New York Fashion Week. Based out of Toronto, with a trademark mane of golden locks, Julianne appreciates a versatile equipment blouse, cottage weekends and overstocking her fridge with limes.
STDC: What are your day-to-day activities on the job?
JC: The great thing about a stylist's job is that we prep, we are on set and then we also do a lot of things in post. So we spend a lot of time at the mall, in showrooms pulling clothes, and talking with the clients. Then you have a shoot day when you're on set, steaming clothes, dressing the models. A lot of the time when you're on set you have to clip clothes to make them fit the model, maybe better than they actually do. Hemming pants, doing all the nit-picky things that you don't actually see in a photo. And then after a job, you return the clothes. And that's the day to day. A job can be five or six days, or longer, and then you get a new job and do it all over again.
SDTC: When you were a kid, did you know that you wanted to be stylist?
JC: Not directly a stylist, but I always knew I wanted to be working in the fashion industry somehow. I always liked clothing and respected people who took the time to dress well. My mom was adamant about always looking nice in public and making an effort. She shopped at this high-end boutique in Kitchener-Waterloo, where I grew up. When I was fifteen, I couldn't work there but I really wanted to be involved with the store and getting to know designers so I volunteered for two years. Just hanging things up, steaming, and working at sales. Not doing much, but then I got a job there and they let me come on buying trips. I got to see the showrooms where I now pull from. I was a bit of a stylist there with customers and I really enjoyed that. But I didn't really realize that was a job. And then I went to Ryerson University for Fashion Communications and my first summer I interned at Pink Tartan full time.
SDTC: Was Pink Tartan your first big gig in the fashion industry? And where did you go from there?
JC: Yes, that was where it all started. Luckily I was their only intern for that summer so I got to know everything. I worked in PR, design, sales. I went on to meet a lot of really great people and get to know them well. The summer internship finished and my boss moved to Romona Keveza, a bridal couture designer. I moved with her to PR and Marketing. I realized it just wasn't for me, but knew that they dealt with a lot of stylists. By then I had realized that I wanted to be a stylist after I went to London, England that summer to do a styling course. I got home and messaged my boss to ask her for some contacts. Because we had really good relationship, she didn't hesitate in sending me two different stylist's names and I contacted both. One replied and that was Zeina Esmail (stylist and fashion editor-at-large for Fashion Magazine).
SDTC: Do you two have a mentor-mentee relationship?
JC: Totally. We're definitely friends and we do things socially outside of work but we have a really good professional relationship where we can balance being serious about our job while having fun doing it. But I know that when I work with her, I'm her assistant and not her equal so I think that makes us have a really good dynamic. She has clients that use her two, three, four times a year. Since I've gotten to know those clients, when she couldn't do a job, sometimes they'd ask me. And that's how I started to get jobs on my own and veer off from just being her assistant and into doing projects on my own.
SDTC: What kind of things has she done to prepare you for this independence?
JC: Zeina is constantly gives me advice and she doesn't hesitate to tell me if I'm not doing something right. Things like, make sure to always say hi and bye to the client. They'll remember you and they appreciate that sort of thing. Always pull more than you think they want because it gives you options and makes your job less stressful on the day. There are so many little things! Like you're supposed to have dress belts in your kit. Or a white shirt. I'm on a mission this fall to pick up every pair of gloves on sale because when I work next summer, I'm going to need them. Zeina has twenty in different styles, different colours, different fabrics.
SDTC: Did you ever have an aha! moment that said this is the job for you?
JC: My first day working for Zeina. We'd only had a phone interview and she needed some help on a Lucien Matis show. I showed up on site, on a day where no BlackBerrys worked, and I only had her BBM. I just started helping out until she came and dropped the clothes off. She told me to run the fitting, tape all the shoes, do the walk through on the runway, and literally do everything until she came back from an event. I had to do all of that, and I'd never done anything like that. But I did it. A model's feet were too big. They played the wrong music and Lucien made me walk out while the music was playing so it looked like I was the first model out. I had to get them to start the music over again and get an exacto knife to cut this girl's shoes open so she could walk. And this was all in a matter of about four minutes. But in the end it all worked out. I didn't have to think too much about what I did. It just worked. I walked away from that day feeling like that was insanely stressful but so worth it. You get a high from it, which was something I'd never felt before.
SDTC: If someone told you they wanted to break into styling, what advice would you give them?
JC: I would say that you need to intern- not even necessarily in styling- but to realize that this is right thing for you because it's a lot of work. In the beginning, you need to choose work over a weekend. If you do get the chance to assist, paying your dues and not complaining about the littlest things, going out of your way makes the stylist's job a whole lot easier. And I think that's what differs a good assistant from the others. Stylists really appreciate when someone knows what they want before they want it and have it ready. As an assistant, the best thing you can be is super forward thinking and hardworking. It will pay off in the long run.
SDTC: What do you think are the most important qualities for a stylist to succeed?
JC: You have to be able to think on the spot. You have to be creative and figure out a way to make it all happen. That's why the client hired you, to dress people and make sure everyone looks the way that they want. Creative and insanely dedicated, always giving 100% to the job. You have to turn your brain off from thinking this is a Monday–Friday, 9-5 because it's not. That's something you have to know, understand and come to terms with. A big part of it is being good with people. Making an impression and looking like you want to be there. You'll stay three hours later if you need to because you don't realize how few people do that. And when you do, it is so worth it and it can set you apart. Because the only way you get more jobs is if the client likes you and it's all about referrals, apart from having a great portfolio. So it's really important for people to like you and feel like you did a great job.
SDTC: What's your perfect work attire?
JC: It's difficult! Because you're the stylist. You have to look stylish but you also have to be comfortable. You're on your feet the entire day but you also have to get down on your knees and hem pants. You have to steam and you get hot. Then you're carrying hangers, clothes, hats, shoes and you have to work at the same time. Generally I wear a pair of jeans, and usually some form of a blouse—printed, or I gravitate towards a lot of equipment blouses. Then I layer because you get cold and hot. And always something with pockets! Because you're clipping things to your shirt with safety pins and double sided tape in your pockets. Unless you have an amazing fanny pack. Usually flats on the day of set or shopping.
SDTC: What's your favourite part of the job?
JC: I liked being my own boss. It's nice to not be at an office where someone watches over you. I love the autonomy of being able to get a job, speak to clients, get briefed on what they want and then head out to a showroom. Days go by really quick. You get to do your own thing. I really like that aspect of the job because I like feeling that sense of control. I also like that every job is different. Sometimes a project can finally wrap, you can't believe it's done. But the next day it's on to the next one. It never gets boring because you can do a Bell ad campaign, shopping at Banana Republic and The Gap. And then you have a fashion editorial and it's high fashion requests from designers. It's always different but that's what makes the job fun for me.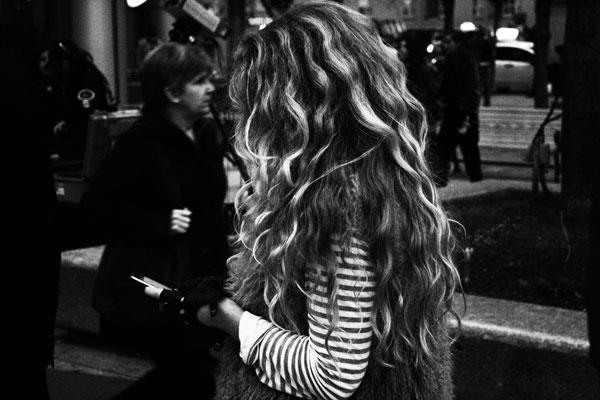 Ladies Who Lead is an interview series featuring young women who have carved a place for themselves in some of the most cutthroat industries out there. Their paths to the top may not be linear; they may have not always gotten it right the first time. But these driven, savvy women have succeeded thanks to their strong work ethic and will to design their lives according to their own high set of standards.
But we aren't just going to point and look at shiny things. Instead, we are going to decode how these women got here and how we—the unemployed, the underemployed, the misguided, the interested—can follow their lead. Shedoesthecity brings career mentors right to your screen every week. Real women, real careers, real advice.