Halloween is almost here, and that means it's nearly impossible to turn on your TV without coming across all manner of horror movies. Just last night I was flipping through channels and I came across Linda Blair spewing pea soup, the homemade finger knife gloves of Freddy Krueger and Carrie White setting her school on fire with her mind. If I'm going to be honest, a small part of me loves this aspect of Halloween; a good scare gets my adrenaline pumping. However, I don't enjoy having nightmares of Leatherface chasing me through an abandoned house, and I recently watched a scary movie that had me seeing demons and possessed dolls every time I closed my eyes.
I realized that while I'm very comfortable with natural death, I'm not super comfortable with horror-movie death. I expect to die of old age or a heart attack, not because some malevolent spirit pushed me down the stairs of a beautiful Victorian home. And I certainly don't want to watch a movie that is so terrifying that I literally get scared to death. So in that vein, I've decided to come up with a list of movies that can get you into the Halloween spirit without making you wet your pants at the same time. It's time for some not-too-scary scares!
Practical Magic
This movie stars Sandra Bullock and Nicole Kidman as two witchy sisters who are trying to fight off a longtime family curse and, oh yeah, a dead boyfriend who won't stay dead. We are also treated to life lessons from their awesome spinster aunts who, in my opinion, are like the unsung feminist heroes of the movie. Add in some endless margaritas and the notion that it's totally okay to eat chocolate cake for breakfast and this movie will satisfy all your Halloween cravings.
On the surface this movie is about a young girl named Kat and her ghost buster dad. Kat's dad has taken a job to get rid of some pesky spirits that are haunting a condemned mansion. Kat is usually a skeptic but this time she discovers that the ghosts are real and that one of them is actually a very friendly spirit named Casper. But what really matters in this film is that for ten whole seconds Casper is turned back into a human and this comes in the form of 14-year-old Devon Sawa. I'm sure you won't judge me when I admit that I used to sit through the entire movie just to enjoy those 10 seconds of teen heartthrob dreaminess.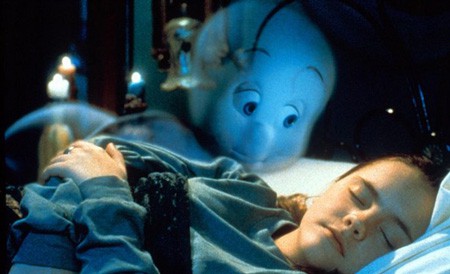 Double Double Toil and Trouble
What can I say, this is a Halloween movie starring the Olsen twins. Seriously guys, you can't get much more harmless and wholesome than Ashley and Mary Kate. The twins play adorable sisters (DUH) trying to save their Aunt Sophia, who has been trapped in a mirror by her evil twin sister Agatha. Yes, that's the plot and it's hokey. However, this might actually be the most frightening movie on the list because it starts with the girls learning that their parents might lose their home due to financial troubles. Somehow, 21 years later, this story is still relevant and very disturbing to anyone who understands the Toronto real estate market.
This is a made for TV movie that kicked off the latest R.L. Stine television series, The Haunting Hour. R.L. Stine is already beloved for his Goosebumps and Fear Street novels but this movie made me love him just a little bit more. It has classic Stine elements including an out- of-place goth girl who has a crush on the popular guy, an otherworldly salesman, a slimy monster and of course, a strong moral about sibling love. The story starts off creepy and veers into total over-the-top campiness, which downplays any chance of you actually getting a nightmare.
What can I even say about this cinematic masterpiece? Hocus Pocus is by far the best Halloween movie ever made. First off, it's a Disney production so you get the benefit of great costumes and makeup (fun fact: the guy who plays Billy Butcherson is well known for his other heavily made up roles in Pan's Labyrinth and Hellboy) as well as some effects that were pretty cutting edge in 1993. The Sanderson sisters are three witches who are back from the dead and hell bent on sucking the life out of all the children in Salem. Max is the lovable virgin who accidentally brought the sisters back and along with his sister Dani and sexy crush Allison, they have to figure out a way to defeat the witches. Throw in a talking black cat, a friendly zombie and cameos by Gary and Penny Marshall, and you've got a hilariously quotable movie that will provide you with years of happy Halloween memories.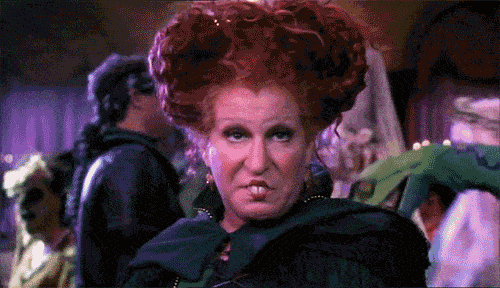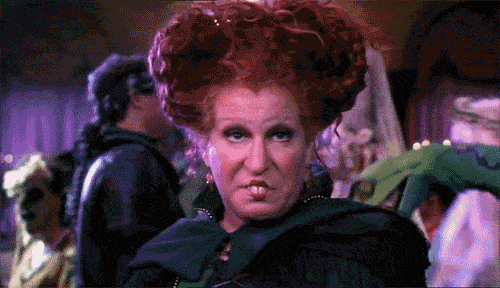 As you can see from this list, it's possible to enjoy a great Halloween movie without having nightmares for a week. Scariness is an inherent part of Halloween and it can be fun but sometimes you just want to experience the holiday without all the blood and gore. That's why, for now, I'll stick to a Halloween with black cats, friendly ghosts, bumbling witches and margaritas.