If you're getting hitched this year to a human person or a feline (we wont judge), you've probably started daydreaming about the big day and all its precious and frilly accoutrements. Do you find yourself casually strolling by bridal boutiques on a regular basis (3x a week or more), or spending the last hour of your workday cruising Pinterest wedding boards, eyes glazed over from the welcomed explosion of tulle, pastel and ever-so-clever place cards attached to toothpicks attached to fruit? (They better be organic!) If we're hitting home, you're READY for this jelly! Here are five wedding shows happening in the next few months that we're getting giddy about:
1. LoveStruck Faux Wedding and Event Expo
Sunday March 30 at The Berkeley Church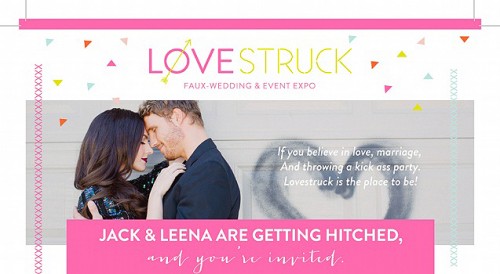 Lovestruck is an intimate and traditional tradeshow disguised as an authentic (faux) Wedding. We're not kidding. The beautiful Berkeley Church will be transformed into an enchanting ceremony followed by a reception for a re-enactment of a wedding followed by dancing and mingling with vendors. How rad is that?
Vendors to note:
Scarlet O'Neill Photography It's no secret that we're OBSESSED with Scarlet's work. Her romantic, dreamy aesthetic permeates every type of shoot and subject matter she takes on. Her style is elegant, timeless, and modern with a quirky edge. We simply cannot get enough of her.
Bicyclette Boutique – our go-to shop for flowy dresses and sparkly accessories. We couldn't think of a more appropriate, trendy and whimsical boutique to outfit some stylin' bridesmaids.
Electric Blonde – they're fun, they play great music, and they all wear bowties. The ultimate dream team, they will set you up with a soundsystem and even take care of their own lighting while playing killer tunes or performing as an 8-piece band; they do it all!
2. The Craft Wedding Market 
 April 5th, 2014 at Bento Miso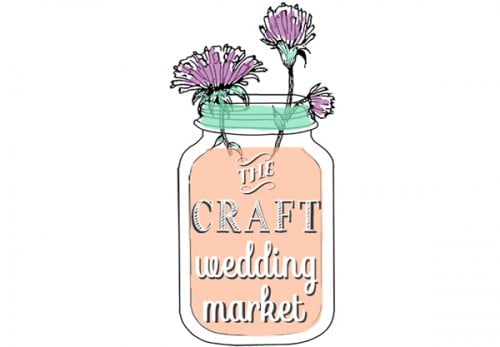 A one-day community-minded market for crafty couples on a budget. There's a strong emphasis on local entrepreneurs, unique handmade goods, DIY support services and yummy food from local start-ups (@FoodcraftTO). Visitors will get a chance to sample treats and bevies, watch demos and enroll in all kinds of DIY workshops.
Vendors to note:
Little White Dress, a dressmaking duo of Ryerson fashion grads who make an incredible assortment of fully hand-tailored gowns.
The Den is a goldsmithing and silversmithing co-work space with resident jewellers and DIY wedding band workshops.
Urban Acorn Catering is a fantastic flexitarian caterer specializing in healthy and delish menus including loads of vegan & gluten-free options!
3. 
Toronto's Bridal Show
April 11–13 at the Direct Energy Centre Exhibition Place, Hall C 

This is the boss of all wedding shows featuring a plethora of notable vendors, prizes, fashion shows, and a bridal gown sale. The icing on the cake – a designated area for dudes to hang out and scratch themselves, errrr, eat food and be merry.
Vendors to be announced soon!
4. The Wedding Co. Spring Wedding Show
April 26th at the Drake Hotel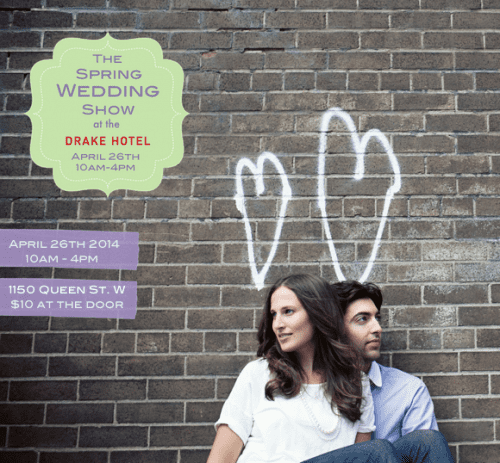 Now in it's fourth year, the Spring Wedding Show is Toronto's original indie wedding show! Whether you're in the planning stages or completing the final touches of your wedding, there is no shortage of inspiration, and artisans showcasing innovating and unique products and services.
Vendors to be announced soon!
5. White Wedding Pop-Up Shop
April 26th and 27th at The Richmond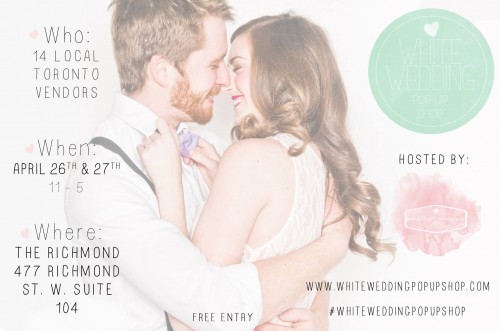 No longer just a Billy Idol song, White Wedding is a super intimate and carefully curated wedding show consisting of 20 vendors specializing in everything from sweets and flowers to photobooths and photographers.
Vendors to note:
Midge Flower Designs are based in Leslieville, and are dedicated to providing the freshest and most vibrant flower designs using local growers.
Hilmer & Himson – is a fun and classy photobooth service that includes a real live photog (vs. the camera on dinky tripod paradigm) and an assortment of fun props. Aaaand, they make photobooth images available online to your guests the very next day! SCORE!
Nayme Jewelry celebrates your future spouse, bridesmaids, or even BFFS (why not?), with custom designed and made necklaces that are symbolic or representative of their names.