We have raved about Myseum in the past, and their upcoming urban scavenger hunt on July 8 looks SO INCREDIBLY COOL. Do you like Toronto history? Cycling? Discovering neighbourhoods? Conversations about culture and how the arts shape a city? Doing something absolutely different on a Sunday? FREE FUN? We're into ALL OF IT.
Myseum's upcoming Main Feature! event (produced by BLOCKS), is a one-day, car-free scavenger hunt that explores cultural history through theatres–not only the variety of film genres but also the design and urban navigation of our once thriving Cinema boom!
Using archival photos from the early 1900s, teams of two or more will have six hours to identify long-standing theatre building locations in the here and now. (If you are by yourself, they are more than happy to find you a teammate.) Teams will visit locations throughout the city on foot, by public transit or bicycle to collect points by finding and photographing the building or location and getting as close as possible to the footprint of the original photographer.
Teams will explore and re-imagine the city's theatres, architecture and design, documenting how buildings from the past continue to shape communities, block by block. WHO WILL WIN? It's like The Amazing Race Canada, but it's hyper-local, unedited, and has an intelligent cultural studies bent. Taking your time to explore the areas you visit is encouraged!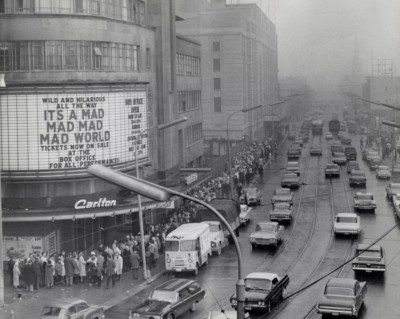 ITINERARY
Registration & Check-In
11:00 a.m. to 12:00 p.m. @ TIFF Bell Lightbox
Scavenger Hunt
12:00 p.m. to 6:00 p.m.
Panel Discussion & Prizing
6:00 p.m. to 8:00 p.m. @ Ted Rogers Hot Docs Cinema
REGISTER NOW. This is TOTALLY FREE. Like we said, this event looks AWESOME.
Main Feature! is part of a summer programming series from Myseum called Myseum on the Move, which encourages the use of movement to explore the city's natural, cultural and built history. The next Myseum on the Move event after Main Feature! will be Women of the Ward, a theatrical walking tour that uncovers the stories of four resilient women whose stories contribute to the rich history of Toronto's "first immigrant neighbourhood." Register now to attend this FREE walking tour taking place July 22 and again on July 29.