The Healthy Butcher is an award-winning butcher shop with locations downtown (565 Queen St., W.), midtown (298 Eglinton Ave. W.) and one shop in Kitchener (25 Bruce St). Founded by husband and wife team Mario Fiorucci and Tara Longo, The Healthy Butcher's mission is to ensure food is produced 'the way nature intended'.
In addition, the duo operate RealFoodToronto.com, an online grocery and delivery service and the sister-company of The Healthy Butcher. The site allows consumers to shop over 5,000 products (online, by phone, or in-store), learn cooking techniques, search recipes and more.
She Does The City spoke to Longo to find out how she did it.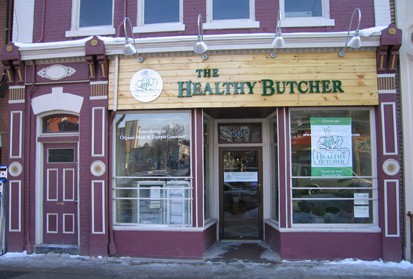 SDTC: What did you do before opening The Healthy Butcher?
TL: Before opening The Healthy Butcher in 2005, I was an analyst in investment banking at RBC.
Why did you switch gears and open a butcher shop?
Basically, my now husband and I, were always very passionate about food. We did a lot of reading about food, and we decided we wanted to eat organic meat. This is before the big organic movement. We looked everywhere in Toronto for a good reliable, traceable supplier of organic meat – and we couldn't find it. So, we went vegetarian for almost two years. When we decided to start our own business, The Healthy Butcher was born, out of our need to eat good meat!
How did you educate yourself about this particular business?
Well, we're not farmers, but we have visited many farms over the years, so we do know a lot! A lot of it is self-education. There is nowhere to go to learn how to open a retail store – its marketing, HR, production, and everything rolled into one. So you have to be good at multitasking and learning new things every day.
Since launching The Healthy Butcher, what has been the most surprising lesson you've learned?
That business is always changing and evolving. Many of the things we did in the beginning we no longer do – and yet after 10 years, we are still developing and doing new things daily.
What do you love most about being an entrepreneur?
The ability to plan your own day, along with your own schedule. Now, after almost 10 years, I have flexibility in my schedule. When I started – we lived and breathed The Healthy Butcher, but now I'm able to be home with my kids for dinner and still work when I need to work.
When you browse your own shop, what do you usually leave with?
A whole lot of fantastic food, it's a perfect way to end my day.
What important questions does someone have to ask themselves before deciding to ditch the corporate world and focus on their dream?
They have to be able to vision themselves being in whatever business they pick for the next 10 years. Things take time, and a lot of it. You can't expect to open and be successful from day one. It takes many years and a lot of hard work – harder work than you ever do for someone else, but ultimately more rewarding because you are working for your dream.
If we are clueless about meat, what questions should we ask the butcher?
The best place to start is to tell them who you are cooking for, how long you want to cook (i.e. braise for 5-6 hours, of roast and be done in one hour), if it's a special occasion, if you want something "homey". We have everything in shop, so if you are just open to ideas and give them the above info – we can help you plan anything – easy or complicated!
What are your favourite comfort foods for January?
Braised dishes all the way! We got a slow cooker last year and have been playing around with things on the weekend. Last weekend it was chicken thighs in a peanut butter coconut sauce, it was one of the best slow cooker meals we've ever had.
What fact have you learned about Ontario farming that has blown your mind?
How hard it is for small farmers. They may have a really great product, but not have a way to sell it. A farmer needs to be great at multitasking. They need to be the farmer, the distributor, the wholesaler and the marketer of their product. That's a lot to ask.