Facing the eastern sunrises of Little Italy, an impressive 30-foot mural of a soigné woman towers against Bar Isabel. The mural is one of many romantic artworks by Madison Van Rijn, the skilled 25 year old who has transformed Toronto's most beloved local hubs into enchanted spaces of art. From Victoire, Bellwoods Brewery, Bolt Fresh Bar, Bar Raval, Bar Fancy (the list goes on), Madison has built an impressive profile as an emerging and trusted artist for local businesses across the city.
I connected with Madison to chat about her artwork, networking, drink of choice and hypothetical situations involving anthropomorphic cats with magic powder. Here's everything I learned about the ballerina, model, OCAD student and artist.

SB: As a west ender who walks a lot, I've seen your artwork EVERYWHERE. Clearly, local businesses across the city are obsessed with you. What is it about your illustration style that Toronto businesses can't get enough of? Is there any style or illustration type that everyone is asking for right now?
MVR: I think what draws a lot of attention to my work is the very personal content I'm exposing. I draw from candid emotional experiences that I believe we all go through and put them on display with no apprehension or shame.
SB: There's something very romantic about your handwriting. Would you call yourself a romantic? Is romance still alive in Toronto?
MVR: It's just my handwriting. I am a romantic in the loving, emotional, sensitive way. I think Toronto is full of love. We just have to take the time to see it.
SB: Did you always want to be an illustrator when you were growing up? If you weren't an illustrator, what would you be doing, like right now?
MVR: I never had a set idea about what it is I would be doing career wise. Collaboration is something that always comes up, working with someone else to create successful end product. For example: a dance choreographer and musician, photographer and model, or writer and illustrator. I'm more interested in having a skill that can be applied to many career focuses.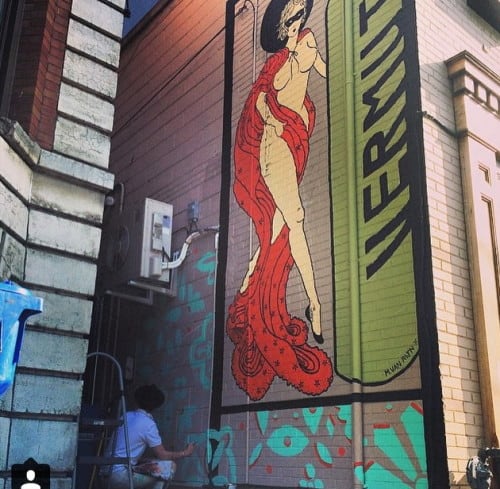 SB: Okay, you've been asked to develop a handwritten / illustration display for THE COOLEST bar in the city. What does your artistic process look like from inception to large-scale text treatment?
MVR: Often a client and I will discuss over email what they are looking for in terms of aesthetic, effectiveness, and budget. I will request that they show me some reference imagery, mood boards, or text that explains their business mission. Getting to know the business and the business owner is very important. I'll then provide a mock-up of what I plan to do. Depending on the flexibility of the client's vision, it can be "all systems go" or "back to the drawing board." At the end of the day, the client needs to be happy for me to have done my job well.
SB: Real talk: you're a student at OCAD and you're already killing it. What's your plan after graduating from OCAD's illustration program? Feel free to humble brag.
MVR: I recently decided that I'll be taking some time off school as of this summer to focus on hand lettering, large-scale window treatments and murals for local businesses. I want to see how far I can push it. What I do is very hands on, physically interactive and time consuming…school seems to be getting in the way at the moment.
SB: Has it been easy to make connections in the city? Any advice for other artists interested in window illustration and networking in general?
MVR: I have lived here since I was 17 and I'm 25 now. I've lived in countless shitty shared apartments, modelled for 5 years all over the city, worked at almost every trendy restaurant in the west end, and get coffee on my bike a lot. I've found that being kind, shaking hands, and working hard (no matter what the job) makes you difficult to forget these days. I choose the clients I want, and they are my friends. I respect them and their business and draw inspiration from their successes. That's how you get free snacks and drinks, too. Advice: Use your resources.
SB: Because you're a very talented artist, and I feel like this is a mandatory question that's v. important, I'll ask it: Who is your illustration inspiration? Any artists in particular?
MVR: I try not to idealize specific illustrator's styles too much or I get caught in trying to be like them. I always come back to the drawings of Francisco Goya, to make myself feel unworthy and driven to improve.
SB: If your personality was an illustration, what object or thing would you draw? And why?
MVR: Probably just a big mauve blob on Mylar. I think colour is very descriptive.
SB: As an illustrator, what's the most important social platform to share your work on? What's your hashtag strategy?
MVR: Instagram seems to be the most direct. I've been using #mvanrijn.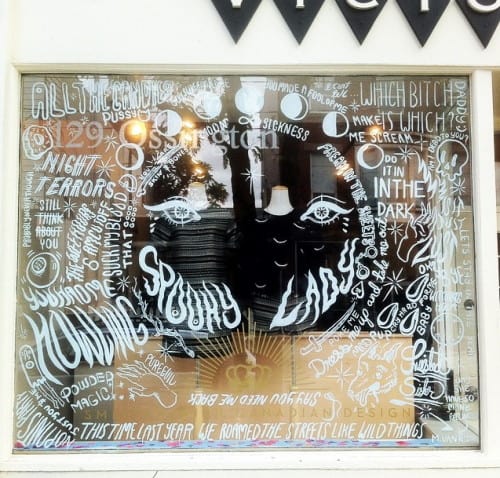 SB: Bar Isabel was recently transformed by a 30-foot mural you painted of a woman wearing a fancy red cape and high heels. How long did it take you to paint? Is that the biggest piece of artwork you've ever done? (Also: Holy shit, it's beautiful.)
MVR: Thank you. Yes, it's the biggest piece I've done. It took me 5 days with scaffolding help. I was given free range on concept so it was a lot of fun.
SB: If you could paint only one thing for the rest of your life, what would it be? Cacti? Avocados? Clocks? You name it.
MVR: That question is too ridiculous and heartbreaking. A line… so I can just keep drawing anything for the rest of my life?
SB: What's your alarm clock sound right now? Chimes? Bell tower? One hit wonder? Biggie Smalls? Harp? Mike Jones?
MVR: "Illuminate." It's pretty cute.
SB: For everyone who is stuck inside a cubicle or office building all day (because we're dying to know): What's the best part about being an illustrator / Graphic Designer in Toronto?
MVR: To be honest, I'd like to have a job that's a bit more structured. What I do now is messy and freelance. The best part about my job is solving a problem, understanding it and being the hand that gets to show it off to the world.
SB: It's Thursday night, and you're in the mood for a wild night of dancing: What's the first bar you stop at? And what's the first drink you order?
MVR: It's Thursday night and I know that means trouble and I should just stay home. Most nights out for me would start at Union on Ossington with a cold glass of Rosé.
SB: Hypothetical question: You meet an anthropomorphic cat drinking fancy beer in Bellwoods Brewery. After sprinkling magic time travel dust into your drink, the cat offers you 10 minutes to fly back to 2005 to give Madison Van Rijn one piece of life advice. What advice do you give her?
MVR: I'm sorry I can't get passed the image of the roofying cat you just drew in my mind.
More information on Madison Van Rijn:
Website: www.madisonvanrijn.com
Instagram: https://instagram.com/mvralldayeveryday/