Working in the Canadian Rockies this summer forced me to replace my love of bar hopping with hiking. The views were great but you know I missed my cocktails! So when my four-month contract ended, I visited Vancouver and made it my mission to try out the best bars in the city. I set my sights on L'Abattoir after reading this article and it turned out to be my favourite visit on the Westcoast. After a very happy happy hour, I was invited back the next day to step behind the bar and learn a cocktail off the menu from the very best, head barman Shaun Layton.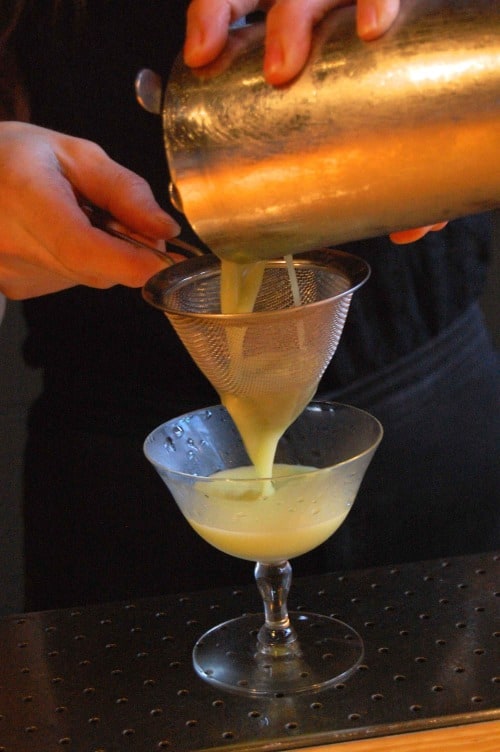 Now I have to say, this Avocado Gimlet is actually the most perfect cocktail I've ever had and I'm not exaggerating.  Being able to recreate it at home is such a gift that I am happy to pass on to you. This cocktail is creamy and refreshing, beautifully balanced, and totally unique.
Ingredients:
¼ ripe avocado
1 heaping teaspoon of sugar
½ ounce of Berentzen apple liqueur
1 ½ ounces of rosemary and olive infused London dry gin (recipe below)
1 ounce of fresh lime juice
1/3 ounce of simple syrup
Steps:
1) Scoop out a quarter of a ripe avocado and place in a cocktail shaker with 1 heaping teaspoon of sugar. Mash the sugar and avocado together with a muddler.
2) Add the gin, apple liqueur, lime juice, and simple syrup to the shaker.
3) Do a dry shake (no ice in the shaker) of all the ingredients to really mix it up.
4) Now add ice ¾ of the way to the top of the shaker and give it a really good shake, about 15 seconds.
5) To get the velvety smooth consistency of this cocktail, you're going to have to do a double strain. Pour the cocktail out of the shaker (using a Hawthorne strainer or the strainer built into your shaker) and then run it through a fine mesh strainer and into the glass.
6) Pour into a chilled coupe glass and enjoy!
7) To make the olive and rosemary gin: take a 750 ml bottle of London dry gin, 6 Picholine olives (pitted and torn apart), 2 sprigs fresh rosemary (off the stem). Infuse for 24-36 hours, strain out solids and keep in the fridge.
It seems like a lot of steps, but the method is actually very simple and the results are so incredibly worth it. Enjoy!