If you've ever planned a fundraising event, you know it's not easy. Even collecting donations for a walkathon or getting companies to donate to a silent auction can be seriously challenging! When we heard that FUCK CANCER, a fundraising event that began in Montreal in 2010 and has since grown to include 12 cities across North America, was founded by a young woman (who is just 22 now!) we were intrigued to learn more. Naturally, the name also caught our attention.
Julie Greenbaum was 19 when her mother died of Ovarian Cancer. Within ten months of her mom's death, Julie managed to launch her inaugural fundraising event, "350 young kids showed up and the outpour of emotion and support was unbelievable!" says Julie. Fun, full of energy and with a packed sweaty dance floor: FUCK CANCER is not your ordinary charity event,  it's a crazy-ass party.
Like Movember, Julie's movement is making waves across the ocean; she's now fielding requests from France, South Africa, Australia and more! Girl, you rock the world.
SDTC:  Tell us about how and why you started FUCK CANCER.
JULIE: My mother's death was most definitely the driving force behind this charity, that being said Philanthropy has always been extremely important to me, it was very much apart of my parents value system and was constantly reinforced throughout my childhood.
SDTC: You're just 22 and you've been able to establish and grow such a major fundraising campaign with events all over North America. What skills or talents do you think really helped you do this?
JULIE: When something is important to me I am determined to invest as much as I possibly can to ensure that it is successful.
SDTC: What can we expect from the event in Toronto on November 8?
JULIE: For starters, since the FUCK CANCER tshirt is your ticket to the party, (MUST BE WORN to gain entry!)  we love to see how people style and personalize them.  Anyone coming to the party can expect to see a full house of FUCK CANCER via fashion statements.  The concept of the "party" is something that resonates with my generation – getting together to collectively say "FUCK CANCER"  to be heard and give back makes a difference!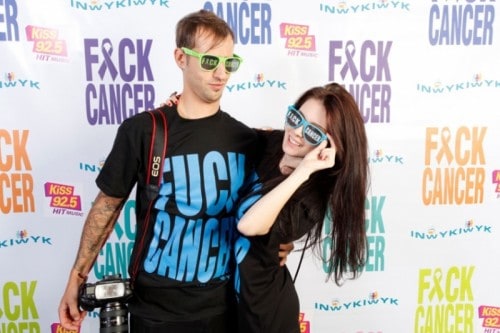 SDTC: What's your best advice for young adults, like yourself, whose mothers or fathers are currently battling cancer?
JULIE: Each person has the obligation to themselves and their family to give the process the integrity it deserves and to understand that wherever they are in their journey is exactly where they are suppose to be. There is no roadmap.
SDTC: What's the most powerful thing you've learned since beginning the FUCK CANCER journey?
JULIE: How close and connected you can feel to a complete stranger, just by knowing that you both have suffered a loss to this horrible disease. That raw emotional connection is extremely powerful and is one of the driving forces pushing me to continue throwing these events.
Buy your tickets  NOW for the FUCK CANCER party in Toronto on November 8th.