Montreal's Fripe Fabrique is a treasure trove of vintage and independent-designer finds (and they also have an online shop). As you're perusing owner Michelle Hutchinson's carefully-curated sustainable fashion picks, you notice the sewing machines in the back. More than just a boutique, it's also a DIY atelier where you can take classes in sewing and alteration, learn how to make specific items like jewellery, hats and scarves, mittens, and even sequined shoes!
We spoke with Hutchinson about what it's like to make your dream business a reality.
SDTC: Tell us a little about the idea behind Fripe Fabrique Boutique & Atelier DIY. Where did the inspiration come from?
Michelle Hutchinson: I decided to leave my job in the government to pursue a dream of working in sustainable fashion. I went to London to work in the public relations department of ethical fashion pioneer People Tree. It was one of the best things I have ever done. While I was there I started taking different sewing and making workshops. I loved the idea of creating a place to merge sustainable fashion with the engaging world of making and DIYing.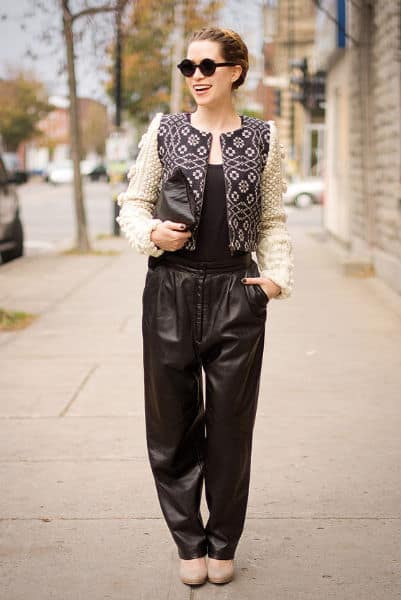 Vintage 1980s Baggy Black Leather Pants, $85
SDTC: What was the most challenging thing about getting the business off the ground?
MH: Finding the courage to just make the first jump…once I did that, I had to swim; each day I get a little better at my strokes, so to speak.
SDTC: What is one piece of advice you received while launching your business that you found extremely valuable?
MH: Be willing to continuously change and be patient.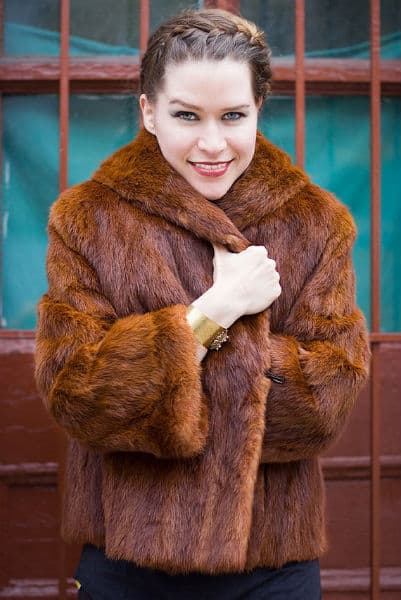 Vintage 1960s Gilberte Bertrand Short Red Fur Coat, $150
SDTC: What advice would YOU give to young women who are hoping to open their own shop?
MH: Learn your numbers. You can't avoid numbers, even if it is not your favourite thing; understanding the financial side is so important to be able to make choices and to survive. This is something I am constantly learning and have so much more to learn myself; and, be inspired by others but be yourself…create something different.
SDTC: What makes FF unique in Montreal's fashion scene?
MH: The one thing that makes people really excited when they come to our shop is that we offer a variety of beginner DIY workshops right here in the boutique. We also search long and hard for local and international designers that you can't find everywhere else and that are stylish and sustainable…all of this is mixed with an awesome selection of vintage. It is a pretty dynamic and fun experience. We want you to come here and have a fun, stylish and engaging experience.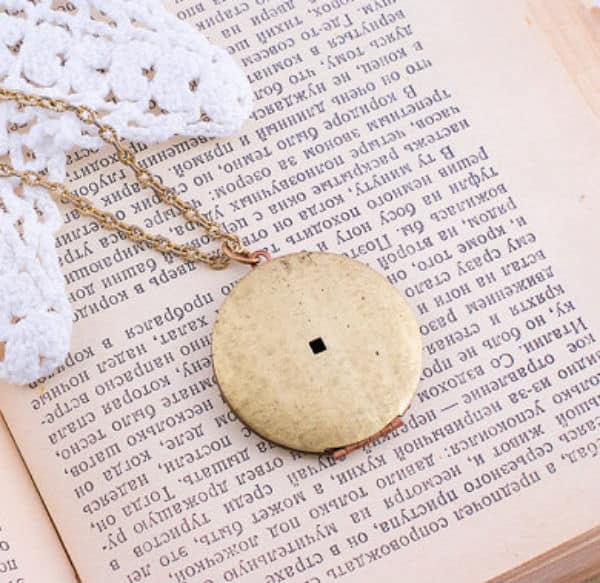 Vintage 1970s Golden Tone Openable Locket Necklace, $20
SDTC: Who are three Quebec designers we should know?
MH: Oh man, there are so many crazy gorgeous talented designers here…and I am only just scratching the surface (since I am fairly new here myself). I don't think I can really choose. But if I had to share some of my favourites I would say:
Betina Lou for their supreme quality, classic cuts with a little twist.
Rachel F for making recycled fur look so stylish, relevant yet timeless.
Les Enfants Sauvages for being colourful, playful and joyful.
SDTC: What's the most rewarding thing about owning the shop?
MH: I have learned more in the past couple of years doing this than I ever did in school and I am so excited at all I have left to learn. Plus, I would be lying if I didn't say all the creative clothes and DIY ideas…this is my true, relentless obsession.
Fripe Fabrique is located at 388 St. Zotique Est in Montreal. Upcoming workshops include How to Make Glitter Pumps, How to Make Mittens From Recycled Sweaters and How to Remake Your Jewelry.