It's Nothing is a deeply moving piece of art that uses cinema to express the feelings of shame, disgust, and despair that come with an eating disorder. Written by Julia Lederer and directed by Anna Maguire, the short film premiered at TIFF 2019, and was praised by critics and audiences alike. But what is particularly interesting about It's Nothing, is the life and impact that the film has had since then.
"I have trouble talking about it in definitive terms," says Lederer, when I ask her when her eating disorder began. She can't say for certain, as if it's always been part of who she is, but during her undergraduate degree she recognized that she had a real life-threatening problem.
This is never shared outright in the fictional film based on her experience. We never hear the words "anorexia" or "eating disorder" uttered, but we see how the illness infiltrates all parts of Robin, the main character, exquisitely performed by Emily Piggford. We see how she's being held captive by her disease.
When Robin is passed a slice of cake at a party, we can feel the panic that nearly suffocates her. When she wakes in the night hungry, and ravages the cupboards for a snack, leaving a trail of crumbs in her bedsheets, we feel her desperation, hear her self-loathing, and understand how far gone she is in her disease.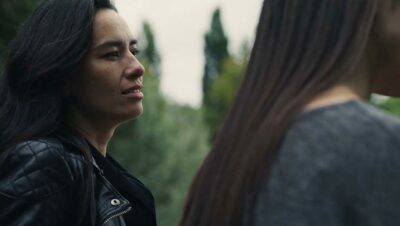 For Robin, every day is full of battles. Dinner is not a meal, but a dreaded obstacle. And it's not just moments with food that are anxiety-inducing; a voice in her head, brutally and brilliantly played by Cara Gee, makes sure to always remind Robin that she's incapable, not good enough, and a pathetic human being. Watching her attempt to gain control of her life, and hush the intrusive thoughts, is difficult to stomach. But anyone who's ever had debilitating mental health issues will see parts of themselves in It's Nothing.
"The thing that surprised me is the breadth of people who relate to it. The behaviours that an eating disorder creates are very specific but the feelings that generate them are often much more universal," Julia tells me. "I had a lot of trouble explaining why I was doing what I was doing when I had an eating disorder, or explaining it after the fact even. And I think what I do best as a writer is show emotion in tactile ways, so it felt like a cool challenge to do that with these feelings that are so hard for me to communicate. There's a lot of shame associated with them and they are really complicated."
Julia waited a long time before she wrote anything about her eating disorder for public consumption. And she's glad she gave herself time: "It felt like a choice and not a reaction to something immediate." You can feel that in the film—this is not a rushed story, or an emotional response.
It's Nothing has traveled the world, playing in numerous film festivals, and has been used in both healthcare and academic settings to help communicate the complex layers that prevent people living with eating disorders from making any kind of quick fix. The film has deeply resonated with so many individuals, both in the eating disorder community and outside, that TIFF partnered with Sheena's Place, an organization that offers group-based support to people affected by an eating disorder or disordered eating, to hold a special screening event with a therapist onsite to help support audience members.
"Before I made the film, I hadn't seen anything about the subject matter that I could relate to," says Julia. "It always felt like it was from the outside in, so I really wanted to do something that was from the inside out. Being able to share something that doesn't feel dishonest in its resolution, because it resolves in a way that is complicated and hard, but can still be shared and understood, is great."
The film has generated countless conversations around eating disorders, trauma, body image and mental health. It has also become a tool people can use to share what they've lived through. Julia shares that a friend, who experienced an extreme eating disorder as a teen, relayed that It's Nothing was the first thing she found that could help explain to her family what she had lived through. Sometimes words aren't enough.
"As a filmmaker, I think that the more specific one can be, the more universal things become," says Anna, the director "There's a paradox there, and it seems counterintuitive but there is a specificity that we absolutely have not shied away from. It's about isolation, loneliness, overwhelm, it's about how we cope with complex emotions, I could go on and on and on. The more we can use art as a form of connection and of community then that for me is what's important. Not everyone has to get it or understand it, that isn't the purpose of art or cinema. It's one perspective in a sea of perspectives. We'd love it to connect, but there's no imperative to do it."
It's Nothing was selected as Short Of The Week, in conjunction with National Eating Disorder Week. It can also be viewed on vimeo and CBC Gem.