Parkdale's Black Artists' Network in Dialogue (BAND) Gallery is one of several venues participating in Myseum of Toronto's annual Intersections Festival. Like all exhibits in the festival, BAND Gallery's Resistance. Resilience. Revolution. is dedicated to sharing perspectives about Toronto, both culturally and historically, that reveal parts of our story that are often missing, or intentionally erased, from dominant narratives.
Weaving the narratives of radical older Black women, Resistance. Resilience. Revolution highlights the way this group is often excluded and unacknowledged. Each artist's story unfolds through various art forms, to translate the struggles of aging and staying relevant in a youth-obsessed world.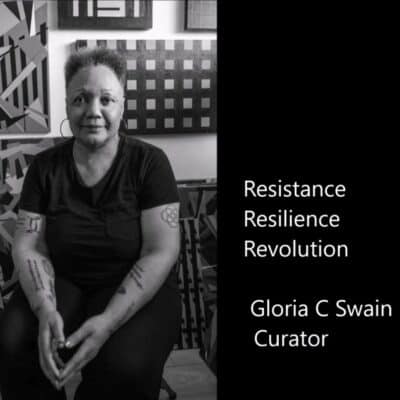 "Black women are often overlooked in people's conversations about racism and sexism even though they face a unique combination of both of these forms of discrimination simultaneously. This 'intersectional invisibility' means that movements that are supposed to help Black women may be contributing to their marginalization," according to lead researcher Stewart Coles, a PhD candidate at the University of Michigan.
The multi-disciplinary exhibit includes painting, photography, video, and an audio component that can be accessed using QR codes connected to each of the artist's works. It's an intimate and powerful experience that will leave visitors questioning the past, present, and future, and reimagining the role the Black women, and specifically Black women artists, in all of these realms.
"Myseum's Intersections festival facilitates a space for community members to act as the caretakers of their own diverse stories," says Nadine Villasin Feldman, Director of Public Programs. "We are guided by an aim to tell the multiple stories of Toronto which , when brought together, form a more complete and shared perspective of our history."
Meet the artists in Resistance. Resilience. Revolution.:
Gloria C Swain
Gloria C Swain is a multidisciplinary artist, working within painting, photography, installation, and performance. With a heightened awareness of the erasure of Black experiences and histories, Swain's work is rooted in her activism and her deep desire to highlight issues of systematic discrimination, specifically racism, sexism, classism, and ageism. Gloria's work has been exhibited throughout the city, including at Tangled Art Gallery, BAND Gallery, and the Gladstone Hotel.
Lillian Allen
Lillian Allen is a poet, writer, performer, and activist and has played a key role in transforming the Toronto and Canadian cultural landscape. A two time JUNO Award winner and trailblazer in the field of spoken word and dub poetry, Allen artistically explores the aesthetics of old and new sounds in music to create her distinctive style. Termed a 'cultural de-programmer' in the arts, she has received numerous accolades and awards, including The Toronto Cultural Champions Award, The Margo Bindhardt Award, and the William P Hubbard Award for Race Relations.
Janice Reid
Janice Reid is a photographer who grew up in Toronto's Jane and Finch neighbourhood. Her love for photography started in the high school's darkroom, and she went on to receive her diploma in creative photography from Humber College. Janice's practice explores themes of sisterhood, womanism and Black women as modern-day muses. Her work focuses on telling the stories of Black women to re-imagine and re-create these narratives. Janice's work has been exhibited at BAND Gallery, PAMA, the Gladstone Hotel.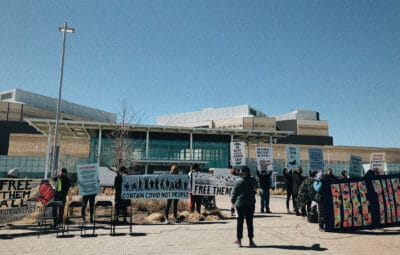 Other powerful and thought-provoking exhibits in Myseum's Intersections Festival include Confinement and Contagion: COVID-19 & Health in the Prison System, in partnership with Toronto Prisoners' Rights Project; Etobicoke Stories of Significance, a collaboration with local artists to highlight significant cultural and historical areas of the region; Black Creek Walks, Talks, & Dances, which includes guided walking tours; and The Quiet Immigrant, an homage to the brave Italian women who immigrated to Canada after WW2.
BAND's Resistance. Resilience. Revolution. runs until April 17. BAND Gallery is located at 19 Brock Ave. See the gallery's website for hours of operation. Myseum Intersections Festival is on until April 30th.