The CONTACT Photography Festival is here! From towering billboards to quiet gallery nooks, the city is full of breathtaking photography—more than 180 exhibits!—and much of it you can experience for free. This beloved annual event celebrates the work of lens-based artists, with creative exhibits installed across the GTA all month long.
Here are a few of the standout exhibits from women photographers that you won't want to miss.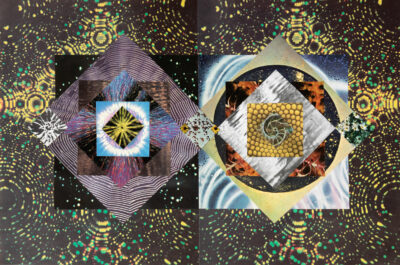 Double Pendulum – Maggie Groat
Maggie Groat's collage-based works weave together found and salvaged materials, holding up a distorted mirror to the natural world. Through the fragmented layers, she explores decolonial life, sustainable exhibition-making, and the power of salvaged materials in the time of a climate emergency. See this transformative work at three sites across Toronto.
When: On now until June 17
Where: CONTACT Gallery, Harbourfront Centre, Dovercourt and Dupont Billboards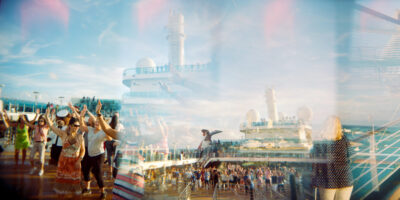 Wish You Were Here – Sarah Palmer
Inspired by the conflict between vacation culture and the climate crisis, Sarah Palmer's larger-than-life photography for Wish You Were Here documents the world of "last-chance" cruise tourism. With dreamy,-semi-distorted images, Palmer captures the irony of passengers enjoying a luxury cruise to a destination decimated by climate change. The juxtaposition of lavish cruise amenities with fading coral reefs and disappearing glaciers is hard-hitting and thought-provoking. With these photos on display at the Summerville Pool on Toronto's waterfront, viewers are encouraged to think about the intersection of leisure time and environmental harm.
When: On now until May 31
Where: Donald D. Summerville Olympic Pools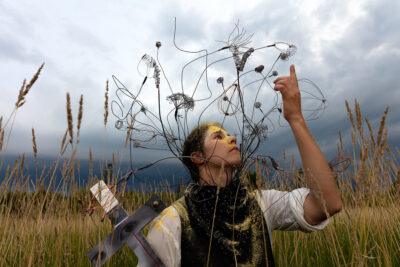 Bloodline delves into the roots of Meryl McMaster's cultural identity, with large-scale self–portraits depicting her on the home territory of her father's Plains Cree family on Red Pheasant Cree Nation. The photographs connect multiple generations of Plains Cree and Métis women that came before her, reaching as far back as her great-great-grandmother. McMaster draws from entries in her great-grandmother's diaries that recount her everyday life, as well as memories of other family members and people in the Red Pheasant community. As a mother now herself, keeping these memories alive is important to her. "While we may never know the full truths of our ancestors we can still hold their memories close to our hearts," McMaster says.
When: On now until May 28
Where: McMichael Gallery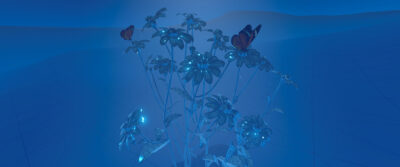 Nature's Algorithm – Jawa El Khash
Jawa El Khash's time-bending art installation depicts past, present and future ecosystems at Evergreen Brick Works, bringing natural worlds to life with a series of digitally generated holograms. Viewers can discover plants and animals native to Toronto's Don Valley, like silver maple, rainbow trout, and monarch butterflies, and imagine a future world with thriving ecosystems. These luminescent displays serve as a memorial for past plant and animal lives, a vision of hope for future generations, and a call to protect existing native wildlife.
When: On now until December 1
Where: Evergreen Brick Works
Mississauga-based photographer Jorian Charlton explores Black representation through fashion photography and intimate portraiture with her latest work, Between Us. Her portraits emphasize the beauty and style of her subjects, as well as connections between them. Between Us brings together images produced in-studio and outdoors, showcasing Charlton's intuitive and collaborative approach and the intimate relationship between photographer and subject.
"I hope that my photos provide an everlasting and introspective look at the representation of my community, giving a voice to those who may not have one, and showing the beauty and strength of a diverse group of individuals," Charlton says.
When: On now until June 25
Where: Art Gallery of Mississauga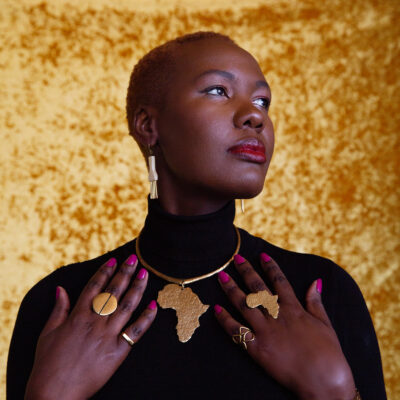 Journey from… highlights the stories of women who have left their places of origin to seek safety, new opportunities, and family reunification in Canada. These striking portraits honour where each woman's identity was born, and acknowledge what she left behind for the promise of a better life. The exhibit also includes intergenerational conversations about each woman's experience, emphasizing that the journey is just as important as the destination.
When: On now until May 25
Where: The Jamii Hub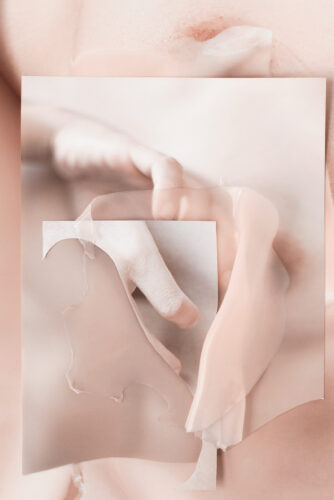 Touch weight – Caroline Mauxion
Montreal-based artist Caroline Mauxion draws on her experiences within the medical system for this series of mixed-media installations, exposing a tension between the clinical and the sensual. Mauxion transformed photos of herself and her partner into abstract creations, layered with plaster and latex, prompting the viewer to reconceptualize how they view the human body.
When: May 13- June 10
Where: Zalucky Contemporary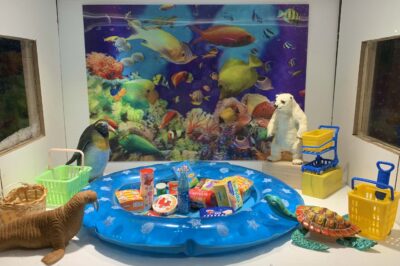 Do you miss the days of dioramas? The colourful displays in Martha Davis' Diorama Drama explore heavy-hitting topics like climate change, habitat loss, food insecurity, and homelessness in a way that's accessible and easy to understand, encouraging conversations between parents and children. Davis assembled each of the 22 works from real objects, photography and a bit of green screen magic, and installed each in her front garden for one week. Explore all of the vibrant dioramas in this exhibit—and even create your own from the provided materials.
When: May 16-29
Where: 918 Bathurst Centre for Culture, Arts, Media and Education
For the full list of exhibits and featured artists, visit the CONTACT Photography Festival website.