Spring has finally sprung! Birds are chirping, iced bevvies are flowin' and anxious brides everywhere are gearing up for their big day. This April, we're profiling Etsy wedding sellers we love. Rounding off the month is Lula Flora, a bright and adorable shop specializing in mini piñatas, Mexican papel picado flags and paper cut wedding and party decor!
SDTC: What's your hometown? 
Christina: Montreal, Quebec, but my heart is in Playa del Carmen, Mexico.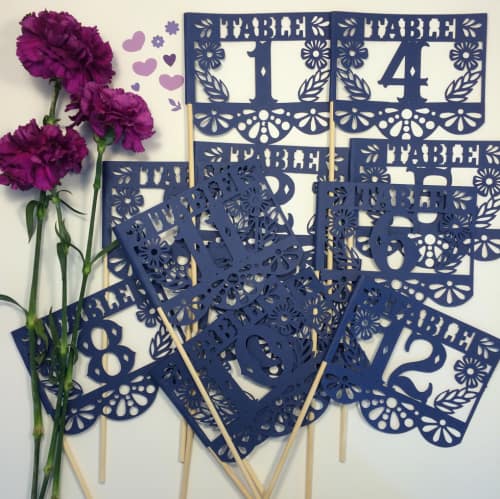 SDTC: What do you make? 
Christina: A mess! Confetti rules my life. I make mini piñatas and modern papel picado (perforated paper or paper cut) fiesta decorations.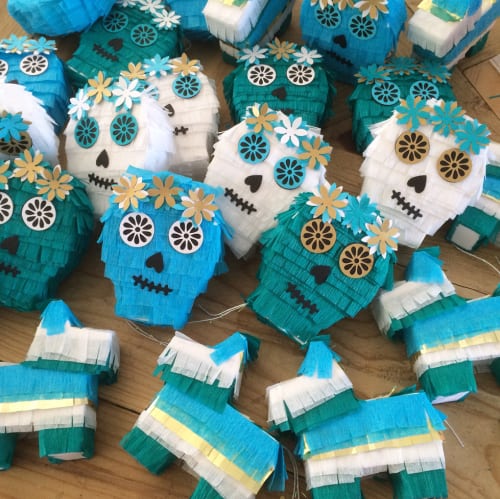 SDTC: How has your business grown over the years? 
Christina: My business is still very new. I opened my shop in September of last year with 4 or 5 items but was then away in Mexico, where we spent 6 months living last year, all of November so I really only started full time in December. I started with the idea of offering mini piñatas and papel picado flags and have since added thank you tags, banners, cake toppers, table numbers and just recently, invitations. I have a whole new line of designs coming up for summer! I also do custom requests and commissions. It's just me and my husband, who is actually the piñata engineer at the moment. My dream is have my own little studio and storefront one day!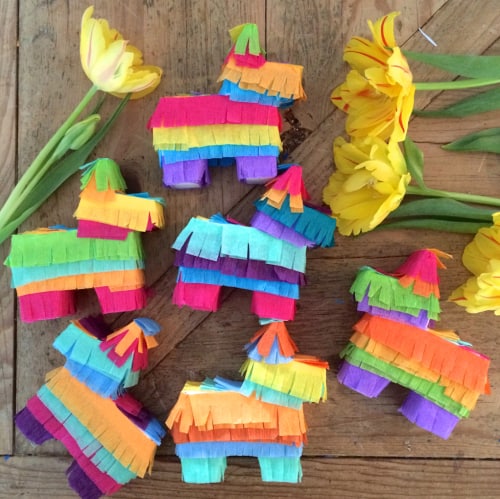 SDTC: What are your top sellers? Who is buying them? 
Christina: My biggest sellers are the mini donkey piñatas that I designed to have a trap door to "fill and spill." They make awesome decorations and fun wedding and party favours. People also like the personalized banners and little flags. I'd say 95% of my sales come out of California. California knows how to fiesta, let me tell you! Brides and moms planning birthday parties for their little ones are my biggest clients. It's so fun to work with them!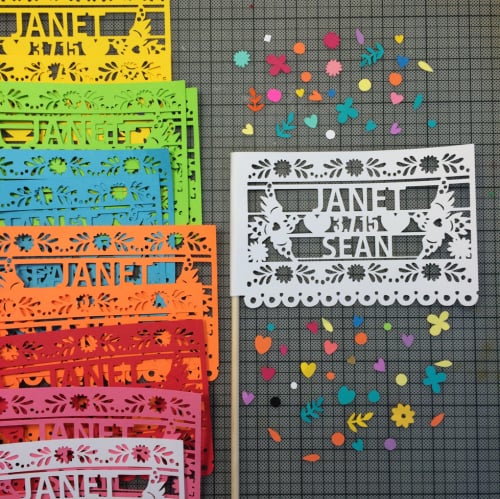 SDTC: What makes a wedding truly memorable? 
Christina: When we were planning our destination wedding in Playa del Carmen, we knew that we wanted our guests to leave saying, "Now THAT was a party!" Our priorities were clear: fun vibe, great DJ and fresh cocktails! Yes, we ate well and had some beautiful, romantic moments, but we really wanted everyone to remember how much fun it was and not necessarily how beautifully presented the 6th course was! Of course, decor played a huge part in our planning. It's actually where this business was born. I made my first mini piñata for our wedding. It's come a long way since then.