We love seeing how people shop—how they organize and refresh their home in a way that suits their style, which is why we love our partnership with HomeSense, which takes us inside the homes of two women whose style we admire.
For September, we connected with Tamara McPherson of WonderMoms and Roxanne West of Bonjour Bliss to see how a trip to HomeSense helped them get organized for the busy back-to-school season ahead.
With kids at varying life stages, these two moms were each sent a gift card and got all their back-to-school shopping done in one fun trip. See how they approached the task, what they found, and how they're preparing for life after Labour Day. (And be sure to enter our contest for a chance to win a $300 HomeSense gift card to get your shopping done, too!)
An Organized & Inspiring Workspace To Call Their Own
Tamara McPherson is an entrepreneur, founder of Wondermoms.ca, and mother to four daughters (and a cute pup named Paisley).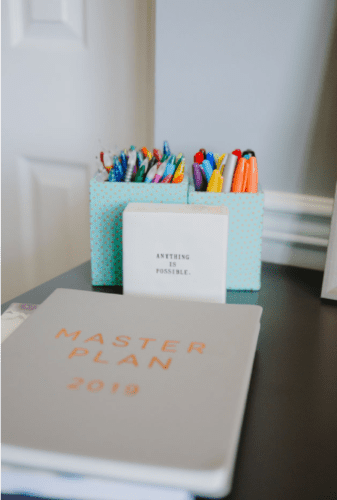 SDTC: When you walked into HomeSense, how did you decide what to get?
TM: I had potential projects in mind but no set decisions on exactly what I was shopping for. As luck would have it, the first item I spotted was the new desk for my daughter's room. The rest just fell into place, mixing and matching.
You brought your girls on your shopping trip. What did they especially love?
The girls loved the experience, as they knew it potentially could have been for them. With four girls ranging from 12 to 20, there is always a varying degree of interest in anything for the home.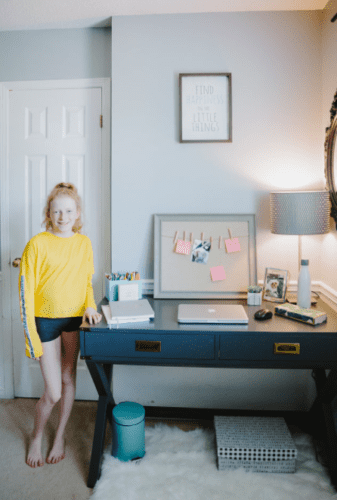 What are some things you do as a family to get ready for the back-to-school season?
I have always involved the girls in BTS shopping, as it is for them, after all. I give them a budget and a list. Make it fun, and offer it up as a contest with the winner being awarded for being the smartest shopper, which is easy at HomeSense because they have such great value.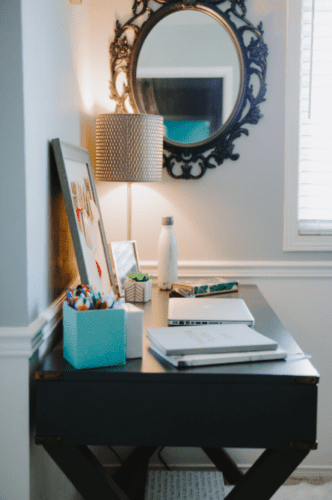 You've created a nice workspace. Can you share with us how you envision it being used?
The corner where we have placed the desk has always been rather makeshift. Now, it certainly serves a purpose for things like homework, reading or just hanging out online.
Any wisdom to share to parents whose children are heading off to school for the first time?
Routine, routine, routine. Children are creatures of habit. Their comfort level is at its finest when they know what to expect and when to expect it. Always make them feel as if it's always been this way, and they will be more confident in their surroundings.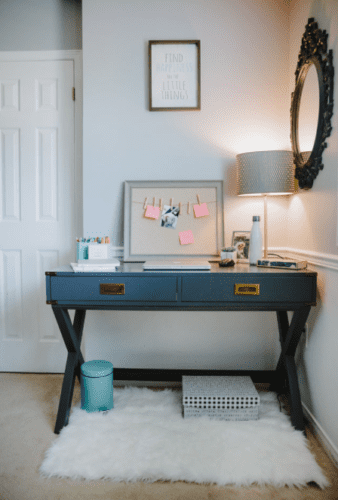 All The Cute Gear For Little Ones!
Roxanne West is the brains and braun behind the beloved BonjourBlissBlog. She's amassed a huge following on her Instagram account and balances a demanding online business (catch her on YouTube, too). She has two small children.
SDTC: When you walked into HomeSense, how did you decide what to get?
RW: I always find great items in their stationary and book sections for both myself and our daughter, like those cute donut and pizza pens and some of our notebooks AND agendas for myself! When we made our way to the kids section we found the perfect magnetic family calendar—something we've actually been on the hunt for. I've always wanted a calendar where the kids can be interactive with it and learn while being a part of our monthly planning! (Pictured above.) So much choice, and such terrific value.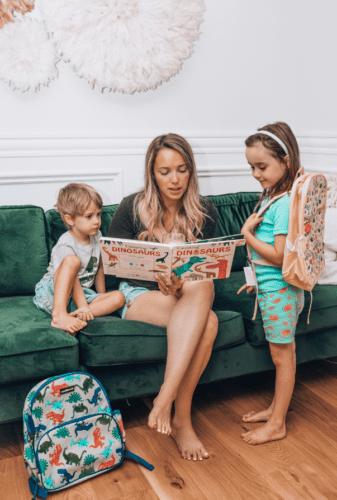 As a mom to two toddlers, how are you getting ready for September, or the new season ahead?
It's funny because these last two weeks, I have felt like I was pregnant and in nesting mode again (but I am not lol). I've been doing a deep clean of the house, purging and donating gently used kids clothes at our local second-hand stores and shelters. Meal planning has been something I am focused on. I actually found an adorable list pad at HomeSense called "Busy Bee," and I am using it to write down everything we need to get and prepare for back-to-school so nothing gets missed!
What's your favourite part about September?
Maybe the weather. I love when that cool late summer breeze rolls in. I am a lover of fall and chunky knit sweaters, so now that the evenings are cooling down, Craig and I like to sit outside and enjoy a glass of wine together while talking about how fast our kids have grown. I don't feel that hectic back-to-school pressure; I try to make it fun around here.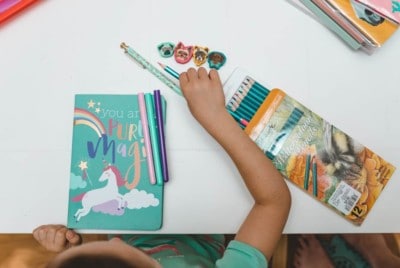 What back-to-school gear did you find for your family?
The kids are loving their new supplies; both of the kids LOVE notebooks. They write me letters and draw me pictures. Noah LOVES dinosaurs, so he's been wearing his backpack all around the house. Also, that amazing calendar…the kids played quietly with it for an hour when we brought it now. No arguments—only excitement about filling up our first month of back-to-school activities!
What other goodies did you find while on your shopping trip?
When shopping for back-to-school at HomeSense I also found great cookbooks for us busy parents, specifically one for lunches. Ella and I went through the cookbook together and we've already flagged three recipes for creative lunches for the kiddos!
What would help your family this fall? Use the HomeSense store locator to find your nearest HomeSense location to help you with all of your back-to-school needs. Happy shopping!